If there wasn't at least one controversial issue to face the Canadiens' storied franchise, it just wouldn't be hockey in Montreal.
For the past couple of years, discussions between the camps of Jaro Halak and Carey Price have been heated to say the least, with the sides exchanging strong words and un-pleasantries. But the trade of Halak, and the outstanding performance of Carey Price have put that issue to bed.
So what do we do now? Enter PK Subban.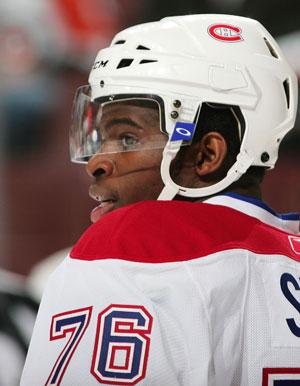 It really shouldn't come as a surprise to anyone that a career of any length in the Habs' franchise will undoubtedly have the highest of highs, and the lowest of lows. Subban's time in le Bleu, Blanc, et Rouge will be no different.
From the beginning of his hockey career, any eyes that laid sight Subban could have seen his potential to be great. His numbers in the OHL and AHL speak loudly (190 Pts in 234 games with Belleville, and 53 Pts in 77 games with the Hamilton Bulldogs).
But where PK really began to show his skills as a potential NHL superstar was in last year's playoff run. During 14 matches against the best in the league, Subban proved he was ready and able to play in the pros.
He recorded a point in his first NHL playoff game against the Washington Capitals, and his first NHL playoff goal against the Penguins. He then went on to pot three assists in Game 3 against the Philadelphia Flyers in the 2009-2010 Eastern Conference Finals.
As the 2010-2011 season began, the PK chants started in the preseason and rose to the rafters at le Centre Bell. It appeared that Subban had arrived. And his play, despite showing some AHL deficiencies, was rising to the test in a much faster, and tougher league. His mistakes were not so terrible as to earn him a demotion back to Hamilton. Instead he showed a continued eagerness to work hard during the morning skates and practices to improve his game.
He became more relaxed, a better puck handler, taking fewer unnecessary chances. And he learned how to stand up and throw his mere 205lb frame around the ice.
But as he began to gain confidence, he also showed attitude. And it has caught the attention of many players around the league. Confidence appears to be becoming cockiness, and no one likes to see that from a rookie. Especially not the "veterans".
We all are familiar with the comments from the likes of Sidney Crosby and Mike Richards. Not to mention the ridiculous vocalizations of Don Cherry, as he admits to "calling it" that Subban was headed towards being hurt by another player (the high stick from Pittsburgh's Mike Comrie – Oct 9, 2010).
But let's get to the real point at hand.
There should be no issue with Subban and his chirping on the ice. The fact that it's his first NHL season has no bearing on the fact that he has had success against players like Ovechkin, Crosby, and Richards.
His performance in the playoffs against all of those players proved that he can match up with them, frustrate them, and at times, outperform them. Just because they've been in the league longer doesn't mean that Subban should give them all a free pass to run over him.
Anyone who sees his role as needing to play hard, but keep his head down and his mouth shut with veteran players, just doesn't understand the game of hockey. He has earned the right to play in the NHL, and that means he's earned the right to play it just like any other man who steps onto the ice.
Having said all of that, I'm not going to say that PK didn't need to see the press box during the Canadiens' romp of the New Jersey Devils on Thursday night.
During all of the controversy since the Richards incident, the pressure has been mounting on the young superstar, and it's clearly affected his play. He's slid back into a looser style, and has been taking more risks. And that has cost the franchise both goals and points.
But the trip upstairs has escalated the controversy once again. Will it be multiple games for Subban, or was it a one time message to get him back on track?
From the mouth of Coach Martin, the answer is clear: this was not a punishment, but instead a process to aid in the development of a young NHL star.
The curtain will rise on that controversy today, as the Habs take on the San Jose Sharks in a 2pm EST matinee game in Montreal. And as the team hits the ice, all eyes will be on the defensive unit to see who's laced up to play.
If Subban is part of that squad, then every second of ice time will be scrutinized, every play broken down.
But as I said, this is Montreal, where controversy reigns. So maybe it's time for Subban to adopt a more European flavour, and change his name to Parnell "Kontroversy" Subban.
Don Cherry would have a field day!