The Vancouver Canucks hold the 11th overall pick in the 2023 NHL Draft. Speculation surrounding who they will take is filling the Vancouver media landscape as they have an opportunity to draft for positional need – a centre or defenseman. If they opt for the best player available, a draft strategy I side with more often than not, then drafting a winger may be in their best interest. The circumstance where a winger will be the best option, rather than a defenseman or centre, will rear its head if Winnipeg ICE forward Zach Benson slips out of the top ten. Listed as a left wing by NHL Central Scouting, Benson's talent may be too tempting to pass up at 11.
Related: Canucks 2023 NHL Draft Targets: Matvei Michkov
There is one big reason why Benson would find himself getting skipped over – his size. If the Canucks ignore his 5-foot-10 frame, they may have the steal of the draft at pick 11. His offensive and defensive skillset make him an exceptional player worthy of potential top-six selection if a team is high on him.
Benson's Scouting Report
Headlined by his ultra-competitive play, crisp passing ability, and high intelligence, for my money, Benson is the best winger in the 2023 NHL Draft, not named Matvei Michkov. His effort-level bests almost any player in the 2023 Draft class. His drive and instincts are superb, as he never takes a shift off. Prying the puck from him when he has possession is a tall task for any defender. His skating is also good, but not as good as one would expect for a 5-foot-10 offensively potent player.
"He's relentless in puck battles, often coming out with the puck despite his frame. He's a responsible, detailed defensive player who is an asset without the puck."

Corey Pronman (from 2023 NHL Draft top prospects: Bedard No. 1, Smith rises in Pronman's May ranking, May 3, 2023)
Benson scored 36 goals and 62 assists for 98 points in 60 games for the ICE this season. During the playoffs, he scored seven goals and ten assists in 15 contests. He dominated his peers in the Western Hockey League (WHL), finishing third in scoring during the regular season behind phenom Connor Bedard and Chase Wheatcroft. His assist-per-game pace only begins to speak to his passing ability and vision. He is one of the best passers in the draft, as he has the skill to send concise, easy-to-handle passes to his teammates. Although, the most impressive attribute of his game may be his defence.
"Benson has the floor of a Zach Hyman and the ceiling of a Mitch Marner. Depending on how the team selecting him decides to develop and deploy him, either of those outcomes is equally possible. His edgework is reminiscent of Marner; very agile and able to escape pressure through weaving rather than runaway speed."

Caleb Kerney, The Hockey Writers
Arguably the best two-way player in the draft, Benson does it all. He is confident in the defensive zone and is rarely out of position. His spectacular defence for his size comes back to his work ethic. He has defensive habits that are rare for an 18-year-old. He could be a solid contributor to an NHL team's penalty kill while contributing to the top power play. Think of a Mitch Marner light but without the high-end skating. Benson deserves to be a top-ten, arguably top-six pick; however, his size will likely make him slide on Day 1 of the draft.
---
Latest News & Highlights
---
Benson's potential is an elite, first-line two-way forward. His 5-foot-10 frame is his biggest weakness, and he lacks physicality. Some players play bigger than their height – Benson's skill rivals giants. If being a smaller forward that lacks bite is the only knock on his game, he will be a star for whichever team drafts him.
Why The Canucks May Draft Benson
The Canucks do not have an elite top-line scoring winger. Andrei Kuzmenko, who scored 39 goals and 35 assists for 74 points during the 2022-23 campaign, is their closest player to that description. J.T. Miller, a good first-line player, is best suited down the middle for centre depth, making him a non-starter on the wing with Elias Pettersson. Benson, while not necessarily filling a position of need, would provide the Canucks with something they do not have – a defensively responsible winger with first-line scoring potential.

The Canucks reportedly took Benson out to dinner at the NHL Draft Combine, expressing their intrigue in the player. Their interest is warranted, and if he dawns the blue and green on draft day, fans should rejoice rather than voice scepticism regarding his size and position. The Canucks may not need Benson as much as a centre or defenseman, but a first-line with Pettersson and Benson side-by-side would be frustrating for teams to play against at both ends of the ice.
Why The Canucks May Avoid Benson
There are two reasons why the Canucks would pass on Benson if he falls to them at 11. His size and position. The 5-foot-10 forward may slip due to his size while bigger, physically dominating forwards such as Ryan Leonard or Dalibor Dvorsky rise. The Canucks' lack of big, mean players may deter them from Benson's smaller, less imposing play. While his talent is undisputable, if they look toward a forward at 11, they may want a player with more grit and tenacity that can also chip in on offence instead of Benson's all-skill little-bite style.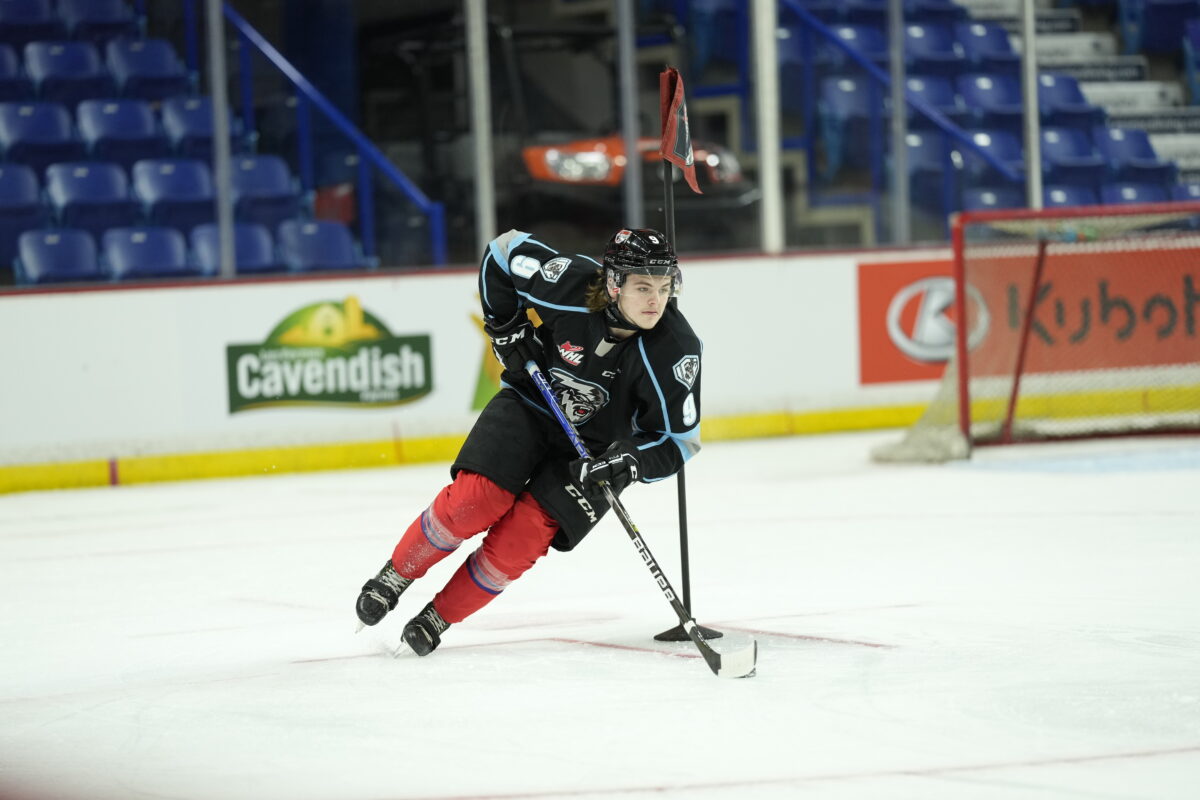 The Canucks are yearning for defensemen, which may make Benson an afterthought on draft day. Tom Willander, Axel Sandin Pellikka, and Dmitri Simashev may all be available once their turn comes to announce their selection. Outside of Quinn Hughes, they lack quality defensemen throughout the organization. Ethan Bear's injury, the Oliver Ekman-Larsson buyout, and trade rumours circling Tyler Myers may all lead to a defenseman pulling over a Canucks sweater on July 28 rather than Benson.
Will The Canucks Select Benson?
For the Canucks to have the opportunity to select Benson, they have to hope he falls to them at 11. There is the potential to trade up into the top ten, but if the Canucks go down that route, they likely have their sights set on a top-flight centre or defenseman. If he is available for the Canucks, it will be hard not to select him. The fanbase's concerns over his size and position would be understandable; however, a top-line of Benson-Pettersson-Boeser would be a scary sight for all other 31 NHL teams.

Even if Benson is available, odds are the Canucks choose a defenseman, opting to draft by positional need. While I prefer the best player available approach in the first round, one of Simashev or Willander's names will likely get called on draft night by general manager Patrik Allvin. Despite being a bit of a reach, one of the two defensemen would be a good fit for the Canucks, but the thought of passing on a talent like Benson could be a fireable offence if he lives up to his lofty potential.