The 2023 NHL Draft Class is elite. Amidst the likes of Connor Bedard, Adam Fantilli, Leo Carlsson, et al., sits Russian superstar Matvei Michkov. Michkov, 18, is a borderline generational talent expected to drop in the draft for many reasons. The ongoing geopolitical conflict between Russia and Ukraine, his Kontinental Hockey League (KHL) contract and his size hinder his draft stock.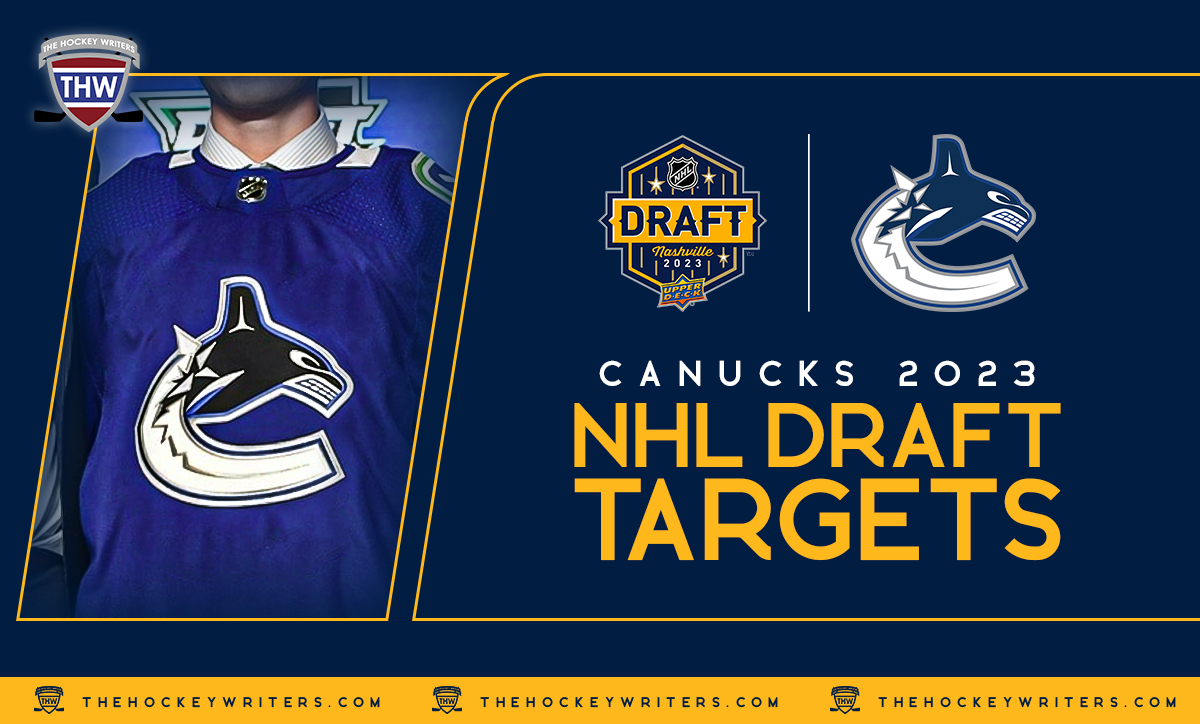 The Vancouver Canucks, who have the eleventh-overall pick in the upcoming 2023 NHL Entry Draft, have the outside chance to select a cornerstone talent for their forward core. Despite the reasons why he may drop, Michkov does not likely fall past the Washington Capitals, eighth overall, or the Red Wings, ninth overall. Still, Michkov is the wild card of this draft. He has a ceiling capable of transforming an organization but comes with asterisks, so great teams in the top five may not be willing to take the risk. If given the opportunity, there are a million reasons why the Canucks should jump at the chance to select Michkov — here are a few.
Matvei Michkov's Scouting Report
2022-23 Team: HK Sochi (KHL)

9 Goals
11 Assists
20 Points
27 Games Played
20 Penalty Minutes

Height: 5-foot-10/178 cm
Weight: 172 pounds/ 78 kg
Age: 18
Shoots: Left
Position: Right-wing
Touted as the best Russian prospect since Alex Ovechkin by many scouts, Michkov possesses all the tools to become the player teams build an offense around. His size, 5-foot-10, 150 pounds, and his skating are two of the biggest knocks on his game. Let's first address his size. Michkov is playing against men in the KHL and is scoring at a historic rate. He played with KH Sochi of the KHL this past season, scoring 20 points in 27 games, the most by any draft-eligible prospect hailing from Russia's premier hockey league. Often NHL management will overlook smaller prospects for bulky, ready-to-play players. While this strategy can pay off, it is not worth it with Michkov on the board.
Michkov is not the most dynamic skater, but his creativity makes up for it. His offensive awareness and creativity with the puck are a spectacle to watch. For my money, his passing rivals Leon Draisaitl for how good it is. The forward can calculate everything in seconds. He rarely attempts a fancy deke out of desperation and has a sneaky arsenal of shooting skills. He can fire off a blistering one-timer, settle for a quick wrist shot, or fool goalies with seamless passes onto his teammates' stick. Michkov is, in laypersons terms, an offensive genius. His game is not perfect. While not a problem per se, the aforementioned foot speed does not help his stock. Additionally, he can be a passable defensive player with decent stick-checking when he puts in the effort. Note the word "when."
Related: Blues 2023 First-Round Draft Targets: Matvei Michkov
Scott Wheeler of The Athletic called Michkov, "without question or hesitation, the best prospect I've ever ranked at No. 3 in advance of any draft and the best Russian prospect since Alex Ovechkin and Evgeni Malkin back in 2004." (from 2023 NHL Draft top 32 prospects: Scott Wheeler's post-U18 worlds ranking,' The Athletic, May 1, 2023). This praise is not light. Wheeler, a storied draft expert, notes Michkov's ability to lurk in the offense despite his lack of foot speed, popping up in plays and letting his skill do the rest.
Michkov is a magician offensively. The biggest detractor on his draft stock outside of his defensive play and skating ability is his KHL contract. Signed through the 2025-26 season, Michkov has to stay put in Russia. This situation creates risk for NHL general managers (GM). Worrying about whether he will ever come to North America is not a real worry in my eyes.
Many top-end Russian prospects, such as Evgeny Kuznetsov, had this type of dialogue surrounding them before eventually coming to the NHL. Recently drafted Russian players made the jump even with the ongoing invasion of Ukraine. It is a necessary risk to weigh, but it should not be why a team does not draft him. The bigger worry is the lack of influence NHL teams will have over his development, as pointed out by Harman Dayal (from "Matvei Michkov film study: Why is he a top prospect? Where could he end up in the NHL Draft?", The Athletic, May 17, 2023).
KHL teams will not prioritize Michkov's development for whichever NHL team drafts him, and that, among other developmental risks, is scary. Despite this, the once-considered generational prospect is a cannot-miss prospect. The Canucks should do everything in their power to draft Michkov. Unfortunately, trading up is unrealistic due to their lack of assets, so they must hope luck is on their side.
Quotables On Michkov
"All things considered, Michkov is still a top-five talent in this draft. His offensive ability is very advanced and he'll be quick to make an impact on the scoresheet and the power play. But the holes in his defensive game and passing are what's keeping him back from being a no-brainer in the top-three." – Jake Janso, FC Hockey
---
Latest News & Highlights
---
"I think that Bedard has a better shot, better shot variety, [but] I think that Michkov is a little more stealth," – Craig Button, TSN
"I wouldn't sweat about Michkov's lack of elite straight-line speed too much because he has virtually every other offensive tool you could ask for. Some used to question Kirill Kaprizov's north-south speed as well but it hasn't stopped him from learning how to use his edge work to dominate in the NHL" – Harman Dayal (from "Matvei Michkov film study: Why is he a top prospect? Where could he end up in the NHL Draft?", The Athletic, May 17, 2023)

"Michkov is among the best players in the 2023 NHL draft. On talent alone, he's in the conversation for second overall." – Tony Ferrari, The Hockey News
"I can ignore all the noise and all the other stuff surrounding this prospect because I think he has the potential to elevate an entire franchise with his talent. I place him at third here, but he has the potential to be the best player to come out of this draft when all is said and done." – Devin Little, The Hockey Writers
Michkov's Fit With The Canucks
Michkov does not fill a position of need for the Canucks. He is not a right-handed defenseman or a right-handed center, nor would Michkov play in a Canucks uniform for at least three years. Despite these points, Michkov is a game-breaking talent possessing powerful offensive capabilities. Slot him on the power play with Elias Pettersson and Quinn Hughes, and the trio could rival any power play in the NHL. Drafting the best player available versus drafting out of positional need is a hot topic in hockey. If Michkov somehow falls to 11, the Canucks have to disregard the likes of Tom Willander, Axel Sandin Pellikka, or Oliver Moore and take him.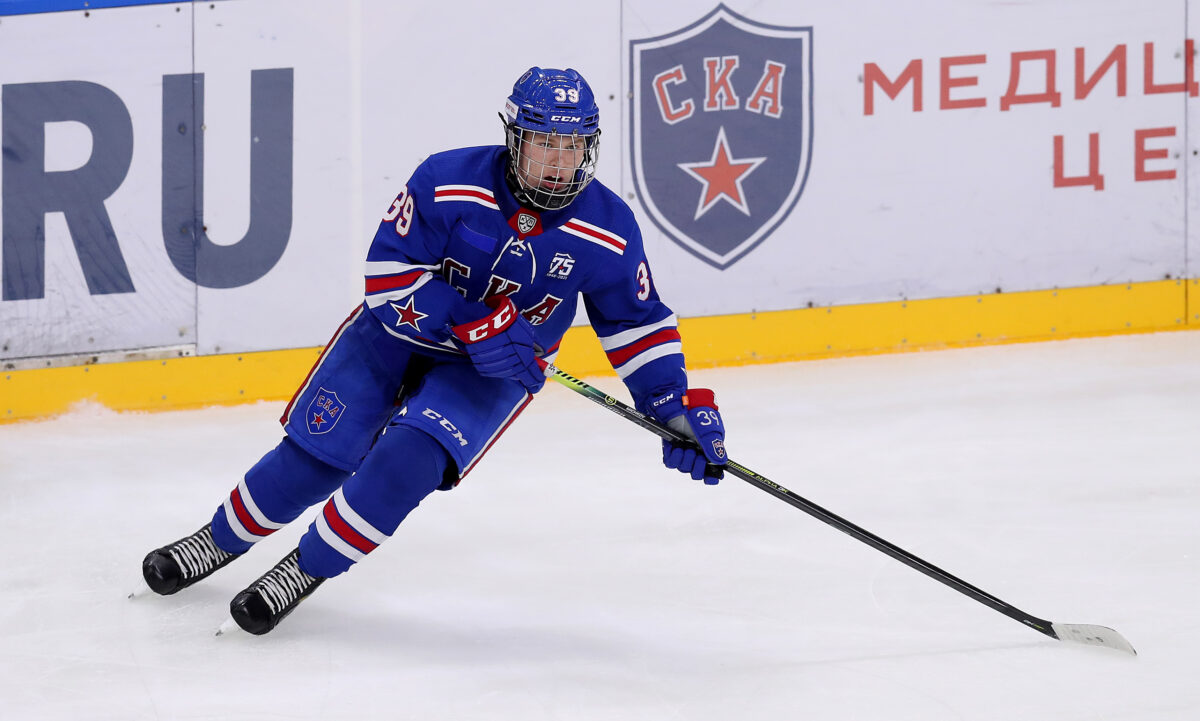 The current Canucks right-wing core consists of Brock Boeser, Conor Garland, Anthony Beauvillier, and Vasily Podkolzin. Kuzmenko, left wing, can also play right wing when required. Boeser and Garland are consistently in trade rumors due to their cap hits, while Beauvillier and Podkolzin both have ceilings of strong second-line wingers. Adding Michkov to the core of the Canucks raises the ceiling of their offense immediately, even though his impact is years away. Michkov's ceiling is sky high, and with fellow country-men on his roster, the Canucks should have no worries drafting him at 11.
Chances The Canucks Select Michkov
The chances are incredibly slim that Michkov falls to the Canucks. Outside the top three, Michkov could find himself going anywhere in the top 11. If it were not for him playing in Russia, he would unquestionably be a top-five pick, likely top-three. Whichever team drafts him will get a steal, even if he is selected fourth overall. Michkov can potentially be the second-best player from the 2023 NHL Draft. He will go to a team that can afford to be patient since he will not be in the NHL until the 2026-27 season, the first eligible season he can sign following the expiration of his KHL contract.
Related: Canucks 2023 NHL Draft Target: Axel Sandin Pellikka
The Canucks have not shown a history of patience either, trading first-round draft picks for help now. Regardless, GM Patrik Allvin would not pass on the opportunity to draft what many scouts consider a top-three talent at the draft. Due to their Russian connection, Andrei Kuzmenko would be a great mentor for him once he arrives in North America. It is doubtful that Michkov slides past the Capitals or Red Wings, but if he does, he and Pettersson would be a dynamic duo worth buying season tickets to watch. The benefits greatly outweigh the risks. Adding elite talent through the draft is necessary to compete for the Stanley Cup. Luck is needed for Michkov to get drafted by the Canucks, but with the seemingly unpredictable nature of the upcoming draft, anything is possible.
---
---