The New Jersey Devils enter the 2023 NHL Draft without a first-round pick. In a draft that is widely considered one of the deepest in some time, the lack of a first-rounder would normally be cause for despair. Fortunately for the Devils, they have picks in every other round and have a history, especially recently, of finding great value later in the draft.
Related: 2023 NHL Draft Guide
Below is a list of the top players the Devils were able to mine in the later rounds. The criteria to be considered for the list is the player had to have been drafted in the fifth round or later and made a sustained impact in the NHL.
1983
Chris Terreri – Goalie – Fifth-round pick (85th overall)
Chris Terreri was an extremely valuable player for the Devils in their late-80s/early-90s ascent to Stanley Cup contender. He was essentially the bridge between Sean Burke and the emergence of Hall of Famer Martin Brodeur. He played in 12 seasons, over 300 games for the Devils, with his best season coming in the 1993-94 campaign where in 44 games he posted career highs in save percentage (SV%) (.907) and goals-against average (GAA) (2.59).
Viacheslav Fetisov – Defenseman – Eighth-round pick (145th overall)
Viacheslav Fetisov was one of the most acclaimed Russian players of his era. Some, including Wayne Gretzky, considered him one of the best defenders in history. Despite not coming to the NHL until he was 31, he still showed glimpses of what made him a dominant defender in his youth when he set records competing for the Soviet Union in the World Championship. His NHL career spanned 546 games for the Devils and Detroit Red Wings where he eventually won two Cups and played on the decorated "Russian Five" line. He was enshrined in the Hockey Hall of Fame in 2001, his first year eligible.
1984
Kirk McLean – Goalie – Sixth-round pick (107th overall)
The Devils took Kirk McLean a year after they selected Terreri and then traded him to the Vancouver Canucks in 1987 for two-way center Patrik Sundstrom. Sundstrom was a significant component in the late-80s rise of the Devils and run to their first-ever trip to the Stanley Cup Playoffs. McLean turned into a stalwart goaltender for the Canucks where he played 11 seasons and backstopped the team to the 1994 Stanley Cup Final.
Mike Peluso – Left Wing – Tenth-round pick (190th overall)
The Devils lost Mike Peluso in free agency to the Chicago Blackhawks but eventually brought him back in 1993 via trade. He went on to play 192 of his 458 NHL games for the Devils and was a valuable player in their run to the 1995 Stanley Cup playing in all 20 games that postseason. He was known as a player ready to mix it up and drop the gloves to protect a teammate. He racked up 619 penalty minutes in his four seasons with New Jersey.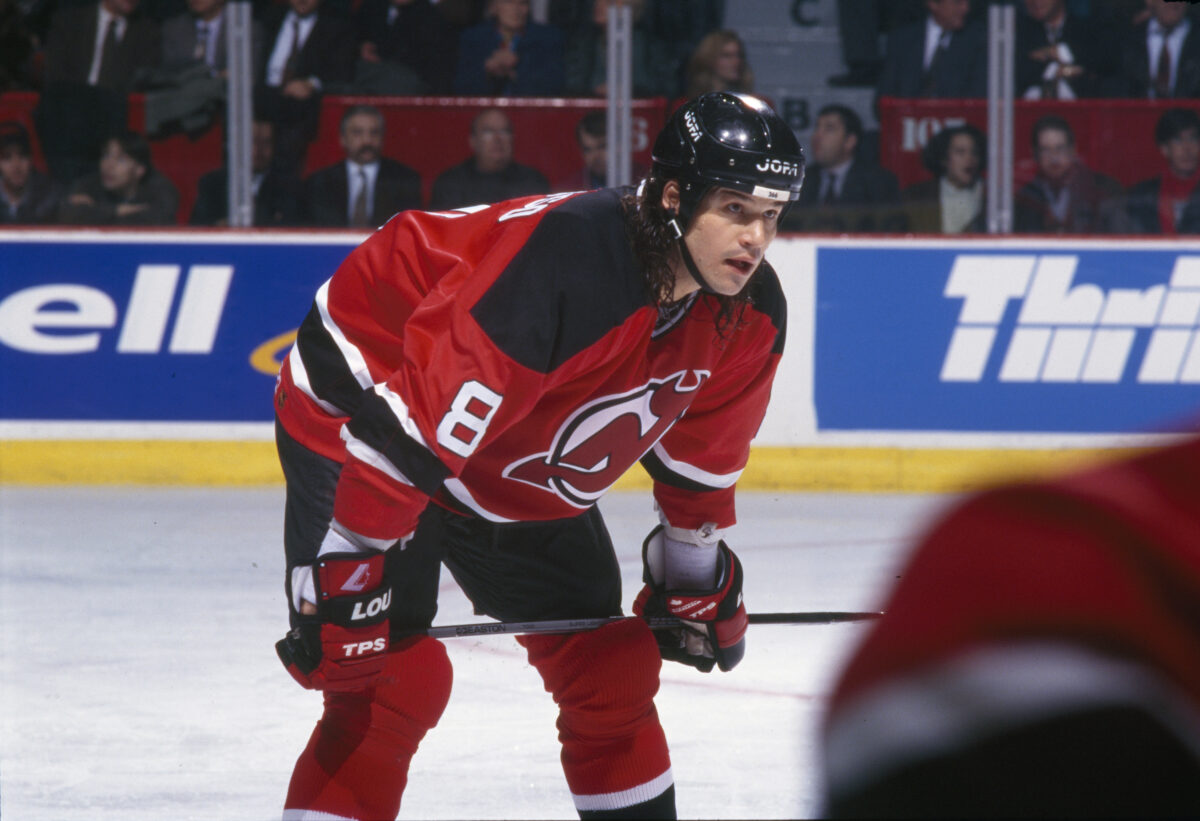 1986
Kevin Todd – Center – Seventh-round pick (129th overall)
The undersized center burst onto the scene with the Devils in 1991-92 with 63 points in 80 games. He earned First Team All-Rookie and placed fifth that season for the Calder Trophy. His Devils career was cut short via trade as he was dealt to the Edmonton Oilers for Bernie Nicholls in January 1993. Todd put up 73 points in his 112 games in New Jersey and also racked up 85 penalty minutes in that time. He finished with a nine-year NHL career and over 200 points.
1987
Kevin Dean – Defenseman – Fifth-round pick (87th overall)
Late in the 1994-95 season, Kevin Dean was serving as the captain of the American Hockey League's (AHL) Albany River Rats when he was called up to join the Devils prior to the playoffs. He went on to play three playoff games during the Devils' run to their first Stanley Cup and suited up for 198 games over four seasons before being taken by the Atlanta Thrashers in the 1999 Expansion Draft.
Jim Dowd – Center – Eighth-round pick (149th overall)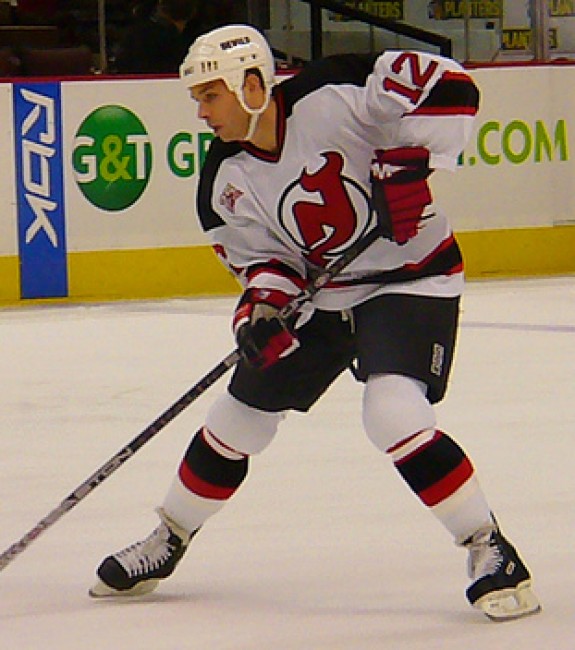 Born on Christmas Day in Brick, New Jersey, Jim Dowd was meant to play for the Devils. Not too many people can say they scored a game-winning goal in the only Stanley Cup Final game they ever played, but he can. He netted the go-ahead goal in Game 2 of the 1995 Final giving the Devils a lead they would not relinquish. He would go on to play 728 games over a 16-year career with none likely as memorable as that Game 2.
1990
Corey Schwab – Goalie – Tenth-round pick (200th overall)
From the early 90s through the early 2010s it was difficult to get games in net if your name was not Martin Brodeur. Corey Schwab gave the Devils tremendous value from the tenth round serving as the backup to Brodeur in the 2002-03 season. In that year he played in 11 regular season games posting a .933 SV% and a 1.47 GAA. He followed that up by appearing in two games during the playoffs and not allowing a goal in either appearance. In all, he played eight seasons in the NHL, three with New Jersey where he put up a 1.54 GAA and a .929 SV%.
Valeri Zelepukin – Left Wing – Eleventh-round pick (221st overall)
Valeri Zelepukin will always have a place in Devils lore for being the player who scored in Game 7 of the 1994 Eastern Conference Final with 7.7 seconds remaining to send the game into overtime. Unfortunately for him, they ultimately lost to the New York Rangers in double overtime that evening. Fortunately, he was on the team that hoisted the Cup the next season and despite only playing in four regular season games, he was inserted into the lineup in the playoffs playing in 18 of their 20 games. In his time with the Devils, he played 375 games, scoring 218 points over that time. He was traded in January of 1998 along with Bill Guerin to the Edmonton Oilers for a package that included future Devils hero Jason Arnott.
1992
Stephane Yelle – Center – Eighth-round pick (186th overall)
Stephane Yelle ended his career nine games short of 1,000, however, he didn't play a minute of it with the Devils. In possibly one of the most lopsided trades in Devils history he was given away to the Colorado Avalanche along with an exchange of 11th-round picks. He went on to win two Stanley Cups with the Avalanche including in 2000-01 when they beat the Devils in the Final. He was known for being an exceptional defensive and checking center and would have been a great fit for the Devils during the late 90s.
1996
Willie Mitchell – Defenseman – Eighth-round pick (199th overall)
Willie Mitchell is another late-round pick that ended up having a long career in the NHL, though most of it was outside of New Jersey, as he only played 18 of his 907 NHL games with the Devils. Late in his career, he played with the Los Angeles Kings where he won two Stanley Cups including beating the Devils in the 2012 Final. While captaining the Florida Panthers in 2016, his career was cut short as he was forced to retire due to lingering concussion symptoms.
2000
Deryk Engelland – Defenseman – Sixth-round pick (194th overall)
Like others on this list, Derek Engelland played over a decade in the NHL and not a game for the Devils. In total he played in 671 games in the regular season and 55 playoff games. He was a part of the inaugural Vegas Golden Knights team and was widely considered the leader of the team. He took home the Mark Messier Leadership Trophy that season after the first-year Golden Knights made it all the way to the Stanley Cup Final. He built up a reputation as an enforcer on the ice, always ready to protect his teammates but unlike the typical enforcers of the 80s and 90s, he also played impactful minutes throughout the game.
2016
Jesper Bratt – Forward – Sixth-round pick (162 overall)
Jesper Bratt is the type of late-round pick that general managers dream about. After being drafted, he played one more year in Sweden then came to Devils training camp in 2017 where he made the team and has not been out of the lineup since. He is coming off a 2022-23 campaign where he posted his second straight 73-point effort and signed an eight-year extension to remain with the team throughout their window of Cup contention. He had his first 30-goal season this year and has topped 100 goals for his career in just 389 games. The sky is the limit for Bratt whose speed and quick release have made him a vital part of the Devils' top six and power play units.
2018
Akira Schmid – Goalie – Fifth-round pick (136th overall)
Over the course of two seasons, Akira Schmid only has 24 NHL games under his belt. It is the 18 regular season games in 2022-23, along with the four victories over the New York Rangers in the Stanley Cup Playoffs that land him on this list. After a down year in 2021-22, and just two years removed from the United States Hockey League (USHL), he has shown why the Devils are so high on his future. In 2022-23, he served as the 1B to Vitek Vanecek's 1A for most of the season as Mackenzie Blackwood struggled to regain his form while dealing with multiple injuries. In that role, he posted a .922 SV% and a 2.13 GAA, both tops on the team.
Related: Devils' 2023 Draft Will Look Much Different Than Previous Years
---
Latest News & Highlights
---
With the Devils down 2-0 in the first round to the rival Rangers, head coach Lindy Ruff called on Schmid to start Game 3 at MSG, and the rookie did not disappoint. In five games Schmid posted a .950 SV% and outdueled Vezina Trophy winner Igor Shesterkin, shutting out the Rangers in both Game 5 and Game 7 leading the Devils to Round 2.
Yegor Sharangovich – Forward – Fifth-round pick (141st overall)
The Devils also struck gold drafting the tall Belarussian in the fifth round. Yegor Sharangovich has, at times, dazzled with his combination of speed, defensive prowess, and elite shot. Unfortunately, he has been inconsistent when given playing time outside the top-six. In his three NHL seasons with the Devils, he has posted 30, 46, and 30 points respectively. There is concern regarding his regression from a 24-goal campaign in 2021-22 to only 13 in 2022-23.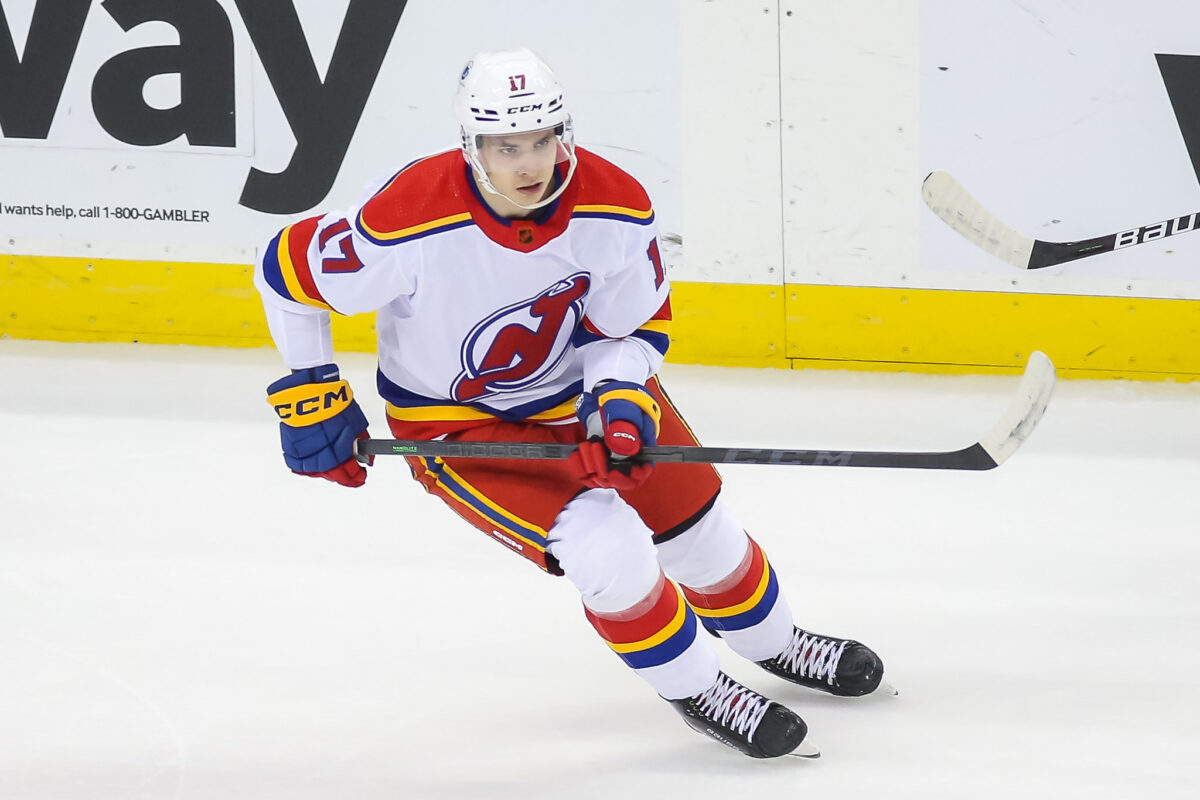 The bright spot for Sharangovich has been his play on the penalty kill where he has made himself invaluable. With his status as a restricted free agent with arbitration rights, there is a chance his rights are traded this summer to clear cap space for the Devils and give him an opportunity to find a place with more abundant minutes in the top-six.
Too Soon To Tell
2021
Topias Vilen – Defenseman – Fifth-round pick (129th overall)
Topias Vilen is a 20-year-old Finn who the Devils believe has a bright future with the team. They brought him over this past spring to join the Utica Comets in the AHL Playoffs and have added him to their current roster. It is likely he will have an opportunity in training camp to make the NHL roster, and if not will play in Utica. In the Finnish League this year he excelled putting up 17 points in 41 games and contributed to the Pelicans during the playoffs in the Liiga. He is regarded as a defensive stalwart who, if he can raise his offensive game, projects as a second-pair defenseman.
2022
Josh Filmon – Left Wing – Sixth-round pick (166th overall)
In his first season since being drafted, Josh Filmon took a huge step forward in his play in the Western Hockey League (WHL). The 19-year-old scored more goals this season (47) than he had total points last season (45). His size jumps out as the Devils lack big scoring wingers. Before the 2022 Draft, he was ranked the 38th-best North American skater by NHL Central Scouting and has lived up to the hype. He will likely begin the 2023-24 season in the AHL, but should they encounter injuries, he is a potential internal solution if scoring is needed.

Despite not having a first-round pick in the 2023 Draft there is reason for optimism. Fortunately, general manager Tom Fitzgerald has been very proficient at finding value in the later rounds as a means for building his team. The Devils will need to continue to find important players through the draft to maintain the status of their prospect pool and provide options for Fitzgerald to plug holes on the current roster as an alternative to chasing free agents and leaving the team without much cap flexibility.
---
---