Now that the Vancouver Canucks officially hold the 11th overall pick at the 2023 NHL Draft, we can really dive into who they could be targeting in the first round on June 28. The only other time they held the 11th pick was way back in 1982 when they drafted Michel Petit. He went on to have a long and winding NHL career suiting up for 10 teams and playing 827 games. Historically, the 11th pick has been known to produce a few stars too, like Jarome Iginla, Anze Kopitar, and Ryan Ellis. So, hopefully, the Canucks can get lucky and grab someone like that in 2023.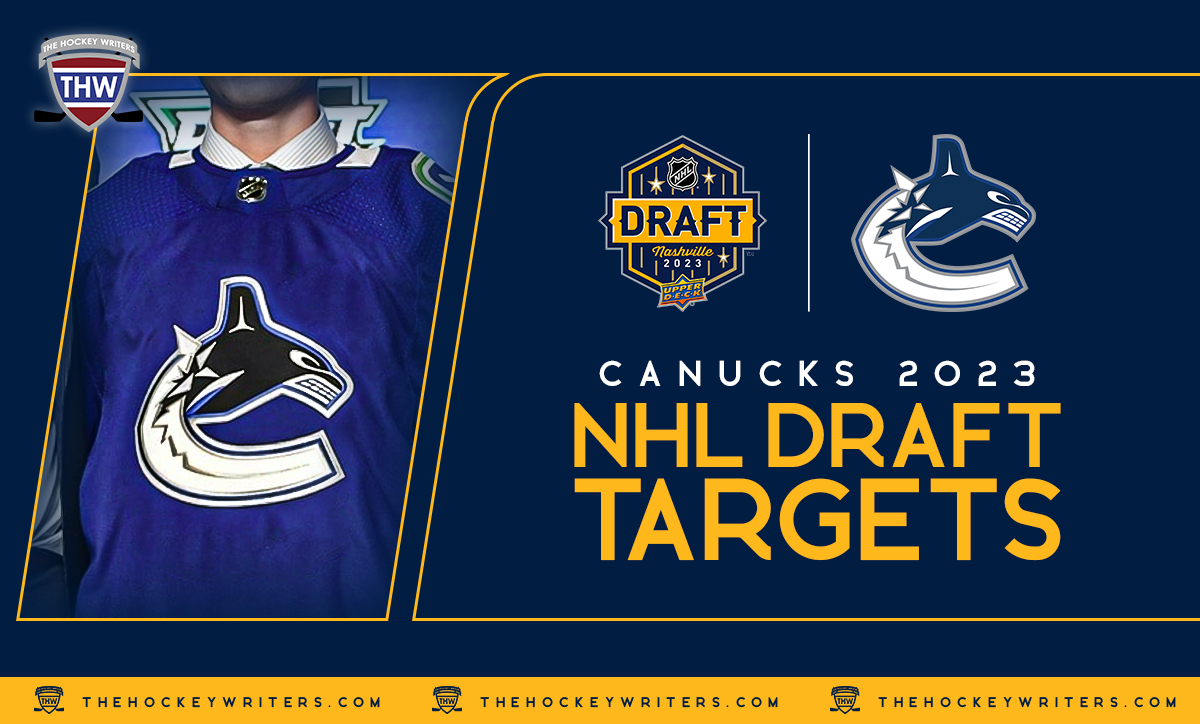 Before the clock starts ticking on June 28, the Canucks coverage team here at The Hockey Writers will be profiling potential targets at 11th overall. Next up is 6-foot-4 Russian blueliner Dmitri Simashev, who has been rising on draft boards despite limited viewings and a lack of World Junior and U18 experience.
Simashev's Scouting Report
Arguably one of the best modern defensive defencemen available in this draft class, Simashev has the size, skating, and defensive hockey IQ that rival some of the best in the game today. Usually, when a player is 6-foot-4, their mobility isn't the best, but with Simashev, it's one of his strengths.
His rare size and mobility combination makes him a relative monster defending the rush. He's aggressive, exploits his above-average range, and finishes opponents on the outside of the ice. He protects the dotted lines as if there was a median painted up and down the ice.

– Daniel Gee, Daily Hive

Simashev is also great at moving the puck out of his own zone as his first pass is excellent and he has the size and strength to avoid being pinned in by the opposition's forecheckers. Unfortunately, unlike Axel Sandin Pellikka, Tom Willander and David Reinbacher, he does not project to be an offensive threat. While his skating and mobility are strengths, he hasn't shown much of a presence on the scoreboard – at least not yet. Spread across the Kontinental Hockey League (KHL) and the Russian Junior League (MHL), he only had 12 points in 51 games this season. As Gee stated in his analysis of his game, he will likely turn into "more of a lock-down defender archetype rather than a two-way option."
That's not necessarily a bad thing as Jaccob Slavin and Chris Tanev have made a living in the NHL as those types of defencemen. They usually match up well with offensively-inclined skaters like Quinn Hughes and are trusted to go up against the likes of Connor McDavid and Nathan MacKinnon. Simashev could eventually be better than those two considering his rare combo of size, skating, mobility, and understanding of the game.
Related: Canucks 2023 Draft Coverage
---
Latest News & Highlight
---
And if you believe THW's Logan Horn's projection, Simashev might actually have the ceiling of a two-way defenceman rather than just a lock-down option, as he made some comparisons to two of the top-rated blueliners in this class.
I'm not too worried as he shows more offense than the stat sheet credits him for, making solid outlet passes and even displaying some good stick handling around defenders on the rush…I think Simashev has the highest two-way potential among defensemen in the draft class, with a higher defensive ceiling than Axel Sandin-Pellikka and a higher offensive ceiling than David Reinbacher.
All in all, Simashev is an intriguing defenceman and someone that has grown on me over the last month or so. In a recent episode of Prospect Corner, I chose the more offensively-gifted Mikhail Gulyayev over Simashev, citing the fact that defence can be taught while offence couldn't. I still believe that, but with the rise of modern defensive defencemen and the need for their skills to shut down superstars like the aforementioned McDavid, rare breeds like Simashev might be more important to add to a prospect pool.
Simashev's Statistics
Why the Canucks Should Be Interested
With Oliver Ekman-Larsson being bought out, the Canucks have room on the left side for a defender like Simashev. While he won't be in the lineup until 2024-25 at the earliest due to his contract in the KHL, he fills a lot of needs on the blue line. The franchise hasn't really had a lockdown-type defenceman since Tanev and could use someone to fill that role – even if it's not alongside Hughes. When the Canucks were at the height of their power in the 2010s, they had Dan Hamhuis, Willie Mitchell and Kevin Bieksa patrolling the defensive zone. They were physical, almost impossible to get around, and always matched up against the best of the best in the league.
If the Canucks want to get back to being a power in the Western Conference, they need that presence in their lineup again. Simashev can bring that and more with his size and seemingly pro-ready game. While he won't help the team right away – really no defenceman drafted this year would, except maybe Reinbacher – he could turn out to be one of the best to come out of this draft. And with the Canucks' recent trend of signing and acquiring Russians, both on the ice and behind the bench, he could be a perfect fit in Vancouver. Throw in the fact that he is represented by Dan Milstein and Gold Star Sports Management – Ilya Mikheyev, Vitali Kravtsov and Kirill Kudryavtsev's agent – and this may be a match made in heaven.
Why the Canucks May Stay Away
The Canucks have been linked to a few other defencemen, most notably Willander as they took him out to dinner at the Draft Combine in Buffalo. As I mentioned, despite Simashev's supreme defensive game, he doesn't project to be much of a point producer. Willander, on the other hand, will probably be a two-way threat capable of playing against top lines and putting up 30-40 points a season. He is also a right-shot, something the Canucks desperately need more of in their pipeline. If he is still available when they select at 11, which is very possible, he will likely be the choice over Simashev.
The Canucks would also have less control over Simashev's development as he will be stuck in the KHL until the 2024-25 season. And we all know how frustrating that can be after Vasily Podkolzin's experience with SKA St. Petersburg. While with Willander, he will be readily available in the NCAA next season with Boston College, a school that has graduated the likes of Brooks Orpik, Johnny Gaudreau, and Thatcher Demko. From a development and ceiling standpoint, they might feel more comfortable going with Willander over Simashev.
Will the Canucks Take Simashev?
While some people may think of it as a stretch, a handful of major scouting outlets have Simashev ranked between eighth and 15th overall in their final rankings. So, it's not out of the realm of possibility to see him go in the range of the 11th overall pick. It has been reported that the Canucks won't be shy to add a Russian and have even expressed a high amount of interest in Matvei Michkov should he drop to 11th. They have also interviewed Simashev, so the interest is clearly there for the 6-foot-4 unicorn (from 'What we're hearing about the Canucks' draft plans and free agent priorities', The Athletic, 6/20/23).
If I was a betting man, I would predict that the Canucks will draft either Willander or Simashev. It just seems like there's a lot of smoke around both of them in the rumor mill right now. But, you never know with the draft, as unpredictability usually reigns supreme at this time of year.
---
Other Canucks Draft Targets