The Vancouver Canucks will have to wait until the third round of the 2020 NHL Draft to make a pick. Unless their general manager Jim Benning recovers a second-round draft pick, their first selection will come at 82nd overall.
It is usually a bad situation when a team doesn't pick until the third round, but Benning's recent success in the middle to late rounds is a sign of hope for the Canucks. Since the 2017 NHL Draft, Benning has done a great job of finding gems from the third round and onward. 
2017 NHL Draft
Third Round: Michael DiPietro
With Thatcher Demko officially a full-time NHL goaltender, DiPietro has become the Canucks' top goalie prospect. Drafted with the 64th overall pick in 2017, DiPietro started his first-ever NHL game in the 2018-19 season. His first ever game wasn't pretty as he allowed seven goals, but the loss did the opposite of hurting the young goalie's confidence. 
"But that was probably the best thing for me, looking back on it, because it really opened up my eyes to what the pro game's about, and I owe not just the players, but the coaching staff with how understanding they were and making sure that I continue to grow my game. So it's been a long eight months, but I think it's been pretty good."

DiPietro said after suffering a 7-2 loss in his first NHL game.
DiPietro had a good first season as the starter for the Canucks' minor league team, the Utica Comets. He posted a 21-11-2 record with a 2.79 goals-against average and a .908 save percentage. The Hockey Writers' Matthew Zator concluded DiPietro had a better first professional season with the Comets than Demko due to him being six months younger and having a weaker defensive team.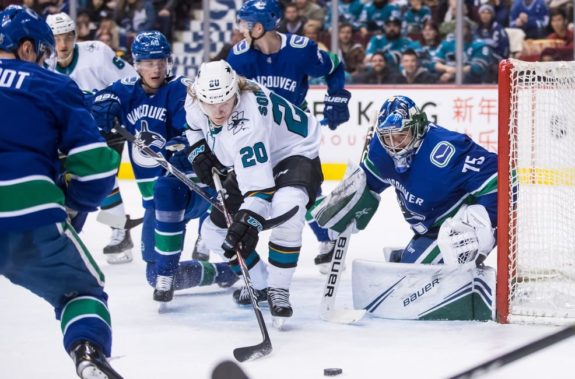 DiPietro is only 21 years old, but the Canucks may call on him to the main roster sooner rather than later. With Jacob Markstrom potentially on his way out of Vancouver, and if they don't sign a backup for Demko, DiPietro may get an opportunity next season. His first season in the AHL shows the 21-year-old will one day be a starter in the NHL.
Fourth Round: Jack Rathbone
Rathbone has become a top-four prospect for the Canucks behind Vasili Podkolzin, Nils Hoglander and Brogan Rafferty. Rathbone, drafted with the 95th overall pick in 2017, signed with the team in July. He is an offensive defenceman and posted 31 points in 28 games with Harvard University last season. 
"Jack is a dynamic player. He has the ability to transition the puck from the defensive zone, brings good offensive instincts and plays with an edge to his game. We are pleased to have Jack join our roster."

Benning said about Rathbone.
Rathbone will likely be on the Canucks' second defensive pairing for most of his NHL career behind Quinn Hughes. He brings a lot of similar offensive skills as the Calder Trophy runner up, which includes his elite skating and passing skills. Rathbone will likely spend some time with the Comets next season but will have an opportunity to crack the main roster through training camp.  
2018 NHL Draft
Third Round: Tyler Madden
Benning had two great mid-round picks in the 2018 NHL Draft. He drafted Madden with the 68th overall pick but traded him away in a package for Tyler Toffoli. With Toffoli likely headed to the free agency, trading Madden may have been a mistake by the general manager.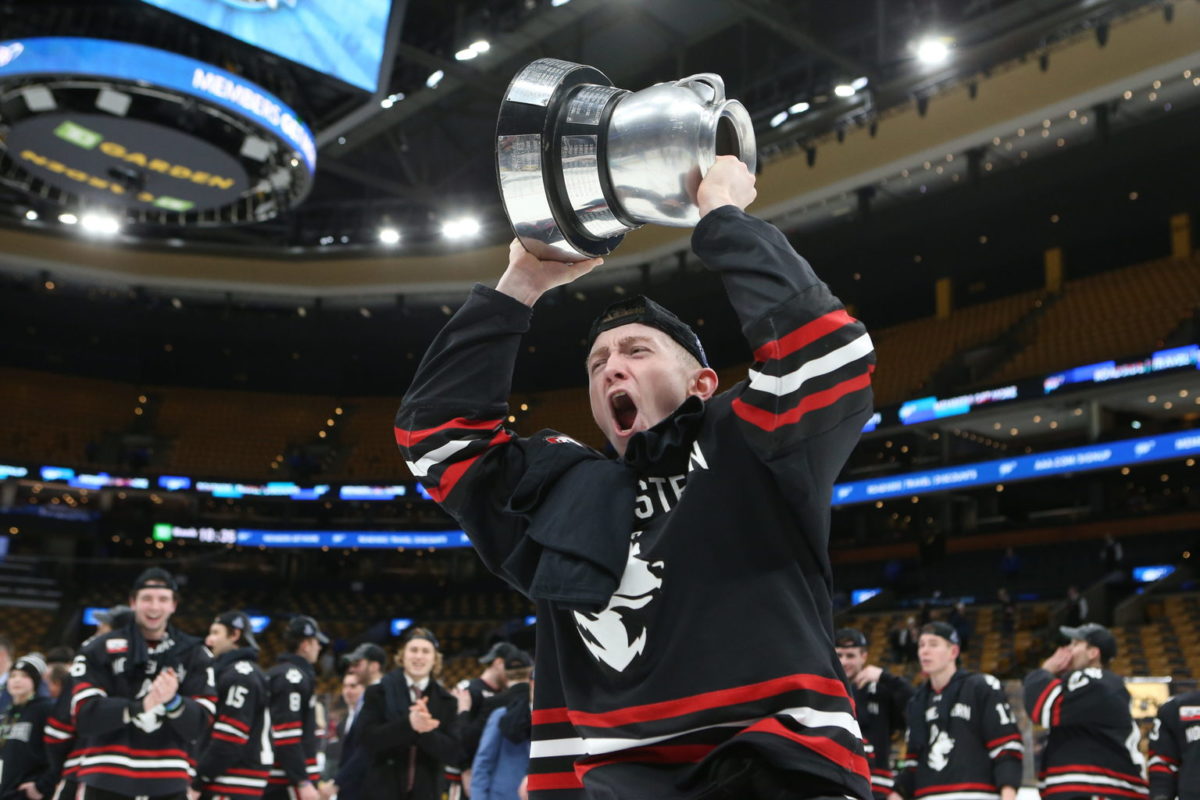 At the time, Brock Boeser was out for potentially eight weeks with a rib injury, so adding Toffoli to their top six to make the playoffs made sense. Toffoli played in seven out of 17 playoff games, so the return wasn't as great as what Benning expected. Losing Madden will likely hurt as he was a top prospect for the Canucks.
Fourth Round: Toni Utunen
Benning selected Utunen at 130th overall in 2018. Utunen plays a defence-first style of game. From the age of 14 to the time he went pro, the Finnish defender played against players who were two years older than him (from 'Canucks Top 10 Prospects: No offence, but Toni Utunen clearly a defender,' The Province, 09/24/2020). As a result, he transformed his game into a stay at home style. 
"The role he employs now is one of the steady, stay-at-home type. He does this by effectively using his stick and gap control to thwart oncoming threats. Despite not being the largest player out there, he manoeuvres and angles well down low and can handle the front of the net as well."

Dobber Prospects' Cam Robinson told The Province.
Utunen's defensive style of play is different than other top young defenders on the Canucks' main roster and in their prospect pipeline. Hughes, Rathbone, Rafferty, and Olli Juolevi all have offensive abilities, which makes Utunen's skillset important. Due to his safer style of play, he will likely be a sixth or seventh defenceman for the Canucks in the future. 
2019 NHL Draft
Fifth Round: Carson Focht
The Canucks selected centre Focht with the 133rd overall pick in last year's draft. He had a good season in 2019-20 with the Calgary Hitmen of the WHL as he posted 32 goals, second behind Ottawa Senators prospect Mark Kastelic (38). The Regina native worked hard last summer to improve his skating (from 'Ben Kuzma: Is hotshot Carson Focht another Canucks fifth-round find?,' The Province, 07/23/2020).
"I've worked a lot on my skating this off-season. My two-way game and work ethic are things I can bring to stand out and I want to be a difference maker. Going to (Canucks) camp last year really gave me a lot of confidence with what the pace is like."

Focht told The Province.
Focht is 6-foot-1, 185 pounds, plays a two-way game and uses his speed on the forecheck to force plays, according to Benning. There is no guarantee that Focht's scoring will transition to the NHL, but his two-way style and speed will help him become a bottom-six centre who kills penalties for the Canucks sometime in the future. 
Seventh Round: Aidan McDonough
The Canucks selected Aidan McDonough with the 195th overall pick in the 2019 NHL Draft. The left-winger scored 11 goals and 27 points in 31 games in his freshman season with Northeastern University. McDonough's shot is a strength, as well as his size and hands. His coach at Northeastern, Jim Madigan, believes he has become a better player away from the puck (from 'Canucks Top 10 Prospects: Aidan McDonough has a big shot, needs more speed,' The Province, 09/23/2020). He believes the 20-year-old improved his defence, positioning, and his ability to battle for the puck this past season.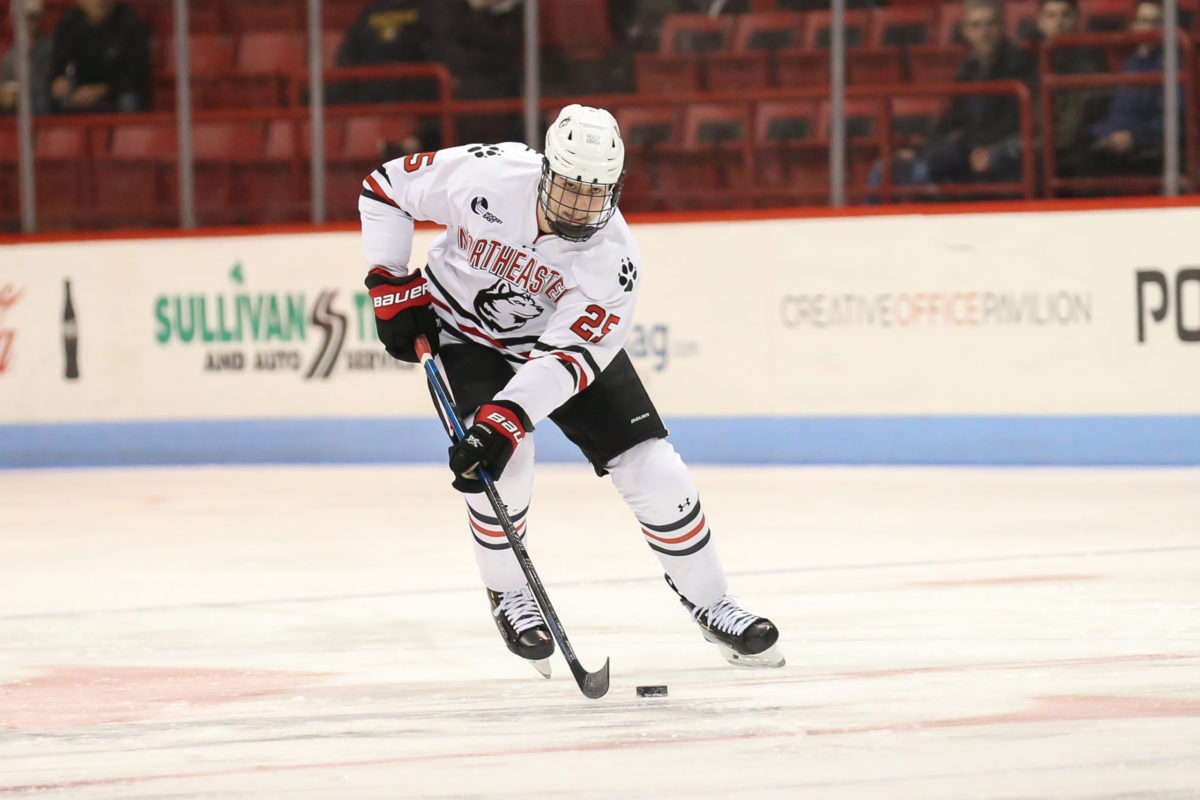 McDonough, similar to Focht, is a few years away from the NHL but will be a great bottom-six winger. His shot and defensive play will allow him to be an effective player for the Canucks in the future. 
Jim Benning Has Found Late-Round Gems
Looking at Benning's recent track record in the mid to late rounds over the past three years, the Canucks have a good chance of finding more gems in the 2020 NHL Draft. The club needs to continue to add to their prospect pool and continue to produce top players through the draft. Benning also drafted Adam Gaudette back in 2015, who is now playing on the Canucks' third line. 
---
---