Talks of the Vancouver Canucks potentially acquiring Ryan Reaves in the summer have been swirling in the media a little bit, and opinions have been somewhat divided.
Todd Bertuzzi on SN 650 talking about the #Canucks going after ufa Ryan Reaves., "He is outstanding physically, so hard to contain down low and he is a lesser version of Dustin Byfuglien. That is something for sure the Canucks can use going forward."

— Rick Dhaliwal (@DhaliwalSports) May 22, 2018
The Canucks need grit and toughness, and Reaves has that abundantly, but there's also a case being made for a man who is already in the system — Darren Archibald.
The Ryan Reaves Case
At 6-foot-1 and 221 pounds, Reaves is certainly on the bigger side and he knows how to bring it physically — especially when it comes to throwing hands. Reaves is largely regarded as one of the best fighters in the NHL, and for that, he's earned himself a lot of respect.
With that being said, Reaves does receive a healthy amount of criticism. In a game that's endlessly getting faster, players like Reaves find it more and more difficult to remain relevant — in today's NHL, if you can't skate, you better be a huge physical presence or put the puck in the net.
The Winnipeg, Manitoba product has only contributed 61 points in 498 games so, you guessed it, his 789 PIMs are his strongest statistic.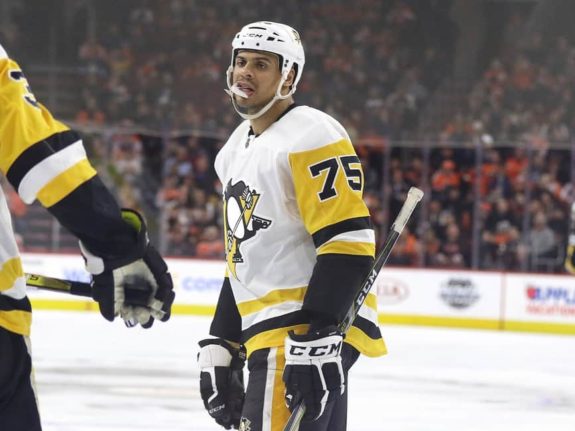 Reaves has averaged 7:56 of ice time per game over his eight-season career and is set to part ways with a four-year, $4.5-million contract and become a UFA.
For Reaves' standards, he had a reasonably productive season, and the fact that he saw a career-high 9:55 average time on ice with the Stanley Cup Final-bound Vegas Golden Knights, it's safe to assume he's going to want some higher numbers on his new contract.
This poses the question: do the Canucks really want to pay (potentially) $2 million or $3 million for a player who lacks speed and offensive contribution, but is a dominant physical force?
The Darren Archibald Case
In regards to the previous question, I think the answer is another question: who says the Canucks can't get the whole package, for a portion of the price? That's where Mr. Archibald comes in.
Archibald stands at 6-foot-3 and 210 pounds, and the 28-year-old can also skate with the best of them. The Newmarket, Ontario product laced up for 27-games this season with the Canucks and recorded nine points.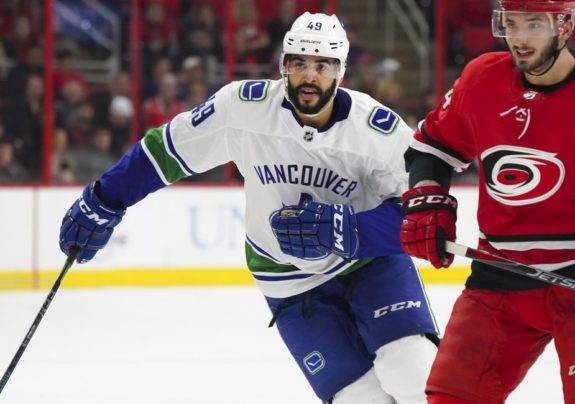 Last season, in the AHL, Archibald led his Utica Comets in scoring and dropped the gloves twice. It's interesting to compare that to his rookie season with the Comets, when he led the team in fights with 10 and contributed less than half the points, with 22. It's certainly a testament to his ability to grow and adapt in the ever-evolving game of hockey.
Archibald is just now getting his shot with the big club, and Canucks coach Travis Green has been impressed. Green has watched Archibald develop, as he too was climbing the ranks within the organization at the same time.
Archibald told Iain MacIntyre of Sportsnet that he knows his role and what Green and the Canucks expect of him.
"I owe a lot to Greener over the years. There's definitely no room for complacency. Me being a big, physical guy, I've got to be noticeable on the ice every night. I've got to bring that physicality that our team needs. There's no taking my foot off the gas. I'm back here, but I want to stay this time."
The Verdict on Reaves vs. Archibald
It's the proven versus the potential when it comes to Reaves and Archibald. Do the Canucks keep growing Archibald, or do they bring in a proven warrior like Reaves? The fact remains: there's only room for one in this organization, currently.
Reaves is hands-down the better fighter, but how valuable is fighting in today's league?
Some would argue it's still an integral part of the game and beyond that, having an intimidation factor on the roster is one of the best things to have, especially when it comes to farming young talent — think of a sheepdog keeping an eye out for wolves coming after his sheep.
On the other side of the coin, Archibald is younger, cheaper and a more versatile hockey player. But, do the Canucks need that extra firepower in the future or do they need someone who can stand toe-to-toe with any wolves that might come poking around?
The Canucks need to stick to their guns and keep feeding opportunities to Archibald — his future is trending upwards, like the Canucks, while Reaves is slowly but surely descending into irrelevancy.
Let me know your thoughts on the Canucks potentially snagging Reaves in the comments below!