While the Vancouver Canucks are embroiled in drama and anticipated changes roster-wise and behind the bench, their prospects continue to impress across North America and overseas.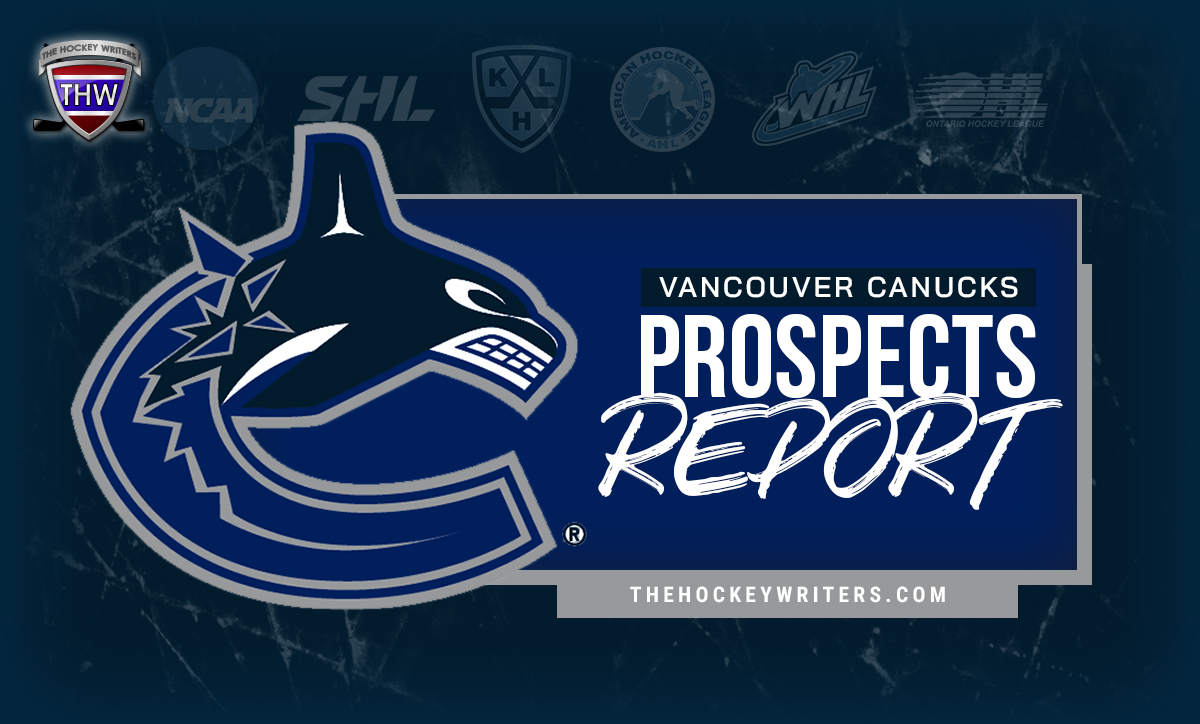 In this edition of the latest Canucks Prospect Report, McDonough continues his assault on the NCAA leaderboard, three prospects from the 2022 Draft class kick into high gear, and Arshdeep Bains is rediscovering the scoring touch that he had in the Western Hockey League (WHL) with the Red Deer Rebels.
Lekkerimaki Returns to the J20 Nationell With a Bang
Over the weekend, Jonathan Lekkerimaki was sent back to the league that he dominated in his draft year and promptly put up five points (two goals, three assists). He will now return to the HockeyAllsvenskan and hope that the goals and points follow him. Since being drafted 12th overall by the Canucks in 2022, he has struggled to find the same success he had in 2021-22 at both the J20 Nationell and Swedish Hockey League (SHL) levels. With only a goal and five points in 22 games this season, he knows he has to make some improvements in his game if he wants to develop into an elite winger.
I think I haven't been my best with the men's team. I think I can be better at some parts of the game…The play along the boards and being stronger on the puck. To get stronger off the ice.

Jonathan Lekkerimaki (from 'Canucks prospects tracker: The trials of Jonathan Lekkerimaki, in his own words', The Province, 1/16/23)
After an average performance at the 2023 World Juniors where Lekkerimaki was benched in Sweden's semi-final match against Czechia, the hope will be that he can return next year and be a leader offensively when his nation hosts the event in Gothenburg. He has all the tools to do so, from his NHL-caliber wrist shot and hockey IQ to his vision and knack for finding the high-danger areas on the ice, the potential is there for him to be a legit top-line winger. He knows what he has to do to get there, now everyone just has to wait for him to organize his toolbox.
Gardner Continues to Light Up the USHL
Unfortunately, Gardner suffered a torn MCL during the preseason, and could not start the 2022-23 season on time. Luckily, he's healthy now and is tearing up the United States Hockey League (USHL) with the Tri-City Storm. With an impressive four goals and 11 points, he's already had a five-game point streak and recorded points in 10 of his first 14 games so far.
Related: Vancouver Canucks 2022 Draft: Meet the New Prospects
---
Latest News & Highlights
---
Selected by the Canucks in the fourth round (112th overall) of the 2022 Draft, Gardner is a 6-foot-4 center lauded for his two-way skillset and willingness to go to the dirty areas on the ice. Coming off a monster 45-goal campaign in his senior year at Warroad High, he has hit the ground running in the USHL this season and could potentially be a steal down the road if he is able to transfer his production to Clarkson University in 2023-24 and beyond.
McDonough Climbing NCAA Leaderboard
From a future NCAA player to a current one, Aidan McDonough seems to be on a mission to shatter his career-high of 39 points and finish his senior year off with a bang – the bang being a national championship. With 15 goals and 29 points so far, the first-year captain of the Northeastern Huskies is doing all he can to make that happen.
While the Huskies as a team aren't blowing everyone away this season with a 10-9-3 record, McDonough continues to rack up the goals – especially on the power play where he regularly unleashes his patented one-timer from the right circle. He currently leads the team in that category with seven, and almost every other stat imaginable from overall goals (15) and assists (14 – tied with Justin Hryckowian) to points (29) and shots (85). He also sports an impressive plus-11 in the plus/minus column.
Now six goals back of Jason Polin for the overall goal lead, and 10 points back of Ryan McAllister for the overall points lead, McDonough could conceivably be in the running for the Hobey Baker Award given to the NCAA's top player at the end of the season. Although, I'm sure he would settle for a national championship instead.
Bains Starting to Contribute Offensively in Abbotsford
It took a while, but Bains is starting to look like the WHL scoring champ of 2021-22. Well, maybe that's a bit of an exaggeration. Still, his numbers over the past two weeks are resembling that of a top-six scorer rather than a bottom-six grinder. Humming along at nearly a point-per-game pace over the past 10 games (two goals, eight points), he has recorded three multi-point efforts – two in his last four games – and has not posted a minus since Nov. 20.
Related: Abbotsford Canucks' Rookies Will Continue Excitement in 2022-23
Playing alongside uber-skilled Belarusian Danila Klimovich (who is on quite the tear himself with four goals and eight points in his last ten), Bains is benefiting from his winger's sublime playmaking skills. Is it too soon to say that he has found his version of Ben King in the American Hockey League (AHL)? We will just have to wait and see.
Kudryavtsev Making His Mark in Sophomore Season
Moving east to the Ontario Hockey League (OHL), we finish with another 2022 Draft pick in Kudryavtsev. Selected in the seventh round (208th overall), he's starting to emerge as another potential steal from this past draft class. Now, it might be too early to say that for sure, but if his sophomore season with the Soo Greyhounds is any indication of future greatness, I think fans are in for a treat. Having surpassed his career-high for goals on Dec. 28 in a 7-4 loss to the Flint Firebirds – a game he posted two goals and an assist – he's now only seven points away from shattering his career-high for points.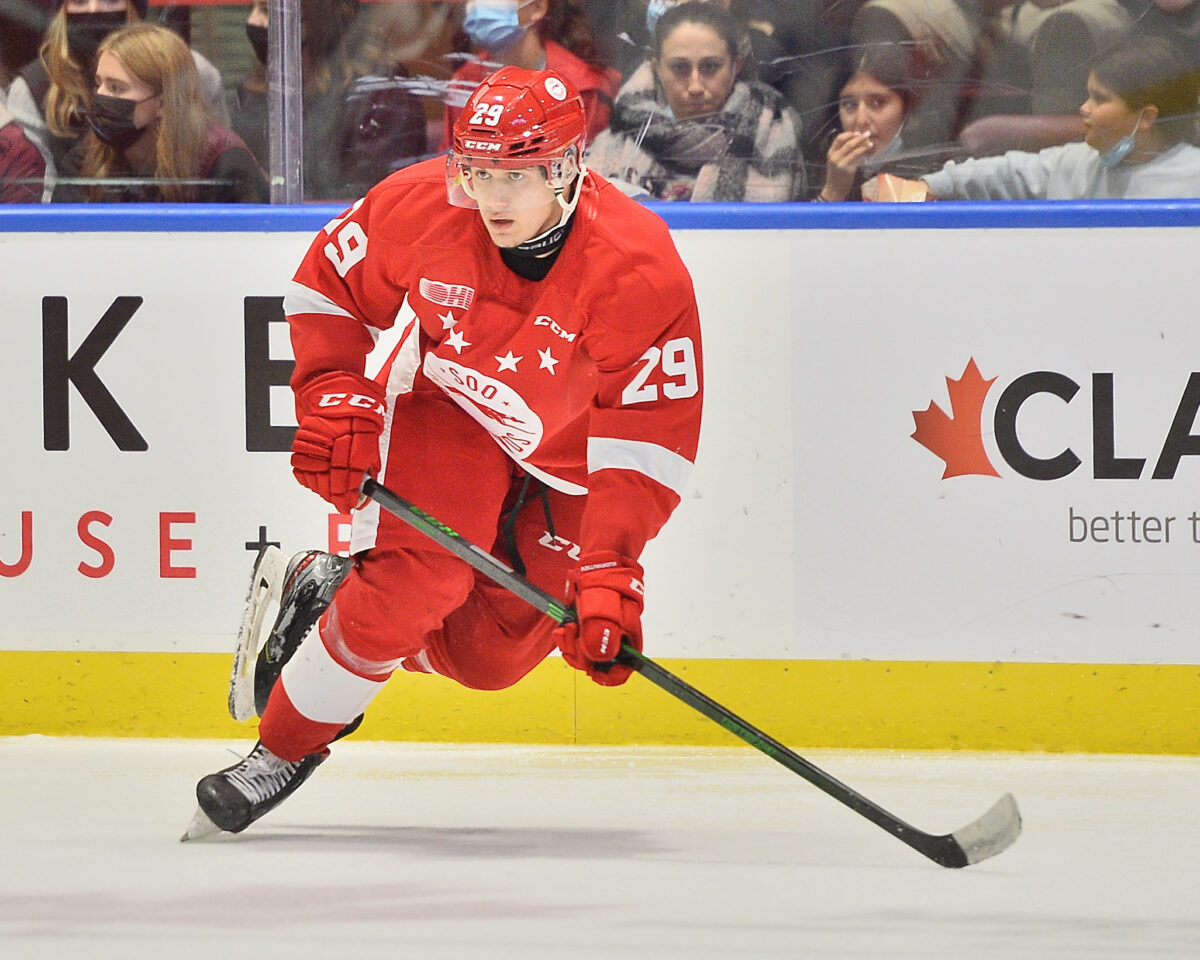 The smooth-skating Russian put up five goals and 39 points in 68 games last season and now has 33 points in 39 games, which puts him tied for sixth amongst defencemen with Michael Buchinger of the Guelph Storm. His plus/minus is a bit ugly at minus-8, but his team is also 13-16-7-4 and has given up the most goals in the West Division. So, that could be a misleading stat when it comes to judging his defensive abilities. All in all, Kudryavtsev is having a breakout season in the OHL and might actually be flirting with top-defensive prospect status before too long.
Other News & Notes From the Canucks' Pipeline
Jack Rathbone suffered a scary injury on Jan. 14 when he collided with a San Jose Barracuda player who was coming in on the forecheck. After lying motionless on the ice, he was stretchered off and sent to the hospital. Luckily, it was reported that he was alert and responsive.
Lucas Forsell has been able to stay in the SHL for a while now and has a respectable three goals and four points in 17 games with Farjestad BK, including a three-game goal streak at the end of December.
While Connor Bedard is ripping up the WHL, Connor Lockhart is doing the same in the OHL. Certainly not at the same level, but he is doing something special with 16 goals and 49 points in 38 games – one point better than last season when he put up 48 points in 64 games with the Erie Otters. Now an alternate captain with the Peterborough Petes, he and his team could be poised to make some hay in the playoffs with new additions Owen Beck and Brennan Othmann.
Jacob Truscott continues to surprise in the NCAA with the Michigan Wolverines, as he added another three points to his season total on Saturday (Jan. 14). He is now up to two goals and 14 points in 21 games, which is only three points back of his career-high set last season.
That does it for another edition of the Canucks Prospects Report. Stay tuned for the next one in two weeks as we continue to highlight the 2022-23 seasons of every prospect from North America and overseas.