Three games on home ice offered mixed results for the Boston Bruins in the last week. After sweeping a three-game road trip in California, they returned home and won two of the three games on TD Garden ice before packing their luggage to hit the road again.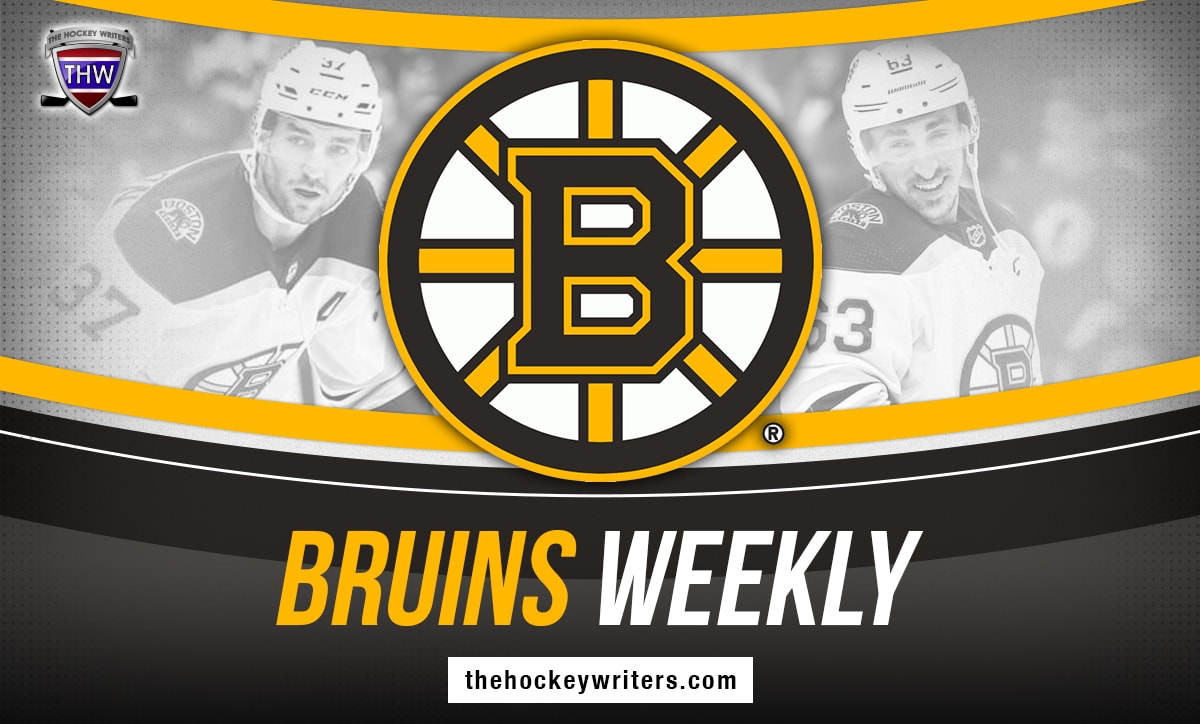 In the latest edition of Bruins Weekly, we discuss a veteran reaching a big milestone, a goalie quietly having a good stretch, the Black and Gold finally beating a rival, and more.
Bruins Avoid Back-to-Back Losses Again & Finally Solve Toronto
There have been some impressive numbers through the first half of the historic start to the season for the Bruins. They have given up the fewest goals in the league, 94, but probably the most impressive numbers come following their nine losses.
Following their first regulation home loss of the season on Jan. 12 to the Seattle Kraken, 3-0, the Black and Gold avoided losing consecutive games for the ninth time this season with a big 4-3 bounce-back win over the Toronto Maple Leafs on Jan. 14 on a Matt Grzelcyk goal with 1:16 remaining in the game. Amazingly, following a regulation, overtime, or shootout loss, Jim Montgomery's team always bounces back with a win and it's just another reason why they have the best record and most points in the league.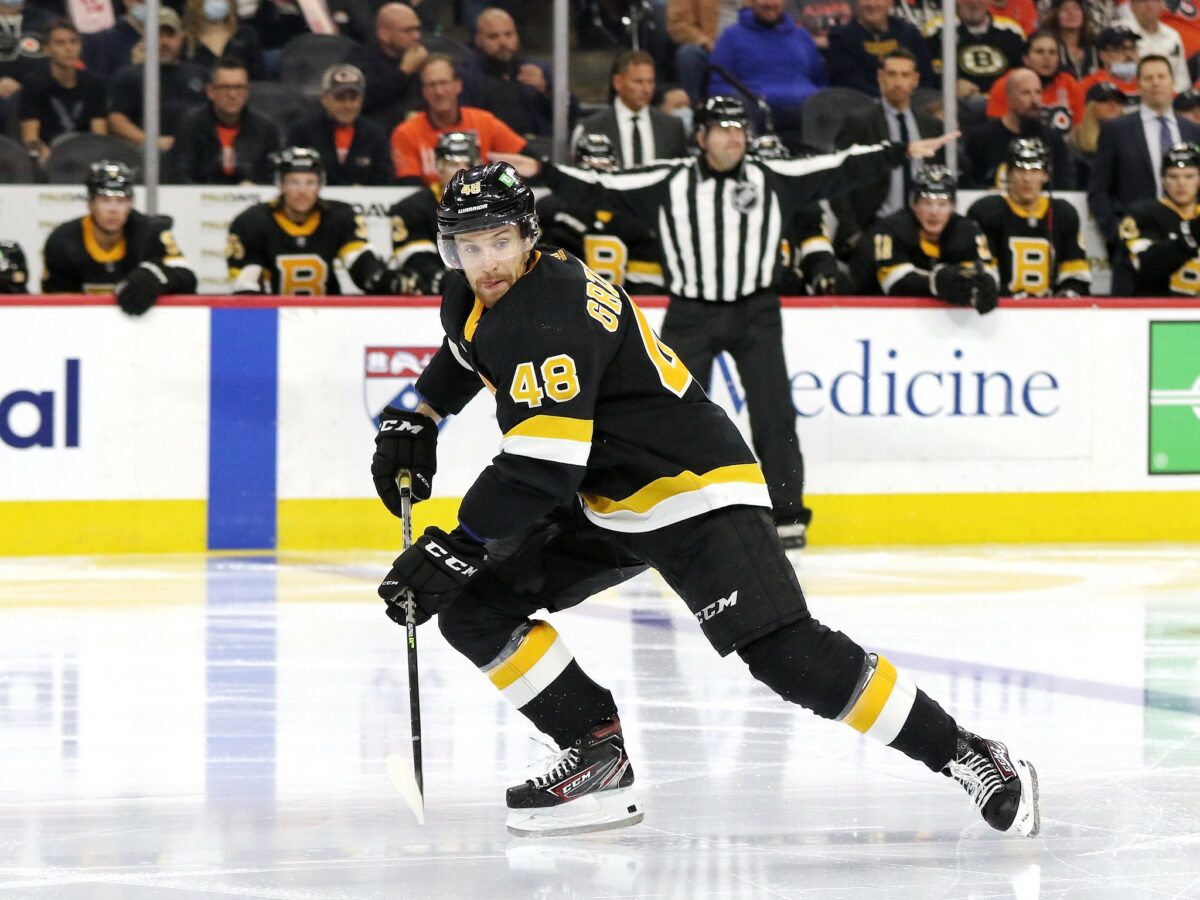 The win over Toronto was big in many ways. Yes, they regained their double-digit lead in the Atlantic Division, but it broke a four-game losing streak to the Maple Leafs, a team the Bruins will most likely have to defeat in a seven-game series if they want to advance past the second round of the playoffs in the spring. Yes, there is a long way to go before then and a lot can happen, but Toronto had won the previous four games dating back to last season and outscored Boston, 18-9, in that stretch. If the two heavyweights meet in the postseason, the winner of the series should be considered the favorite to represent the Eastern Conference in the Stanley Cup Final.
Krejci Plays in 1,000th Career Game
David Krejci played in his 1,000th career game in the Bruins' 6-0 victory over the Philadelphia Flyers on Jan. 16. The veteran, who spent the 2021-22 season playing in his home country of Czechia, celebrated his milestone with three assists. He has 226 career goals and 538 assists in his 1,000 games, all as a Bruin and it's a milestone that he appreciates.
"I was, obviously, thinking about this game recently a lot," said Krejci. "I don't know, it's obviously a big accomplishment playing for one franchise for an organization like this. I'm really, really proud of myself to be able to do that. Right now, I don't feel much, you know? It's obviously a great feeling that 1,000th game and the win. I feel like this is one of those milestones that you're gonna appreciate once you're done. You look back and you can appreciate it a little more."
Related: Bruins' Krejci Latest Player Suggesting Coaching Change Was Due
---
Latest News & Highlights
---
Krejci returning this year has made a talented team that much more talented and deeper. He slots back in perfectly behind Patrice Bergeron as the second-line center and he gets to play with David Pastrnak on a nightly basis. No wonder he returned to Boston for one more season.
Koppanen Returns to Boston & Could Be Used as Trade Bait
On Jan. 17, the Bruins re-called Joona Koppanen from the Providence Bruins in the American Hockey League (AHL) for their upcoming road trip. Tomas Nosek has been playing through an injury and was not able to take faceoffs against the Kraken, which allowed Koppanen to make his NHL debut. After being sent down, he will make his second trip to the NHL in four days and be slotted on the fourth line against the New York Islanders on Jan. 18.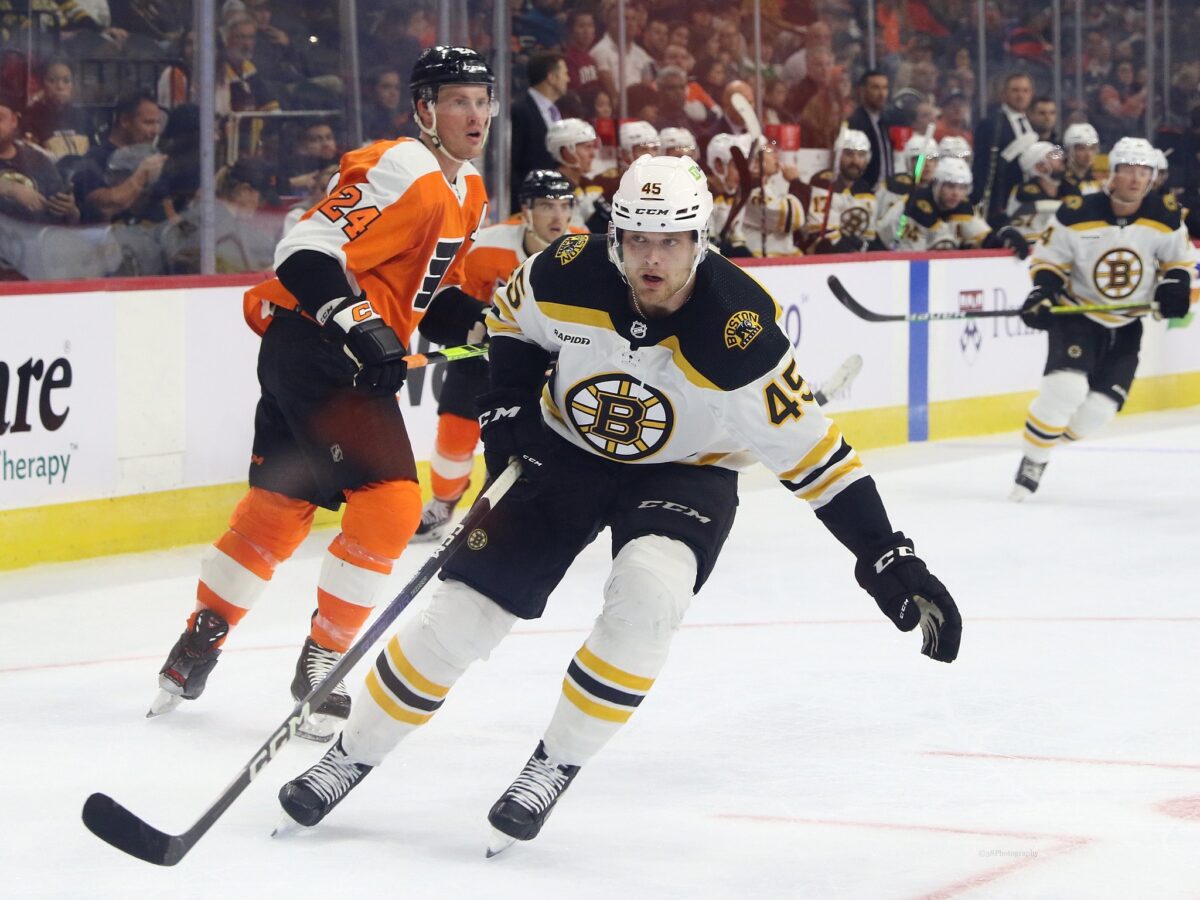 It's most likely insurance for the two-game trip on back-to-back days, but you have to wonder if they are bringing him up to showcase him for a possible trade ahead of the deadline as well as filling in a need with Nosek's injury. The Bruins are limited with prospect trade bait, but Koopanen has had a strong year with Providence and a team could see him as an asset in the next couple of weeks. With two games in New York, there should be no shortage of scouts from other teams in attendance for the Bruins' two games and don't be surprised if they all give Craig Smith a look as well.
Swayman Continues Strong Play
With the season Linus Ullmark is having, it's easy to see why he's getting a lot of the action between the pipes, but backup Jeremy Swayman has quietly been going about his business even though the assignments have been few and far between. In his last seven games, he's 5-0-2 and playing with a lot of confidence.
For the season, he's 10-3-3 with a 2.35 goals-against average (GAA) and a .912 save percentage (SV%). Over the next two weeks, the Bruins will play seven of their final eight games before the All-Star break on the first weekend of February on the road. They will need Swayman to be ready to be called upon, especially with Ullmark making the Atlantic Division All-Star team.
New York, New York
The Bruins begin a road stretch before the All-Star break on the road in New York. Boston visits the Islanders on Jan. 18, then one night later, they will take on the New York Rangers at Madison Square Garden. Both teams are going in opposite directions as all teams are just past the midpoint of the season.
The Islanders are hanging around the second Eastern Conference wild card spot, while the Rangers have been playing good hockey and they recently jumped from a wild card spot to the third spot in the Metropolitan Division. Following the two games, the Bruins return home to play the San Jose Sharks on Jan. 22. 
Bruins Week Ahead
Wednesday: at New York Islanders, 7:30 p.m.
Thursday: at New York Rangers, 7 p.m.
Sunday: vs. San Jose Sharks, 7 p.m.
Tuesday: at Montreal Canadiens, 7 p.m.
---
---