The Minnesota Wild started off their four-game road trip with a visit to Washington D.C. to take on the Washington Capitals and their Russian superstar Alex Ovechkin on Tuesday, Jan. 17. They had a very quiet first period with just three shots on goal while the Capitals had 13 and recorded the game's first goal. The Wild were able to take responsibility in the second with a goal of their own in the first minute but the Capitals answered back a short time later to retake the lead.
That second Capitals goal was all the Wild needed to kick their game back into gear as they went on to score back-to-back goals and take their first lead of the game. They carried that lead through the third and held on despite the Capitals' many attempts to tie it and in the final minute the Wild were able to add an empty-net goal to seal the 4-2 comeback win.
Wild's Spurgeon & Brodin Scoring Heroes
There were two unlikely scoring heroes for the Wild in their win. That included their captain Jared Spurgeon, who got his team on the board with a snipe from the point that tied the game at one to begin the second period. His fellow defenseman Jonas Brodin followed with the Wild's next goal later in the same period that also tied the game but this time at two goals apiece. Spurgeon wasn't done with his scoring yet, as he added his second goal of the night before the second period ended to give his team the lead and the motivation to get the win.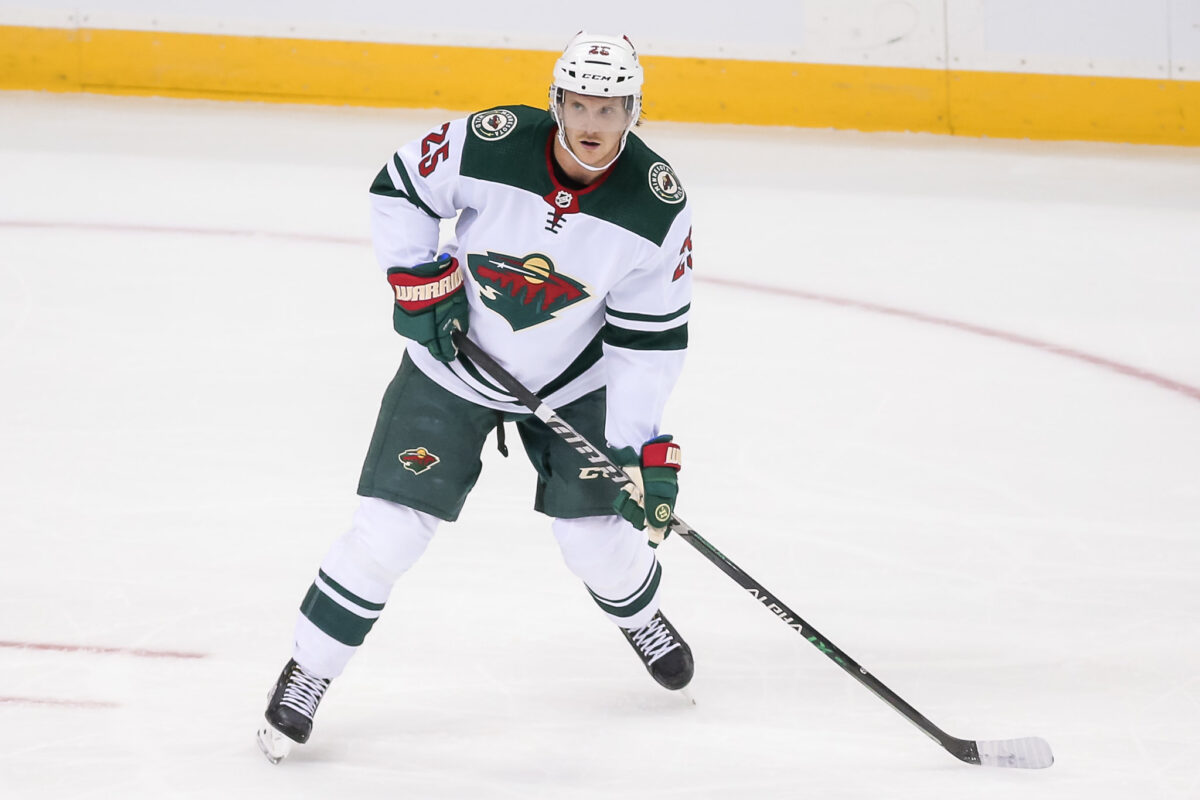 It was Spurgeon's fifth multi-point game of the year and the first time this season that he's had a two-goal game. He's now up to seven goals and 14 assists for 21 points, nearly halfway to his career-high of 43 points back in 2018-19. While he has registered a few goals already, Brodin's goal was his first of the season and just his sixth point.
However, they didn't focus on just offense, as both Spurgeon and Brodin kept their defensive responsibilities as their main priorities. They each had two blocked shots but Brodin dialed up his physicality with four hits compared to Spurgeon's one. If the Wild's top defensemen can contribute three goals a game and keep up with their defensive duties, they'll be able to win more games.
Wild's Special Teams Rollercoaster Continues
After starting the season off with a very strong power play, that scored eight power-play goals in their first five games, the Wild have struggled since with only one in their last five. Their lone goal came against the Arizona Coyotes on Saturday, Jan. 14, and it was scored by Mats Zuccarello. For some reason lately, they can't score with the man advantage and it's made it difficult for them to win games.
While their power play has struggled, their penalty kill hasn't. Even though the Wild have taken too many penalties this entire season, their penalty kill unit has saved them, especially recently. Their penalty killers have killed off the last 10 penalties over the span of four games. Even with the Wild's 10th too many men on the ice penalty in their game against the Capitals, they still went perfect on the penalty kill.
A 10th, yes, TENTH, too many men penalty for the wild. in the nhl.

amateur hour

— Jessi Pierce (@jessi_pierce) January 18, 2023
One or two of these types of penalties aren't unusual but 10 is too many. The Wild need to get their communication or lack thereof, under control so these penalties stop happening. Their penalty kill was able to survive it this time around but they can't keep expecting perfection if they continue making avoidable mistakes like taking that type of penalty.
Wild's Lack Of Energy
The Wild's main struggle in this game was their lack of energy and jump especially at the start of the game. They were chasing the Capitals all over the ice and had a difficult time keeping up. Instead of playing aggressively and going after the puck, they were mainly following it around the ice and tiring themselves out. It wasn't until halfway through the second period that the Wild finally woke up and played their style of hockey.
Related: Wild Weather the Hurricanes in OT led by Steel & Goligoski
---
Latest News & Highlights
---
The Wild had two days off prior to this game so it's unclear why they had such a lack of spirit, but their game would've turned out a lot differently if they had stayed flat-footed. They got a jump in their game during the second period and ironically they also didn't take any penalties. They had more energy partially because they didn't have to spend any time on the penalty kill and it truly helped their game. If they can stay out of the penalty box in their next games it'll be interesting to see what that does for their energy level.
Wild Take on Hurricanes
The Wild will remain on the east coast but take a detour south to take on the Carolina Hurricanes on Thursday, Jan. 19. They were able to sneak out with an overtime win in their first meeting in St. Paul back in November of 2022. In that meeting, Sebastian Aho was the only Hurricane who scored a goal on goaltender Filip Gustavsson. The Wild's defense will have to put a stop to him if they plan to win once again.
On the offensive side of things, Sam Steel and Alex Goligoski were able to score for the Wild and while Goligoski will likely be out of the lineup, Steel will have a chance to add more goals to his name. They'll need all the energy and jump they can get if they hope to get past the fast-paced Hurricanes to record their fourth straight win.
Mariah Stark (Holland) is a contributing Minnesota Wild writer for THW. She's been covering the Wild at THW since October of 2020 and specializes in game takeaways and weekly check-ins. She is always looking for different angles to cover the Wild and dig deeper into the stories surrounding the team to help fans connect on a more personal level and to keep an eye on the latest follow her on Twitter @MariahEStark.