Today, teams are trimming down rosters. It's another chaotic day in the chaotic couple weeks leading up to the start of the NHL season. The Washington Capitals wrapped up their second scrimmage game of training camp last night. Before the season starts, here's five thoughts from training camp, so far.
Crowded Defense
With the addition of Zdeno Chara, the Capitals have a very crowded defensive unit. They now have eight defenders under contract whom have been NHL regulars at some point in their careers. They also have promising prospect Martin Fehervary in camp. By my count that's nine viable defenders for six nightly roster spots. It's never a bad thing to have depth, but this might be a little overkill.
RELATED: Capitals Add Size & Leadership With Chara Signing
Could that mean a defender is available? Brenden Dillon, Justin Schultz, Trevor van Riemsdyk, and Chara are all new acquisitions. That leaves John Carlson, Dmitry Orlov, Nick Jensen, and Jonas Siegenthaler as the holdovers from last season. Seems very unlikely that the Capitals would sign a player in the offseason only to trade them as the season starts. They're also, obviously not going to trade Carlson.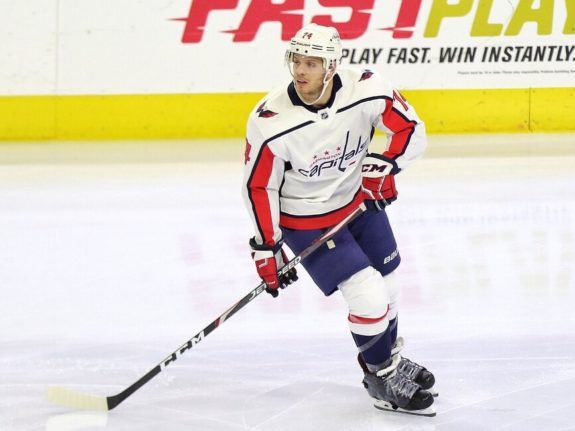 I don't know if I would say the same for Orlov. Former coach Todd Reirden had Orlov playing second-pairing minutes on the left and right side at times last season. They went out and signed Schultz to solidify that second-pairing, right-side role this season. In the scrimmages that have happened so far, Orlov has been moved back to his natural left side playing with Carlson. If I had to guess at opening night pairings, based upon what we've seen in camp so far I'd expect:
1st pair: Orlov – Carlson
2nd pair: Dillon – Schultz
3rd pair: Chara – Jensen
Extra: Siegenthaler – van Riemsdyk
That list doesn't include any of the team's prospects or take into account Michal Kempny's possible return later in the season. Kempny's surgery to repair his Achilles tendon projects to have him out for 3-5 more months. On the prospect side, Fehervary has looked really good in the scrimmages. With how well has played, I would want to see him getting NHL ice time this season.
Could They Trade a Defender?
If they were to decide to move Orlov, it would move Dillon and Chara up, putting Siegenthaler on the third pairing. That would put Dillon in the role of the top minutes eater with Carlson. They experimented with this a bit last season. During their brief time in the playoffs, Dillon was often second in ice time among Capitals' defenders. If they decide that they want to move Orlov's $5.1 million cap hit, the return would be impeccable. A top-pairing capable left-handed defender should fetch at least a first-round pick, blue-chip prospect and a good roster-able NHL skater.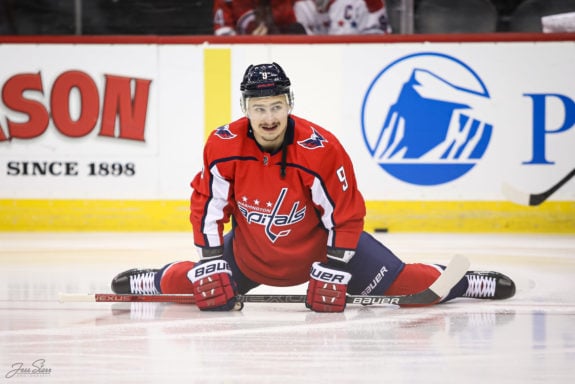 I don't know if the enticing return is enough to convince the Capitals that moving on from Orlov is the right play. Even though they have two very good, young defenders in their prospect pool, they're both right-handed. What that likely means, is that for any deal to work for the Capitals, the blue-chip prospect they get back in an Orlov trade would have to be a promising defender. There are a few teams who could make that deal and the short-term salary savings could end up worth it to improve the team in other areas.
If they decide that Orlov isn't the guy to move, Jensen would make the next most sense. Jensen has been a good player for the Capitals since they acquired him. However, his $2.5 million cap hit over the next three seasons has them paying a bit more than they need to. His role could be covered by prospects on entry-level contracts, or by van Riemsdyk and his $800,000 salary. Jensen only averages around 17 minutes per night and van Riemsdyk has shown the ability to handle that kind of minute load and be effective.
Jensen's contract isn't an albatross or some kind of boat anchor holding the Capitals back from doing anything. Under "normal" circumstances it wouldn't even be worth mentioning. However, the flat salary cap for the next three seasons changes that. Suddenly, cap-strapped teams trying to contend need to trim salary anywhere they can. Unfortunately, players who can do Jensen's job at least as well as he's able to, can be obtained for 1/3 of the salary he is paid. Salary attrition is going to cause some casualties over the next few seasons and Jensen is a likely candidate to be one of them.
The return for Jensen is tough because on the one hand he could help a team get better and he's capable of being an adequate second-pairing defender if you need him to be. On the other hand, he's a salary dump even though his salary isn't that large. Either way, he's not likely to fetch in return anywhere near what was given up at the 2019 Trade Deadline to acquire him.
That's a little disheartening and might be a thing that dissuades the Capitals from trying to move him. He's also been a good fit for the team and has done great work for them. This is purely a salary cap and asset deployment thing and if the Capitals feel like they don't need to make a change, they probably won't.
Does McMichael Make Kuznetsov Expendable?
I'm not writing this just to stir the pot. Connor McMichael has been a dominant center for Canada the last two years at the World Juniors. He's got 15 points in 14 World Junior games and blew the Ontario Hockey League out of the water last season with 102 points in 52 games. He has truly blossomed into a young player with real star potential at the center position. McMichael is on an entry-level contract and his salary cap hit is under $1 million.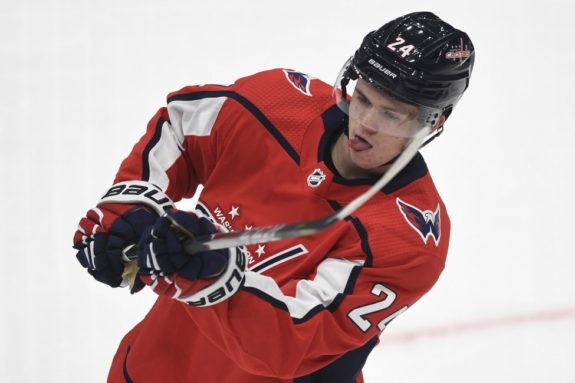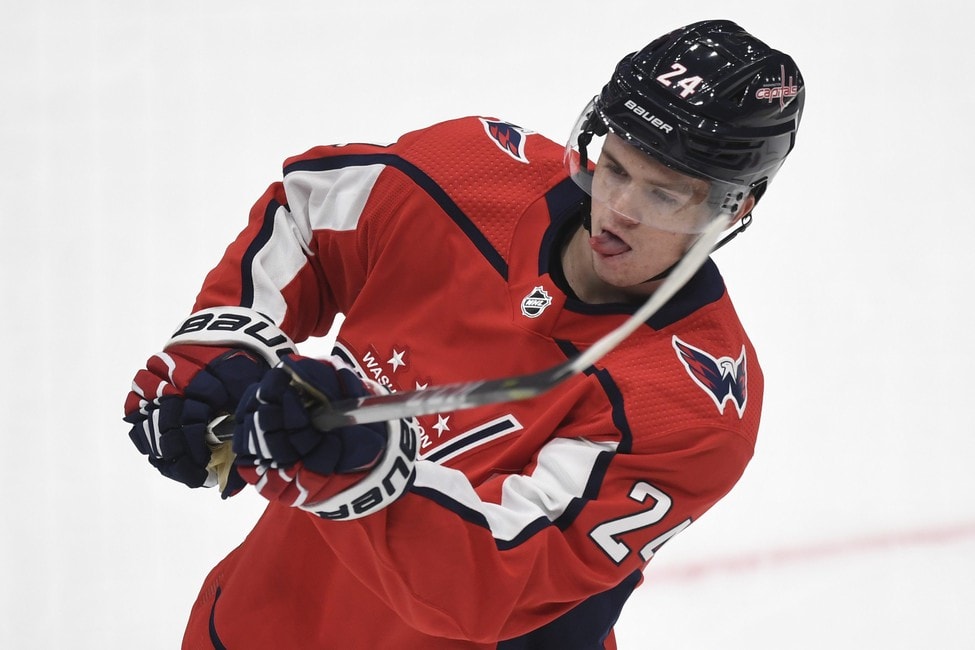 Evgeny Kuznetsov's cap hit is $7.8 million. He's well regarded and is an extremely talented hockey player. If the Capitals decided to trade him, they could be dealing from a position of strength. Spare a thought for what a team like the New York Rangers might be willing to part with in order to add a center like Kuznetsov. There's no shortage of teams in this league that would love to have a center like him. If the trade was a package of picks and prospects, the Capitals would also create a large amount of cap space in the process. I don't think they're looking to move Kuznetsov, but it's interesting to think about.
Craig Anderson Looks Good
I wrote Craig Anderson off as being done after last season. I thought he looked pretty worn out after the last couple seasons in Ottawa. To be fair to him, it was the last couple seasons — in Ottawa. That team has gone through hell and back and Anderson has basically been along for the ride.
The guy can still play and looked really good in the second team scrimmage. He was finding the puck well, making stops and just looked confident in his crease. He's only two seasons removed from starting 47 games and last season he started 31. His numbers weren't great, but he was above a .900 save percentage both seasons playing behind a Senators team that ended up picking third in the draft.
This will be the best defense Anderson has played behind since the 2016-17 season. I don't see any reason to believe that he couldn't give the Capitals 20-25 quality games in net. The Capitals should hand him a contract and make him the backup.
Sprong Will Make Opening Night
I thought Daniel Sprong looked really good heading into the playoffs and was shocked he didn't get more of a chance to play. He seems to have come into training camp determined to not let it happen again. For his part, coach Peter Laviolette seems to be giving Sprong a chance. In the Jan. 10 scrimmage, he was on a line with Lars Eller and Richard Panik. That seems likely to be the third forward line for the Capitals when the season starts.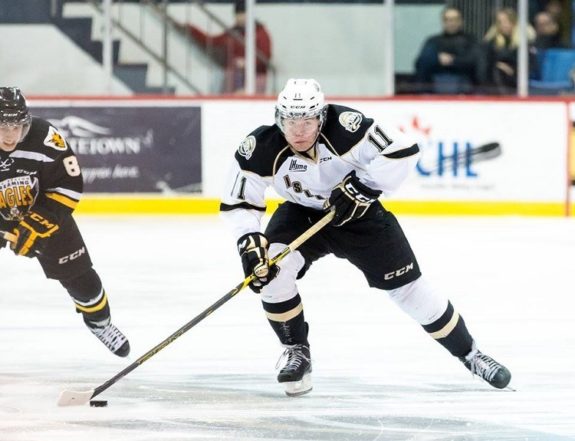 It appears that Sprong is going to make the cut for opening night. He has shown the speed that once earned him the moniker, "the Flying Dutchman." He combined with Eller and Panik could end up being a pretty dynamic line and it wouldn't be shocking to see it produce at least one player that knocks on a 20-goal per 82-game pace during this 56-game season.
RELATED: 5 Bold Capitals Predictions For 2020-21 Season
We are just days away from the start of the season. The playoff disappointment of 2019-20 seems long ago, indeed. With a new coach and some new faces, the 2020-21 Capitals seem just about ready to get things underway.
---
---