For the first time since drafting Karl Alzner fifth-overall in 2007, the Washington Capitals get to choose in the top-10. Their eighth-overall pick in the 2023 NHL Draft gives them the luxury of being able to select from a range of quality players in a deep draft and will be a determining factor in the direction the team plans on taking in the future.
In a previous article I wrote about the Capitals' best draft targets from a talented European prospect pool. In this article, I shift my attention towards the North American players the Caps could select with their coveted pick. Even though Connor Bedard, Adam Fantilli and Will Smith are set to be selected before the eighth pick, they have many other options that would immediately become their best prospect.
The Competitive Ryan Leonard
The first player on this list may potentially be off the board already come the eighth pick. But If teams pass on him, the Capitals should definitely take a close look at what could be a unique player in the NHL. Leonard played on the U.S. National Development Team (USNTDP) and recorded 11 goals and 20 points in only 17 games while playing alongside manny other 2023 Draft top prospects, top 2024 Draft prospect Cole Eiserman and top 2025 Draft prospect James Hagens.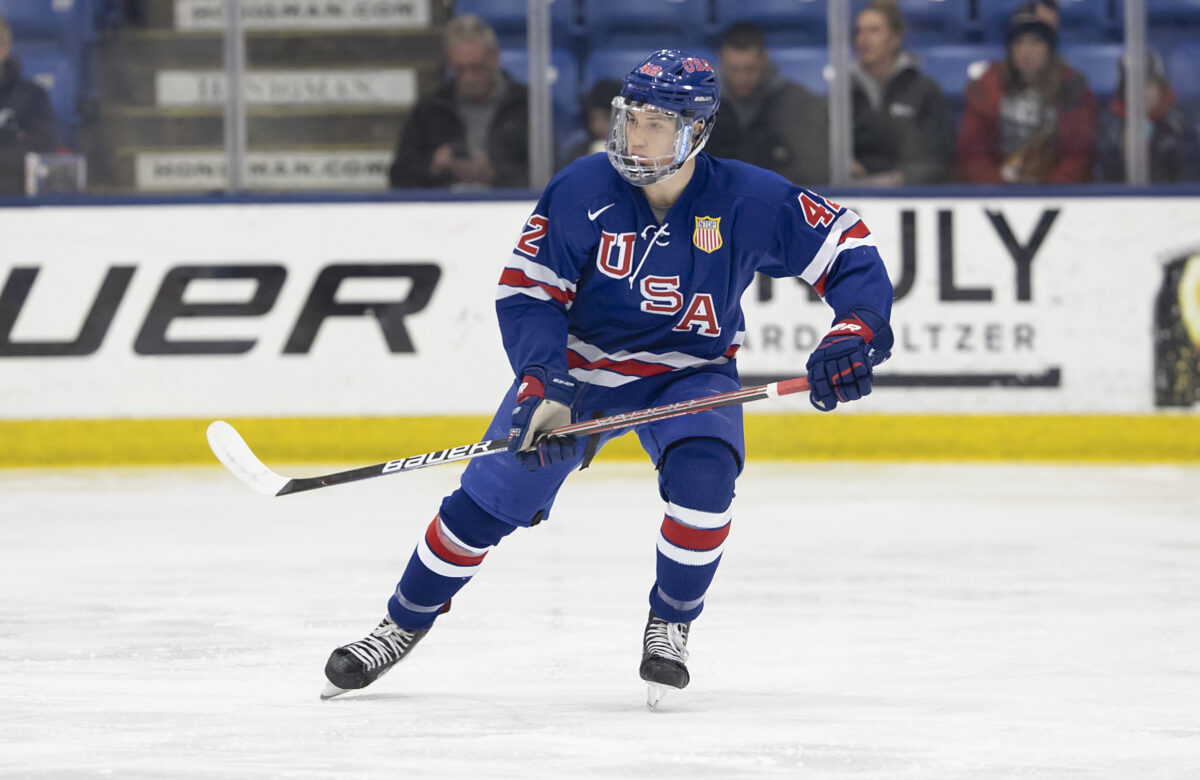 If the Capitals select Leonard, they would get a player that plays a solid game in all three zones, that is deceptive and can produce offensively. He is a good skater that scores in all sorts of ways and adds energy to his team. These types of players don't always come around often and are a pleasure to have on your team. There aren't many counterarguments against drafting Leonard, meaning that he's the least likely to be available for the Caps' pick on this list. After all, the passion and competitiveness make him a dream addition for teams.
The Offensive Powerhouse Zachary Benson
Similarly to Leonard, there are chances that Benson gets selected earlier in the draft. But if that isn't the case, the Capitals are getting a potent offensive threat. This season as an 17-year-old, Benson led a stacked Winnipeg Ice team in the Western Hockey League (WHL) in regular-season scoring with 36 goals and 98 points in only 60 games. This is impressive given his team also had former first-round-picks on their team in forwards Matthew Savoie and Conor Geekie, as well as defenseman Carson Lambos. The team made the WHL finals, but ultimately suffered a 4-1 defeat to the Seattle Thunderbirds (from 'Historic season for Winnipeg Ice ends in heartbreak', Winnipeg Sun, 5/20/23). 
Related: 2023 NHL Draft Guide
---
Latest News & Highlights
---
If the Capitals select Benson, they would get an offensive threat that could immediately take over once Nicklas Backstrom and Alex Ovechkin retire. As a playmaker, Benson is known for his quick decision-making with the puck and an exceptional ability to create space for himself and his teammates. Drafting him could be beneficial for the Capitals if they want to start thinking about getting elite forwards to replace an aging core. Apart from his small 5-foot-10, 159-pound frame, there aren't many counterarguments against drafting him. He could drop according to some scouts due to his skating, which is not at the same level as most top prospects. However, his strengths could make him difficult to pass up.
The Relentless Oliver Moore
The last forward on this list is the most likely to still be available for the Capitals when it's their turn to make a selection. Moore played alongside Leonard for the USNTDP and put up eight goals and 25 points in 23 games. Scouts project that Moore will be selected between eighth and 15th overall, which falls in the Capitals' range.
By drafting Moore, the Capitals would be getting a relentless forechecker who also happens to be one of the best skaters in this draft (from 'Top 2023 NHL Draft prospect Oliver Moore's speed is a 'superpower'', The Athletic, 4/21/23). Moore always goes in and even initiates puck battles, wins races, reads the plays well and knows where to go and what to do before his opponents. He is known as a hardworking guy that any team would love to have. The main counterargument against drafting Moore would be that he may be a bit of a reach at eighth overall, with at least one of Dalibor Dvorský, David Reinbacher, the spectucular Matvei Michkov or even the two others on this list being available by that time. However, speed is an asset in the modern-day NHL. This could tempt the Capitals, who aren't getting any faster.
Other Honorable Mentions and the Decision
The consensus so far is that the three names already mentioned in this article are the most likely North American players to be drafted eighth overall by the Capitals. But, with the 2023 Draft projected to be deep, there are very slim chances the team could make a surprise pick on a player ranked further down in the first round.
Gabriel Perreault, son of former player Yanic and brother of Anaheim Ducks prospect Jacob, led the stacked USNTDP team in scoring. He is a dynamic offensive threat whose biggest asset is his strong shot. He's a bit of a reach at eighth-overall, but the Capitals could look at him nonetheless.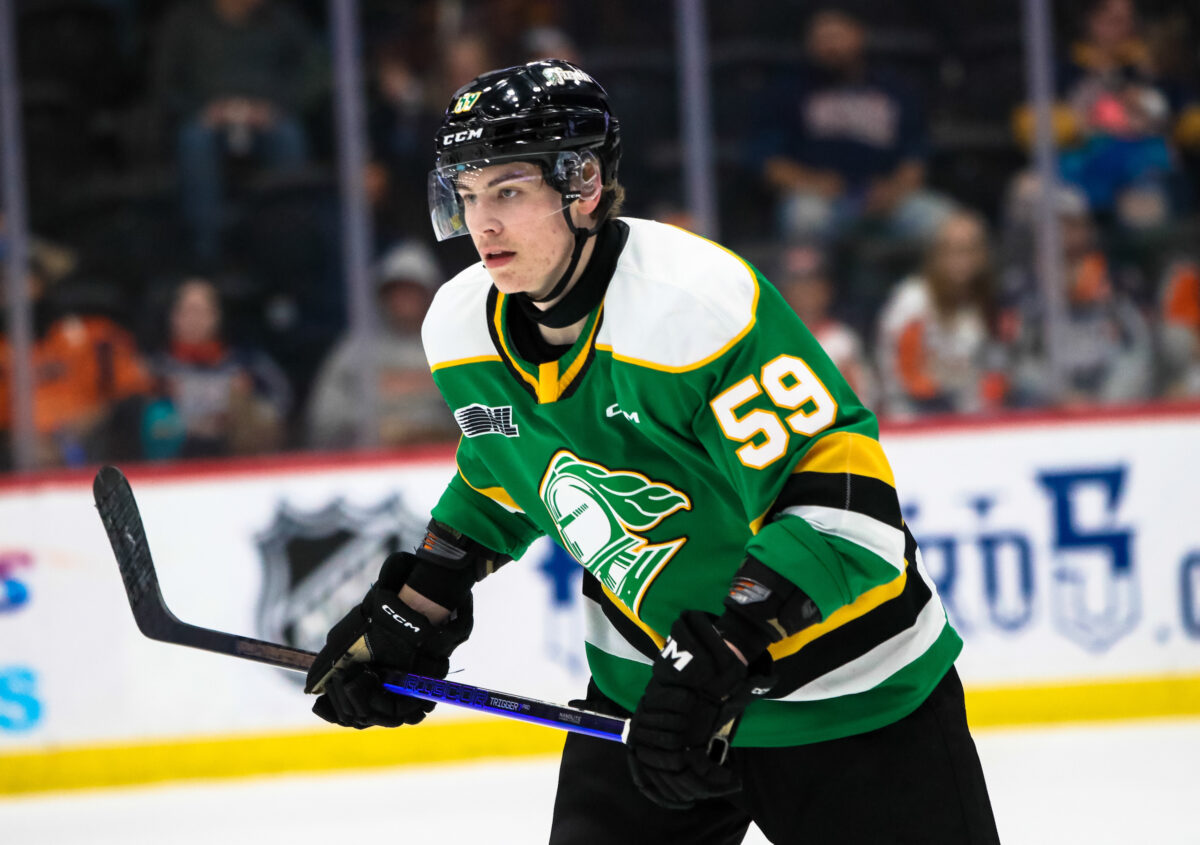 Other forwards ranked between 10th and 20th overall that the Capitals could look at include Matthew Wood, Brayden Yager and Nate Danielson. All would be big stretches at eighth overall, but we have seen crazier reaches before. In terms of defensemen, this is not the biggest year for North America. The highest-ranked North-American defensemen on the NHL's scouting list include Lukas Dragicevic, Etienne Morin and Oliver Bonk. If the Capitals were to acquire these players, it would likely be with a later first-round pick or even an early second-round pick, as more European defensemen have made headlines this year.
In the end, the Capitals should get the best prospect they've had in years regardless of the player they select with the eighth pick. If they want a forward from North America, they have many quality choices. All of the aforementioned players will bring something unique to the table for Washington. But, ultimately, I think they should lean towards Leonard or Benson 一 if they are still on the board.
---
---