The Washington Capitals' opening night roster won't look much different than the one that won the Cup in June. One position that is slated for a changing of the guard, however, is backup goalie.
Prior to the draft, the Capitals dealt Philipp Grubauer to the Colorado Avalanche, creating a vacancy to be the understudy of former Vezina winner Braden Holtby. Rookie Pheonix Copley appears to be the heir apparent.
They seem comfortable starting with Pheonix Copley. And if it doesn't work out, then that's a position they can upgrade through in-season trade. https://t.co/UJfwmFjadp

— Isabelle Khurshudyan (@ikhurshudyan) July 1, 2018
Replacing a backup goaltender may seem inconsequential. But a cocktail of factors could mean that Copley will face a more stressful situation than anyone in Washington this season.
Second Fiddle Struggles
Backup goaltender is perhaps the most unsung, difficult position in hockey.
The backup must sit through every game knowing he likely won't spend a second on the ice. Relief appearances are infrequent, yet so sudden they require constant focus. When the backup finally gets the nod to start a game in net, it's often in more difficult deployments such as the second leg of a back-to-back.
The backup job is even more difficult in Washington because of the man usually in net for the Capitals. In goal, the starter sets the standard. Widely acclaimed as one of the NHL's elite netminders, Holtby sets that standard sky-high.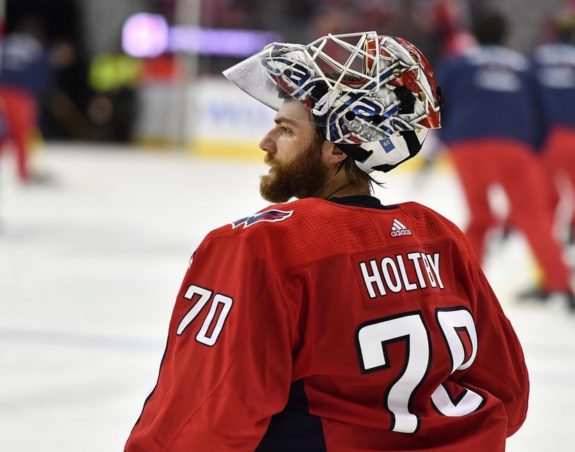 Copley faces a transition to the NHL that tends to be long and arduous, especially for goaltenders. With Capitals fans accustomed to the stingy performances Holtby turns in on a regular basis, growing pains could be mistaken for ineptitude.
Copley will have to live with this fact, as well as the fact that backup goaltenders are dispensable and replaceable in the eyes of NHL front offices. If the perception of ineptitude reaches that level, he won't be wearing red for long.
Grubauer a Tough Act to Follow
If critics do not compare Copley to his frontman, they will surely compare him to his predecessor. That bar is set abnormally high as well.
Grubauer was among the league's most dependable backups throughout his tenure in Washington. His .925 combined save percentage over the 2016-17 and 2017-18 seasons is the fourth-highest among any goaltender who played at least 50 games in that timeframe.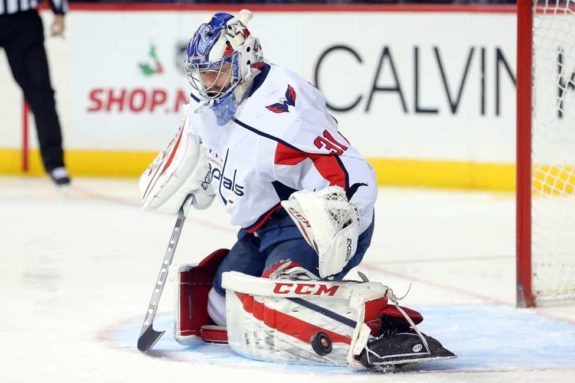 When the 2018 Stanley Cups playoffs began, then-Capitals head coach Barry Trotz entrusted Grubauer, rather than Holtby, with the starting duties. Holtby reclaimed the role after two lackluster performances from Grubauer. Still, the potential Grubauer had demonstrated was so enticing that his coach initially trusted him over an established commodity in Holtby.
Grubauer has starter-level talent. That's why the Avalanche were willing to give up a draft pick and accept a salary cap dump to acquire him. If anyone judges Copley relative to Grubauer, there's nowhere to go but down.
Samsonov Applying Pressure from Behind
If Holtby and Grubauer both set unfairly high expectations for Copley, Ilya Samsonov gives these expectations consequences.
Samsonov is the Washington net's prodigal son. The Capitals' 2015 first-round pick has spent most of the last three seasons as a starter for the KHL's Metallurg Magnitogorsk. There, his impressive body of work has caused nearly every analyst to tout him as one of the top goaltending prospects in the world. Having recently signed his entry-level contract, Samsonov is slated to begin his first season in North America.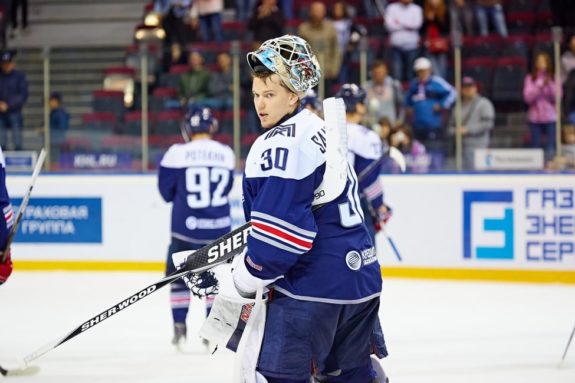 Samsonov is almost certain to start the season with the AHL's Hershey Bears. If he is able to find his game in Hershey, demand for him in Washington will quickly follow.
Samsonov has been an intriguing storyline ever since the Caps drafted him in 2015. With Grubauer and Holtby in the system, the Capitals had little organizational need for a goalie. They selected him anyway. Ever since, he's been a player that fans have watched from afar wondering when he will finally don a red sweater. With Samsonov now in North America, these fantasies will only grow stronger.
What does this mean for Copley? To go along with the lofty exceptions Grubauer and Holtby have left him with, there's a replacement for him within the organization that some fans are already salivating over.
Can Copley Take the Heat?
Copley has certainly taken the hard road throughout his career. Undrafted, he has paid his dues in the AHL for four seasons. In 2016, the Capitals traded Copley to the St. Louis Blues as part of the T.J. Oshie trade, only to reacquire him a year later as an auxiliary to the deal that brought defenseman Kevin Shattenkirk to Washington.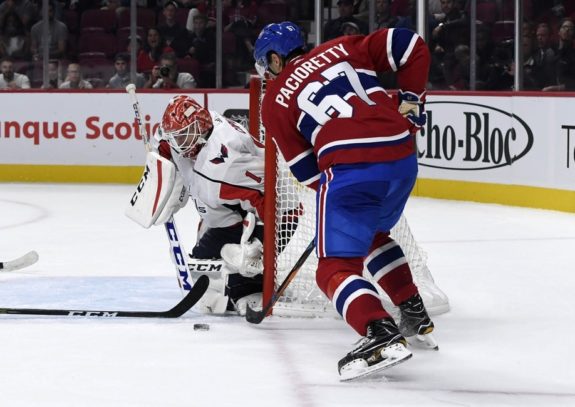 With his first consistent NHL job on the horizon, things won't get any easier. Copley has a trial by fire coming his way. If he can survive it, however, he'll be even better equipped to play one of the most stressful positions in sports.
Kevin Hargrave covers the Washington Capitals for The Hockey Writers. A recent graduate of Ohio State University, Kevin was a freelance feature writer for the Lantern, Ohio State's student run newspaper. With The Hockey Writers as the first major outlet he has contributed to, Kevin hopes to pursue a career in sports media.