Andrej Nestrasil is a novel, one that could be titled, "Two Season." The Carolina Hurricanes forward has gone from a prolific, integral part of the team's best line, to an afterthought, barely getting ice time. While the team is moving forward and developing its identity, Nestrasil is unfortunately languishing.
Nestrasil Season One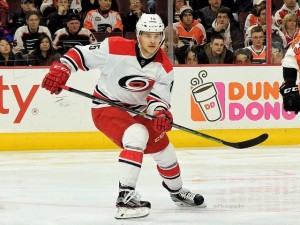 Last season could be called "The rise of Nestrasil." Around this same time last year, the 'Canes went through a seminal moment following a horrendous defeat at the hands of the New Jersey Devils. It may have been the worst game the team played in years, with no energy and seeming hopelessness. However, something kicked in and they began to turn their season around, eventually becoming legitimate playoff contenders right to the very end of the season. Nestrasil was a key to that turnaround and subsequent run to relevance.
It was Nestrasil, Jordan Staal and Joakim Nordstrom that led the Hurricanes last season as a group playing together. While Nestrasil's personal numbers — nine goals, 14 assists for 23 points — might not turn a lot of heads on their own, Matthew Barlowe at CardiacCane.com noted last month that together the line was fantastic:
That line combined last year to post a 55.63 CF % and a ridiculous 60.2 GF% 5v5.  From mid-December till the end of February those three were the best line for the Carolina Hurricanes.
The trio seemed to have found a chemistry that worked, and there was a consensus that it was going to be exciting to see them back together this season. That consensus has quickly faded into the ether of what has been a disappointing season thus far for Nestrasil.
A hit from Nazem Kadri ended Nestrasil's season last February, a back injury sidelining him and requiring much hard work to rehab. But as this season approached, Nestrasil said he was feeling good and ready. As I wrote on September 11th in Hurricanes' Andrej Nestrasil Ready and Thankful, Nestrasil told me that he was ready and thankful for the opportunity to play.
He also expressed a desire to get the line back together that had been so successful. This quote is worth recalling from that conversation,
Our Corsi was through the roof for most of the time when we played together. So I just hope we can pick up where we left it off and go from there and see how it goes.
Staal and Nordstrom also told me the same thing — that they were looking forward to playing together as a unit. The consensus spread all the way to the players themselves, but getting the band back together just was not in the cards, or at least has not been so far this season.
Nestrasil Season Two
What a difference a season can make. Instead of riding the wave of success that he had with Staal and Nordstrom, Nestrasil has been riding the pine, often listed as a healthy scratch for games.
#Canes healthy scratches:
Klas Dahlbeck
Ryan Murphy
Andrej Nestrasil

— Hurricanes PR (@CanesPR) December 24, 2016
So far Nestrasil has played in 16 of the team's 33 games and has not played since December 1o. Any chance of playing his way back into a groove with any of his teammates, much less last year's best line is pretty slim. He has made some nice plays when given the chance to be on the ice, like this nice assist to Derek Ryan for a goal against the Los Angeles Kings:
[HIGHLIGHT] Andrej Nestrasil sets up @DerekAllenRyan for a beautiful backhand goal. #Redvolution #CARvsLAK #CanesAfterDark pic.twitter.com/et8FSX9ky1

— Carolina Hurricanes (@Canes) December 9, 2016
There is an intensity that the 'Canes are playing with currently that has heretofore been somewhat rare. They are fighting through games and genuinely look to be leaving it all on the ice. This has been missing from their team dynamic in recent seasons, and it is great to see the tenacity. The question is whether or not Nestrasil will be able to break back in and find a regular spot once more.
He said his back was fine and he was ready back in September, so I don't think he's having problems there. He's caught in a vicious circle currently, needing ice time to get his game back, but not getting that time. I think the team is ultimately better with him playing regularly, but so far the production this season does not bear that out. But again, he's got to play to contribute. I'm hoping he will get that chance.
Mark lives in the Raleigh, NC area and covers the Carolina Hurricanes.