Chris Chelios is an icon whose name should be equated with hockey greatness. He's achieved so much during his truly remarkable and storied career. Soon, he will be celebrated yet again in his hometown of Chicago in front of the Blackhawks' crowd when he has his number retired by the franchise.
Born in Chicago, Illinois, on Jan. 25, 1962, Chelios' hockey journey spanned an astounding 26 seasons. Few players ever play that long. In fact, he is tied with the great Gordie Howe for playing 26 NHL seasons. Mark Messier is third with 25 seasons. 
---
Latest News & Highlight
---
In Chelios' case, his longevity is a testament to his commitment to staying both in good physical shape and remaining relevant in an ever-changing game. The long and the short of it is that he left an unforgettable mark on the NHL. Now, in Chicago, they are going to officially remember his contributions.
Chelios' Hockey Journey: From Montreal to Chicago and Detroit
Drafted by the Montreal Canadiens in the second round (40th overall) during the 1981 NHL Entry Draft, Chelios' hockey journey began more than 40 years ago. He first honed his skills as a defenseman with the Moose Jaw Canucks in the Saskatchewan Junior Hockey League (SJHL). Even then, he was great. He showed his talents with impressive point totals.
His college seasons at the University of Wisconsin further solidified his reputation as a potential rising star in the hockey world. They weren't wrong. He was all that was promised, and for a long time.
Related: Chicago Blackhawks & Chris Chelios: Together Again
Chelios made his NHL debut during the 1983-84 season with the Canadiens. Over the years, he became known for his exceptional defensive play as well as his ability to contribute offensively. He played well in Montreal; however, his journey reached new heights after he joined the Blackhawks in 1990.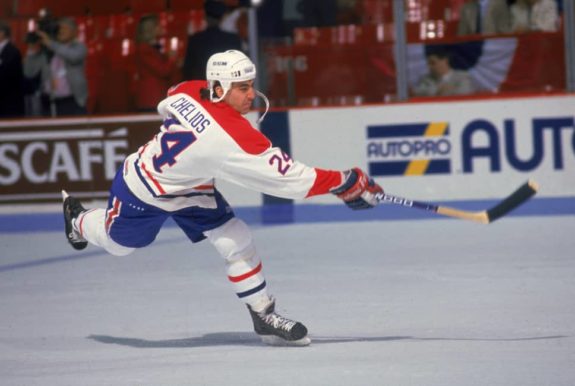 During his time with the Blackhawks, Chelios broke the 70-point mark as a blueliner twice and earned two of his three Norris Trophies. He was clearly one of the NHL's best defensemen. His remarkable stats, including 395 assists and 487 points, rank him fourth in Blackhawks history for a defenseman.
In 1999, Chelios began a new chapter with the Detroit Red Wings. There his leadership and defensive play became a key factor for the three Stanley Cups the Red Wings won during his time there. His career defied age, and he continued to compete at a high level well into his 40s. That, in itself, was a testament to his unwavering passion for the game as well as his commitment to staying in shape – even though his routines were odder than most.
Related: The Chris Chelios for Denis Savard Trade Revisited
For example, he rode his workout bike in the sauna as a sort of, as he called it, "aerobic wash." It consisted of Chelios riding this stationary bike in a steaming sauna for 45 minutes while drinking two jugs of water. Interesting method, but obviously it was effective.
Of Chelios' Accolades, the Blackhawks Will Be Cherished
Throughout his long and successful career, Chelios garnered numerous accolades. These included (as noted) the three Norris Trophies as well as the Mark Messier NHL Leadership Award. However, the best accolade is soon coming.
It was recently announced that, on Feb. 25, 2024, the Blackhawks will retire Chelios's number 7. This tribute celebrates his remarkable career that spanned over two decades. And, it's even more special because Chicago is his hometown. His jersey retirement celebrates a hometown hero who became important both to the franchise and the sport of hockey.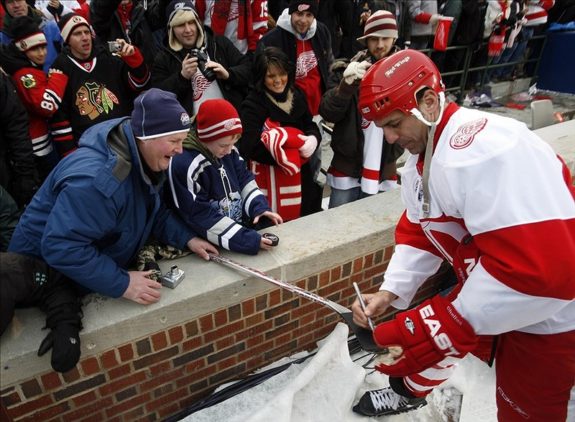 Chelios' jersey retirement by the Blackhawks in February is a fitting tribute to a remarkable career that will become a visible reminder of the enduring legacy of a player who brought excellence, dedication, and a love for the game to his time on the ice.
Chelios Feels Incredibly Honored in Chicago
Recently Chelios reflected on this incredible honor and shared: "To get this accomplishment, and then to have it happen in my hometown, makes it all that much more special. I don't want to downplay the Hall of Fame at all, but having a hundred people over there – I can't imagine that. Now, I'm going to get to have all my friends, family, coaches, and teammates there. So, I'm looking forward to everything except the speech."
Related: Ex-Maple Leafs Colin Blackwell & His Season with the Blackhawks
Chelios dreamed of playing in the NHL but never expected the life that awaited. His hometown recognition is beyond what he could have ever envisioned.
He noted, "In my wildest dreams, I would never have thought I'd achieve this. My dream wasn't just playing in the NHL; it's the fact that I made it, and then everything that happened throughout my career – the Cups, the individual achievements. But doing it in my hometown and seeing my childhood heroes like Magnuson, Mikita, and Esposito – considering where I came from, I look back, and it's pretty amazing. There are times when I think this should have never happened, and yet, it did."
Congratulations to Chelios on His Great Career
Chelios' jersey retirement is a personal testament to his incredible skills on the ice. However, it's also a celebration of the deep connections and memories he's made throughout his memorable journey in the world of hockey – especially because, as he says, Chicago is his hometown. 
As he notes, having his jersey number retired is an honor that he appreciates. It might also (perhaps) become an inspiration for Connor Bedard, who will be watching from the bench. Who knows what might happen in 40 years for the young, talented rookie?