The Toronto Maple Leafs and Ottawa Senators will never forget the NHL's 2013 free-agent frenzy. And while one team tosses and turns in their slumber as they recall the decisions made that day, the other doesn't lose a wink of sleep.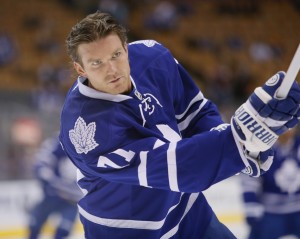 One team distraught, the other, content.
You could argue that David Clarkson was the biggest name in all of free agency on July 5, 2013. Sure there were former superstars like Jarome Iginla, Jaromir Jagr and Tim Thomas in the mix of things, but no one seemed to have the potential and goal-scoring ability like Clarkson.
Clarkson became a known goal scorer for the first time in the 2011-12 season when he potted 30 in a year that saw his New Jersey Devils make it all the way to the Stanley Cup Final. The next year, in the shortened 48-game season, Clarkson put up 15. A small setback, but still, the potential was there.
Come early July, it was noted that the Maple Leafs had interest in Clarkson, but Senators had firmly expressed their desires in the 28-year old winger greatly.
"He is one person we have targeted and he fits the role we are really looking for. We like grit on our team. I've heard some reporters here that they like the odd guy to have the odd fight, so he can even do that if he had to I suppose." – Bryan Murray. Ottawa Sun. Published: July 4, 2013.
Though Murray had shown great interest in Clarkson, it came to no avail as the Maple Leafs ended up inking the Toronto native to a 7-year deal worth $36.75 million on the first day of free agency. A hometown kind of deal. With Clarkson off the market, it was time for the Senators regroup and pick a different target.
They chose Clarke MacArthur.
After losing Daniel Alfredsson to the open market and gaining Bobby Ryan from a trade with the Anaheim Ducks, MacArthur was the final piece of the puzzle Ottawa was looking for. He hadn't scored 30 goals before like Clarkson, but nonetheless, the former Leaf was still a proven point-getter, recording 62 with Toronto in the 2010-11 season.
Two free agent signings, two different stories.
The First Season
Clarkson got off to a rough start with the Leafs. The regular season hadn't even started yet, but he was already getting into trouble.
In a preseason game against the Buffalo Sabres, John Scott tried to pick a fight with an uninterested Phil Kessel. Kessel's decision to stray away from Scott was understandable, seeing as Scott is 6 foot 8, 270 pounds, and well, Kessel is not.
Seeing his teammate in peril, Clarkson then took it upon himself to skate after Scott and drop the gloves with him. This would have been all fine and dandy if Clarkson was on the ice at the time. But he wasn't. Clarkson received a ten-game suspension for hopping over the boards to fight Scott.
It was the preseason.
Though there were different circumstances, MacArthur also started slowly with his new team.
Goalless through 11 games, MacArthur was starting to feel some pressure. When he arrived in Ottawa, he had been given Alfredsson's old stall, something everyone, including Bobby Ryan, turned down before MacArthur was the odd one out. The locker was starting to get in his head.
"I'm looking to move. I'm not feeling ghosts, but it's a tough spot to sit in, that's for sure." – Clarke MacArthur. Ottawa Sun. Published: Oct. 18, 2013.
MacArthur finally ended his drought with a goal in his twelfth game of the year against the New York Islanders. Clarkson took one less game, scoring his first goal in his eleventh game.
After his slow start, MacArthur proved to be one of the team's top forwards. Clarkson, not so much.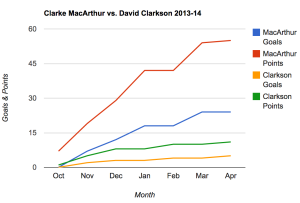 Overall, the two players had two completely different impacts on their respective teams. MacArthur took up an offensive role alongside Kyle Turris and Bobby Ryan, and Clarkson, well, he couldn't provide much. MacArthur finished with 55 (24,31) points on the year, and Clarkson ended up tallying just 11 (5,6).
MacArthur also showed he was capable of being a two-way player. On a team that was severely outshot and outscored, MacArthur was a bright spot in their defensive game. The Senators had a goal differential of minus-29, but MacArthur managed to be a plus-12 only second to Turris who was an impressive plus-22. MacArthur's possession stats were also intriguing. The Senators were 29th in the league for shots against, but MacArthur had a CF% of 54.1, first on the team.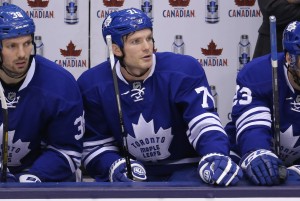 Clarkson seemed to be the norm in Toronto. The Leafs finished with a goal differential of minus-25 and he was an ordinary minus-14. The team finished dead last in the league for shots against and he had a CF% of 42.3. Ho-hum.
A lot was expected from Clarkson, which didn't make much sense. He had only been a 30-goal scorer once in his career, and he never surpassed the 50-point mark, his highest being 46 in the 2011-12 season. Everyone had made Clarkson out to be this underrated goal scorer, when really, he had only ever scored more than 17 goals once in that miraculous 30-goal campaign.
In the end, the Leafs spent way too much for too little, and the Senators got what they bargained for. Each goal Clarkson scored ultimately cost the Leafs $1.05-million while it only cost the Senators $135-thousand every time MacArthur found the back of the net. By the end of the season, Clarkson was considered to be one of the league's most overpaid and overrated players.
Where Are They Now?
Over the summer, the Senators made it their goal to sign MacArthur for the coming years in Ottawa. On August 19, both sides agreed to a five-year extension worth $4.65-million per year. MacArthur was staying in the Nation's Capital long term and was still making less than Clarkson in Toronto.
A lot of people have warned the Senators faithful that MacArthur tends to be a bust in his second year with a team. In his second campaign with the Leafs, MacArthur saw a 19-point decrease in his production, but so far, it's looking like he won't be taking any steps back this season.
While he and Erik Karlsson are tied for the team lead in points with 10 each, MacArthur is also in the top ten in the league for goals with seven and is tied for the league lead in game winners with three. It seems like MacArthur is stepping up and taking an even bigger role on the team, given that Jason Spezza is no longer around to lead the offence.
As for Clarkson, he's off to the start everyone expected. With three goals and one assist in the first 14 games, Clarkson isn't having any kind of bounce-back season he hoped for.
Two free agent signings, two completely different stories.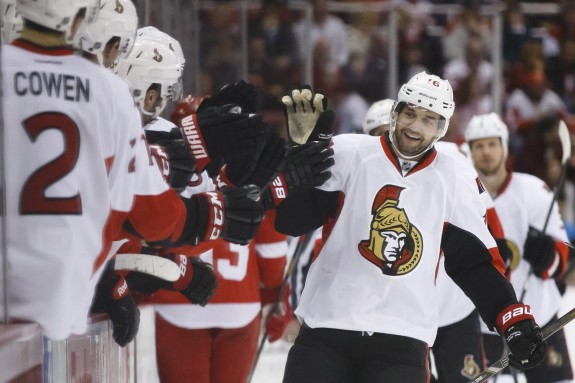 Callum is currently a journalism student living in Ottawa where he covers his team, the Ottawa Senators. Originally from Halifax, Nova Scotia, Callum is also a big Mooseheads fan and a lover of the East Coast.