Markstrom Leading the Way in Utica
As impressive as the Utica Comets have been this year — with a run to the AHL Calder Cup Finals in only their second year as a franchise — there's one player who is without question standing high above the competition. (And at six-feet-six-inches, this player does stand pretty tall.) The play of the Comets' Swedish netminder Jacob Markstrom has been instrumental to Utica's success all season and the GM of his big league club in Vancouver, Jim Benning, has been paying attention.
Benning: Jacob Markstrom is ready to play in the NHL right now. He's really settled some areas of his game down.

— TSN Radio Vancouver (@TSN1040) June 3, 2015
En route to the Comets' appearance in the Calder Cup Finals, Markstrom had a 1.87 goals against average and a .931 save percentage through 18 playoff games. Of his 11 wins he had two shutouts, which came in the Comets' game seven victories in round two against the Oklahoma City Barons and round three against the Grand Rapids Griffins.
Markstrom's playoff success has been a carry over from the regular season. He posted a 22-7-2 record for Utica, with a near identical 1.88 goals against average and a .934 save percentage. These are far and away the best numbers Markstrom has had in his five AHL seasons.
Comets coach Travis Green has praised his goalie during the playoffs for his ability to bounce back after a tough game, giving his team confidence by always having a goalie they can rely on.
— News1130 Sports (@News1130Sports) June 3, 2015
Markstrom is 7-0 in in games following a loss this postseason and hasn't given up more than two goals in any of those wins.
What Do The Canucks Do With Markstrom?
If the debate on who the starting goalie is in Vancouver wasn't already present, with Ryan Miller and Eddie Lack the tandem at the NHL level, the pending RFA Markstrom has made the Canucks goalie controversy a whole lot more interesting. Sound familiar, Canucks fans?
With Markstrom's development, Vancouver has three NHL caliber goalies on their roster and clearly that won't be plausible for next season. Markstrom has garnered lots of attention from scouts around the league during these AHL playoffs, something Jim Benning acknowledged during an interview on TSN Radio Vancouver, where he also discussed his team's goalie situation:
"I think there's enough teams that need goalies that if we decide to move someone, we won't have a problem doing it" – Jim Benning.
Markstrom was essentially the key player Vancouver acquired from the Florida Panthers when they shipped out Roberto Luongo at the 2014 trade deadline. The other player the Canucks received in the Luongo trade was Shawn Matthias, who likely will be a departing free agent this summer. The Canucks won't want to settle with being empty handed in that deal after such a short period time.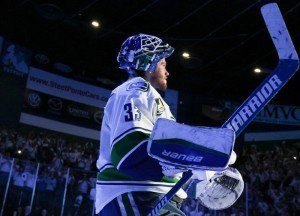 Heading into this year, Markstrom was thought of in the minds of many to be the third string goalie. This became clear when he was put on waivers in September, a move that Benning had no choice but to make. It was thought at that point Markstrom might have been picked up by another team, which would've been a waste of a trade pick up, and it's hard to say if Utica would have come anywhere close to their level of success this year without him. One thing that's certain now is that the Canucks were very fortunate to keep him.
34 year-old Ryan Miller is getting paid like Vancouver's number one goalie, entering the second year of a three-year, $18 million contract. The former Vezina trophy winner, 2010 Olympic MVP, and NHL All-Star is clearly the most accomplished of the Canucks goalies. Meanwhile, Eddie Lack has grown to be a fan favorite in Vancouver, but despite streaks of greatness he has never fully grasped the Canucks starter role in his two seasons in the league.
In Markstrom, Vancouver possesses possibly the best goalie not in the NHL, but the 25-year-old still needs to prove he can be as effective at the NHL level. He has a career NHL record of 13-28-5 in 50 NHL games, with a 3.19 goals against average and a .819 save percentage. It's almost like a Jekyll-Hyde persona that epitomizes his minor-league-to-NHL career so far. But Markstrom appears to be in a better position now to make the jump. He has experienced a winning atmosphere with the Comets this year, showing in the process he can be a true leader, and has figuratively outgrown the AHL, based on his dominate numbers. On Markstrom's side is that he certainly wouldn't be the first goalie to be a late bloomer in the modern NHL.
Markstrom has yet to prove his role on an NHL squad, but if there's anything he's earned from his profound success with Utica this year is a chance to do so. Only time will tell if it comes in Vancouver or elsewhere next season.