Throughout his incredibly short career to date, Connor McDavid has been shattering expectations. No matter his age or the level of hockey being played, McDavid has long outperformed his opponents, regularly leaving his teammates in awe of his raw, explosive skill.
What is perhaps most daunting is the fact that, with the 2016-17 NHL season approaching, McDavid is just 19 years old.
And, at the ripe age of 19, McDavid has already secured a seemingly endless number of personal commendations:
1st Overall Selection in Priority Draft (Erie Otters)
OHL Rookie of the Year (2012-13)
OHL First All-Rookie Team (2012-13)
OHL/CHL Scholastic Player of the Year (2013-14)
OHL Most Sportsmanlike Player (2013-14)
Named Captain of the Erie Otters (Sept. 24, 2014)
OHL First All-Star Team (2014-15)
OHL Most Outstanding Player (2014-15)
CHL Player of the Year (2014-15)
OHL/CHL Scholastic Player of the Year (2014-15)
OHL Playoffs MVP (2014-15)
CHL Top Draft Prospect Award (2014-15)
1st Overall Selection in NHL Entry Draft
NHL All-Rookie Team
Phew…
I could have gone on, heck, the awards mentioned above do not even detail McDavid's successes in the Greater Toronto Hockey League prior to his OHL career, let alone his standout play with Canada in numerous international events.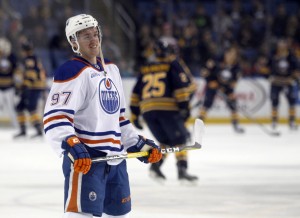 However, as we have now seen, and likely all already knew, McDavid is a world-class player whose best undoubtedly remains ahead of him. So, how is this all relevant?
Well, not only do the above awards establish a pattern of success, a factor incredibly important to the prosperity of any professional hockey player, but they, more importantly, illustrate McDavid as an intelligent and driven player, who recognizes the importance of living a well-balanced life off of the ice, as well as on it.
Having captained the Erie Otters at just 17 years of age is a clear example of McDavid's maturity, as well as of the trust placed in him by his coaching staff. Otters Head Coach Kris Knoblauch, at the time, stated that "Connor was the leader on the team, who guys looked up to." McDavid would have been, at the age of 16, already inspiring his peers to bring their best on a nightly basis.
Said qualities are essential to the status of a captain in the National Hockey League.
So, is McDavid ready to captain the Oilers, and most importantly, lead them back to the playoffs and post-season glory?
Why He Is Ready
Well, quite honestly, we have gone over the vast majority of reasons why McDavid is ready to assume captaincy of the Oilers to begin the 2016-17 season. A dominant force offensively, as well as a sound player defensively, McDavid can, again quite honestly, do it all on the ice, and at a high level.
His 48 points in just 45 games played as a rookie were a prime example of said offense, as, of all skaters to play greater than 40 games in 2015-16, McDavid's P/GP mark of 1.07 ranked third highest in the entire NHL. Only Patrick Kane and Jamie Benn recorded a higher P/GP than McDavid, who topped long-time League stars such as Sidney Crosby and Evgeni Malkin in the process.
On defense, McDavid proved equally capable. While he recorded a +/- of -1, his CorsiFor (CF%), a measure of possession and scoring chances created, came in at 53%, 6.2% higher than his fellow teammates. While some may point to the fact that McDavid won just 41.2% of his faceoffs as a rookie, it is worth noting that Sidney Crosby, widely regarded as one of the best faceoff men in the game today, recorded a similarly low mark of 45% in his rookie campaign.
Yes, again, in having looked at the specific statistics from his rookie season, it is incredibly clear that McDavid is already one of the NHL's most dynamic yet sound players at both ends of the ice.
However, the one factor integral to the basis of an NHL captain is leadership, a quality that must come naturally and in great abundance. For McDavid, as he showed in Erie, and, incredibly quickly as a rookie in the NHL, leadership and the determination to succeed are heavily apparent in the youngster's game.
Following the conclusion of the 2015-16 season, McDavid's Edmonton teammates spoke out about his leadership, and, quite frankly, were nothing but impressed with his drive and guidance at just 18 years of age.
Taylor Hall on McDavid: "I think on the ice he was everything and more… By the end of the year, he was our leader on the ice and I think with all the expectations that are on him, the way he conducts himself off the ice and the kind of kid he is I think it's been a lot of fun to be around him."

Ryan Nugent-Hopkins on McDavid's youth and expectations: "He was, obviously, just a young kid coming in and it's definitely a whirlwind for him but he handled everything real well. He doesn't treat anybody any different, he doesn't act as good as he is. That's definitely a great thing for him."

Matt Hendricks on McDavid, the media and leadership: "He didn't make any noise in terms of all the autographs he had to sign when we go on the road and all the people that wanted to see him… He was very business-like, took care of it and moved on to the group and wanted to be a part of it. I think Connor has a lot of attributes, in terms of his playing ability, but I see him as a very good leader as well."

Hendricks, when asked if McDavid could be a captain in the NHL: "That's not a question for me, but you've seen players at his age wear the 'C' after their first year or so, but I have no doubt in my mind he'd excel at it."
Despite playing in his rookie season, missing a large portion of which due to injury, McDavid was able to thoroughly impress his peers in just 45 games played. His style of leadership, self-described as one based on on-ice play, has convinced his teammates he is ready for the distinction.
Why He Isn't Ready
McDavid can score, defend, and most importantly, lead. So, how could he possibly not be ready to be named the captain of the Oilers?
Those who argue McDavid shouldn't be named captain have, in reality, a weak argument. The only detractors in McDavid's case are his age and inexperience, yet, throughout history, these two factors have played a very little role in the decision to name a chosen player captain.
In the NHL today, and in recent years, some of the League's best players have been captains  named at an incredibly early age.
#Oilers could fill vacant captaincy w/Connor McDavid. That'd make him youngest ever (19y-273d on opening day Oct 12) pic.twitter.com/xob4gjmZpe

— StatsCentre (@StatsCentre) August 22, 2016
Gabriel Landeskog broke a record on September 4th, 2012, when he was named team captain of the Colorado Avalanche. At the time, the young Swede had, like McDavid, only played in one NHL season, recording 22 goals and 52 points in his 82 games as a rookie. His age at the time, 19 years and 286 days, bested the nomination of Crosby, who received his captaincy in Pittsburgh at 19 years and 297 days.
Other players in League history to have been named as a team captain relatively young are past and current stars such as Jonathan Toews, Vincent Lecavalier and Steve Yzerman.
So, the whole "he's too young" argument can be sent right out the closest window.
If McDavid were in fact named the captain of the Oilers to begin the season, he would be the youngest in the history of the NHL. But, as we are now well aware, shattering expectations and leading the way are nothing new for McDavid.
The Final Judgement
So, given the presented evidence, as well as the personal testimony from his fellow teammates, is McDavid ready to captain the Oilers in 2016-17?
At this point, it would certainly appear so.
As we have quite clearly deduced, McDavid is a force at both ends of the ice, a leader, and a young player who thrives on success and detests failure. At the age of 19, McDavid would become the youngest captain in NHL history, a fact that would likely fail to weigh heavily on the Richmond Hill, Ontario native, who after dominating every League he has ever played in, is ready to take the next step in the NHL with the Oilers.
Looked upon to play a major role in leading Edmonton back to the Stanley Cup Playoffs for the first time in over a decade, McDavid is seemingly the obvious, if not inevitable choice. Poised to become one of, if not the best player in the League, the Oilers would be fortunate to be led by McDavid, a budding young star who possesses the drive and determination necessary to not only break Edmonton out of their perpetual playoff drought, but also to restore the city to its deserving description as the "City of Champions".
Brett Slawson is a four-year veteran of The Hockey Writers who covers the Toronto Maple Leafs, NHL prospects, and the OHL's Mississauga Steelheads.
Contact Brett on Twitter @brettslawson92, or by email at brett_slawson@hotmail.com.