The Arizona Coyotes entered the summer with a pressing team need at defense; the team finished in the bottom five in the NHL in goals allowed for the second consecutive season, and, aside from Oliver Ekman-Larsson and Connor Murphy, there was very little to get excited about for the future.
Then John Chayka took over as general manager after the firing of Don Maloney, and Arizona's fortunes began to change rapidly; pending unrestricted free agent Alex Goligoski was acquired from the Dallas Stars and was signed to a five-year contract, top prospect Jakob Chychrun was selected in the first round after the Coyotes traded up to get him, and former top-five pick Luke Schenn was brought in via free agency. In just one summer, Chayka turned what was arguably Arizona's greatest weakness into a team strength.
Lost in the excitement of the acquisitions of Chychrun and Goligoski, though, is perhaps Chayka's best offseason move: the trade for offensive defenseman extraordinaire Anthony DeAngelo.
Bolts trade 'skilled offensive defenseman' DeAngelo — a '14 first-rounder — to Coyotes https://t.co/eFDVV5BfOV

— NHL on NBC (@NHLonNBCSports) June 25, 2016
DeAngelo, a right-handed defenseman who was selected by the Tampa Bay Lightning with #19 overall pick in 2014, was acquired during the draft in exchange for Arizona's second-round pick. The 20-year-old New Jersey native arguably has the highest potential of any defense prospect in the organization, and could turn out to be Oliver Ekman-Larsson's defense partner of the future.
A High Ceiling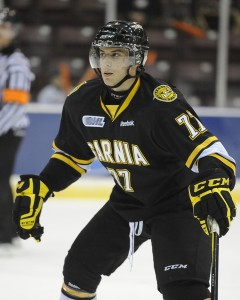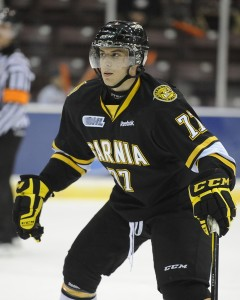 DeAngelo had an illustrious junior career in the OHL; during his draft year, he had 15 goals and 56 assists in 51 games despite playing with little NHL talent on the offensively-challenged Sarnia Sting, who finished the year with the worst record in the OHL. Following the season, he was projected as a late first-round pick, but the Tampa Bay Lightning liked what they saw and selected him at #19 overall. DeAngelo impressed at Tampa's training camp, but the Lightning ultimately elected to send him back to Sarnia, where he recorded 38 points in 29 games before he was sent to the Sault Ste. Marie Greyhounds in a mid-season trade.
In Sault Ste. Marie, DeAngelo finally received the chance to play with a group of highly-skilled forwards, and put up eye-popping numbers as a result; he lit the lamp 15 times, chipped in 36 assists, and recorded a plus-33 rating in just 26 games. He added 16 more assists in 13 postseason games and finished the year as the #13 overall scorer in the OHL.
Newly acquired defenseman Anthony DeAngelo led all OHL D-men in scoring with 89 points and named CHL Player of the Year in 2014-15. #Coyotes

— Jeffrey Sanders (@JeSanders11) June 25, 2016
Following a very successful junior career, DeAngelo was assigned to the Syracuse Crunch of the AHL and quickly made the transition to professional hockey; he recorded 43 points in 69 games as a rookie and was the seventh-highest scoring defenseman in the league. On the surface, it appears as if DeAngelo is a can't-miss prospect; he's showed that he's possibly the brightest offensive defenseman prospect in the NHL, and could make his debut as early as this season. However, there are some issues in his game which have significantly impacted DeAngelo's stock.
Cracks in the Armor?
As good as he has been, there are some concerns with DeAngelo's character; he had a long history of discipline issues during his career in the OHL and was suspended multiple times as a result.
Sarnia Sting D Anthony DeAngelo suspended 5 games, ejected last night at Barrie. Eligible to return January 10th #OHL

— Loosepucks (@loosepucks) December 21, 2013
Sarnia Sting defenseman Anthony DeAngelo suspended 8 games by the #OHL after abuse/harassment of a teammate. #2014NHLDraft

— Brendan Ross (@RossyYoungblood) February 14, 2014
The Sting's Anthony DeAngelo has been handed an automatic 2 game suspension for abuse of officials in Sunday's game. Can return Sat. #SLOnt

— Josh Boyce (@JTBoyce) March 12, 2014
DeAngelo also had a tough time in the AHL last season; he was in the press box frequently as a healthy scratch and was criticized for his play in his own end as well.
Per @Dan_DUva, DeAngelo is a coach's decision/healthy scratch. That would make 7 this year.

— Bolt Prospects (@BoltProspects) March 13, 2016
DeAngelo had tough first pro season in Syracuse. Healthy scratch eight times. Zettler said had struggles in d-zone. Gifted puck mover

— Joe Smith (@TBTimes_JSmith) June 25, 2016
The good news is that both issues can be corrected; Max Domi was suspended for his on-ice behavior multiple times during his career in the OHL and was sent back to junior twice while he was coming up the ranks in the Coyotes organization with his play in his own zone being cited as the main reason for his demotion. However, the additional time in junior helped Domi work on all aspects of his game, and, as a result, he was able to make an immediate impact on the ice as a rookie while also becoming a fan-favorite for his attitude and personality away from the rink as well.
In addition, leadership and guidance from captain Shane Doan could be very helpful for DeAngelo's career; Domi cited Doan's leadership as a reason for his successful transition to the NHL last season and Captain Coyote could have a similar impact with DeAngelo as well. Doan, who is entering his 21st season with the Coyotes, is arguably the most respected captain in the NHL, and his words hold a tremendous amount of weight, especially with younger players who are looking to break into the league for the first time.
With Injury Comes Opportunity
Although DeAngelo is still a young player, the current situation on the right side of Arizona's defense could work in his favor toward earning an NHL job this fall; only Connor Murphy, Zbynek Michalek, and Luke Schenn figure to be realistic options to make the team during training camp as Michael Stone recovers from a serious knee injury. Aside from Murphy and the injured Stone, there isn't much offensive potential here; Michalek and Schenn are both solid veteran NHL defensemen, but they're known for their skills in their own end rather than their skills in the offensive zone. It's entirely possible that DeAngelo could vault past either Michalek or Schenn and nab a roster spot with a strong training camp due to Arizona's need to replace Stone's production with the man advantage.
Standing in the way of DeAngelo's NHL hopes is Arizona's patience with younger players; in the past few years, the Coyotes have avoided rushing prospects to the NHL, and this paid off with Max Domi, who made a significant impact in the NHL after two additional seasons of junior hockey following his draft year. However, one could argue that DeAngelo no longer has the label of "prospect" attached to him; he already has a professional season under his belt and has shown that he's ready to handle more difficult responsibilities.
Overall, it wouldn't be a surprise to see DeAngelo make the Coyotes out of training camp, especially if he has a strong preseason. The Coyotes likely will have to accept some of DeAngelo's shortcomings in his own end as he learns the NHL game, but his offensive abilities could help out a power play unit which has struggled badly with consistency since Keith Yandle was shipped off to the Rangers at the trade deadline in 2015.