What an atmosphere.
From the moment that I walked into Erie Insurance Arena Sunday night for Game 3 of the OHL Western Conference Finals, I knew something was different.  The atmosphere in the arena was something that I hadn't felt before.
There was an electricity in the air.  The Erie Otters were the main attraction.  Over 6,000 fans wearing white piled into the arena to cheer for their team.  When the Otters drafted Connor McDavid as a 15-year old, this was the moment that they were hoping would happen.
Call it mission accomplished.  The fans did their part by waving their white towels most of the night.  When they weren't doing that, they were chanting "3 shots, 3 goals" at Soo goaltender Brandon Halverson.  It was just a fantastic atmosphere.  For the Otters, it hasn't always been like this.  This is where the real story begins.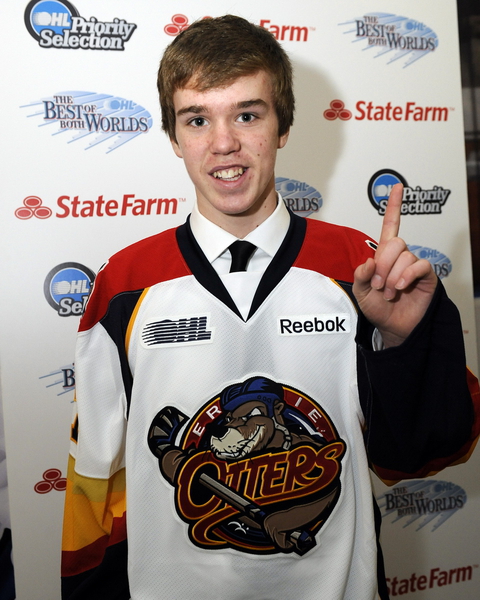 The Erie Otters Pre-Connor McDavid
The Erie Otters have enjoyed varying degrees of success, including winning the OHL championship in 2002.  That team had both Brad Boyes and Cory Pecker.  Since then though, there hasn't been very much in the way of excitement for the Otters.  That is, until a 15-year old named Connor McDavid found out he was coming to Erie.
Let me tell you what the point totals were for the Otters beginning with the 2005-2006 season to give you an idea of how dismal times were.  In 2005-2006, the Otters had 59 points and missed the playoffs.  Then they had 33, 40, then 73, 73, 82, 26, 47, then 106, and finally 104 this season.
The Otters were bad, then became average.  After 3 straight playoff appearances, they dropped to a new low.  At that time, the games were just no fun to go to.  It seemed like there would be nothing to get excited about ever.  Then the 26 point season happened.  The team hit rock bottom.
Timing was everything.  The timing of that season couldn't have come at a better time for the Otters.  A certain 15-year old player achieved exceptional status.  His name was Connor McDavid.  The Erie Otters got the 1st shot at drafting him.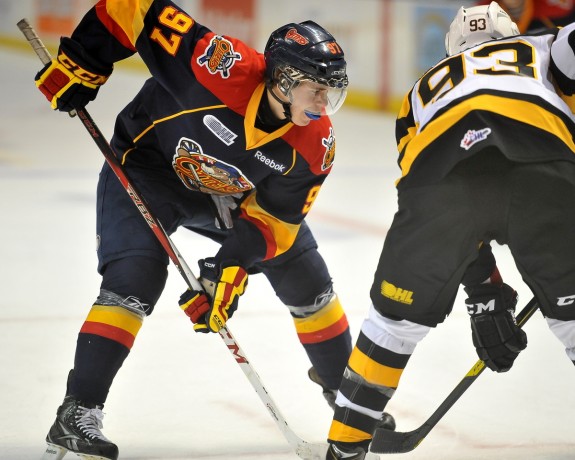 The Beginning Of The Revival
But there was concern.  It was Erie drafting him.  Erie is not in Canada.  McDavid would be going somewhere he didn't know very much about.  Canada outraged at this since he would be playing in the United States.  Surely he would not sign with Erie and find somewhere more suitable to play.  Wrong.
Connor McDavid signed with no hesitation.  He called the opportunity to play in Erie "an honor."  At 15, his character rose straight to the top in a major way.  He honored his commitment, and was ready to lace them up for Erie.
For the 1st time in recent memory, there was hope.  The situation wouldn't change overnight, but at least there was something to look forward to.  The Otters could have drafted someone more ready for the OHL game.  Instead, they thought about the future and the impact Connor McDavid would eventually bring.  I'm not sure any of us saw what was really going to happen.
In Connor McDavid's 1st OHL season, the Otters finished with 47 points and missed the playoffs.  For someone like McDavid who isn't used to losing, this hit him hard.  He went into that offseason determined to not let that happen again.
So what happens the following season?  He helps the Otters to a 106 point season, thanks in large part to Connor Brown and Dane Fox.  Except this time, a different kind of disappointment set in.  After winning their 1st 2 playoff series in 9 games total, the Otters lose to the eventual OHL champion Guelph Storm in 5 games.  Again, McDavid had something to overcome.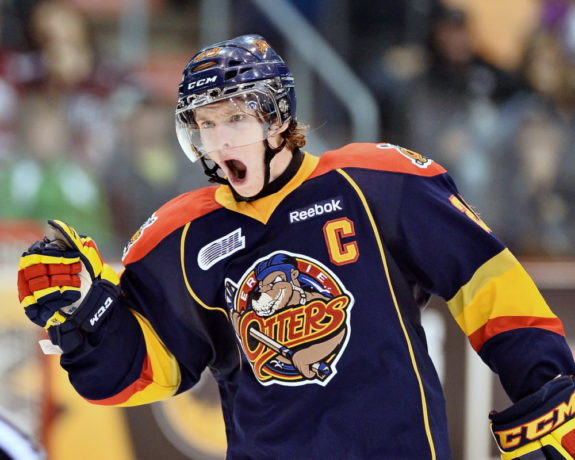 This brings us to this season.  After an incredible start, the punch heard around the world takes place, knocking Connor McDavid out for 20 games.  They feared the worst, but avoided disaster.  McDavid was able to play in the world juniors, and then return to the Otters thereafter.  He helps guide the team back to the Western Conference Finals.
In a recent interview, McDavid admitted that he has had many good memories of Erie and hopes there are some more made.  He also called Erie "3 of the best years of his life." He didn't have to live in the constant scrutiny of the media.  He could be a teenager.  Those are some of the best years of your life.
If Connor McDavid Goes To Edmonton
For those who think Connor McDavid is going to snub Edmonton at all, please stop.  He is not the kind of player who would do that.  He could have done that to Erie.  He didn't.  He will approach Edmonton the same way he has approached Erie.
Edmonton has had miserable seasons of late.  They will now have the 1st chance at drafting Connor McDavid.  If history suggests anything, things will work out in a similar way.  It may take a year to get acclimated.  But after that, look out hockey world.  Look at how he helped turn Erie around, from bottom to top in just 2 years.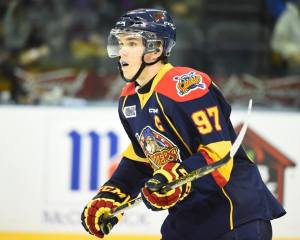 So as we go into Game 4 of the OHL Western Conference Finals tonight, keep this in mind.  Connor McDavid has completely changed the culture of hockey in Erie.  The excitement in the city, and the fans in the stands, show how alive hockey is in this small town.  Even after he leaves, the culture will remain the same.  Players like this come around once in a generation.  If you are fortunate enough to have them, the memories will last forever.
Get ready Edmonton.  It will be your turn soon.