Over the past five NHL seasons, ranging from 2011-16, no team in the League has allowed more Goals Against (GA) than the Edmonton Oilers.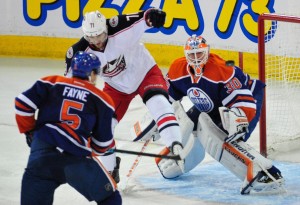 In fact, the Oilers' 1148 GA in their 376 games played over that period of time equates to a horrific 3.05 GA/GP, a mark which is in no way flattering considering Edmonton produced just 2.45 GF/GP over that stretch.
As a result, the Oilers and their perennially porous defense have become well-known League wide for their inability to defend, a problem which has long been perpetuated by a focus on drafting forwards in the annual NHL Draft rather than defensemen. Signing, no, over-paying, for numerous free agent defenders over the years has only intensified this issue, which was finally addressed by new General Manager Peter Chiarelli when he traded Taylor Hall in exchange for Adam Larsson.
However, it is a fact that the Oilers blue-line remains, in all likelihood, too weak to guide the franchise to a playoff berth, one which would be Edmonton's first since the 2005-06 season, when they reached the Stanley Cup Final.
As such, given the young, relatively inexperienced nature of the Oilers' blue-line, the addition of a veteran defender, one who can bring stability to both ends of the ice, would likely be welcome in Edmonton.
While the likes of Nikita Nikitin and Mark Fayne have failed to stabilize the Oilers' blue line in previous seasons, the signing of James Wisniewski, who, yes, recently signed a PTO with the Tampa Bay Lightning, could do wonders in terms of benefiting Edmonton's back-end.
Offensive Flair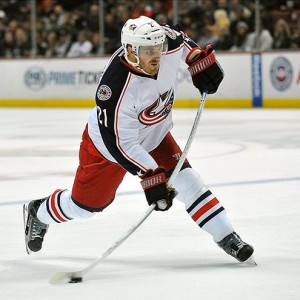 Throughout his career, Wisniewski has always been known as an offensive defenseman, and it is a part of his game which seems to come about naturally. Over his 552 career NHL games to date, Wisniewski has recorded 274 points, 53 of which goals – totals which provide him with a slick career PPG mark of 0.50.
On two separate occasions, Wisniewski has eclipsed the 50 point total within an NHL season. The first time he did so came in 2010-11 when he netted 10 goals and 41 assists in 75 games played. More recently, Wisniewski once again recorded 51 points, this time as a member of the Columbus Blue Jackets in the 2013-14 season. His season points total ranked 8th best in the NHL that year amongst all defensemen, besting the likes of Brent Burns, Mark Giordano and Oliver-Ekman Larsson.
If Wisniewski were to sign with the Oilers, any offense he could provide would simply be a bonus. Oscar Klefbom, Andrej Sekera and Adam Larsson will be looked upon to provide the majority of offense from the blue-line, while Brandon Davidson also showed offensive flair in his rookie season. In a bottom-pairing role, Wisniewski could also be utilized on the second power-play unit, as he possesses an excellent shot from the point.
An Under-Rated Defender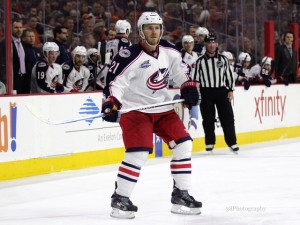 While offense has long been the name of the game for Wisniewski, he is, in fact, a highly under-rated defender, whose energy and determination allow him to play a shut-down defensive style of game.
Logging, on average, 21:22 minutes of ice time per night throughout his career, Wisniewski has long been producing positive possession statistics, a measure of a given player's ability to produce offense while denying opposing scoring chances. In fact, throughout his 11 year NHL career, Wisniewski has only played one season in which his CF%, a measure of puck possession, dipped under 50%, when it hit a career low of 48.1% in 2009-10, which still remained a fairly decent total.
Otherwise, Wisniewski's CF% has been extremely strong, and almost always greater than those of his fellow teammates. His career CF% average is strong at 53.7%, while his career CF% rel, a measure of a players possession while on the ice in comparison to his team's while he is off, comes in at an impressive +5.5.
Injury Inconveniences
While Wisniewski has seemingly always been a strong player at both ends of the ice throughout his NHL career, it is his troubles battling the injury bug which have held him back from having a much more successful career.
Over his 11 years in the League, Wisniewski has played in, as previously mentioned, just 552 games. Therefore, on average, he has only played in roughly 50 games per season throughout his career to date, having played in just over 61% of his team's games.
The injury list is a long one for Wisniewski, and it is one which will certainly turn prospective League franchises away when looking for the services of a veteran defender. A broken foot and ankle, a sprained knee which required surgery, a concussion, and now, most recently, a torn ACL which forced him to miss 81 games of the 2015-16 regular season. If you can name it, chances are Wisniewski has had the misfortune of sustaining the injury, and as such, his health will be a major factor in contract negotiations.
Low Risk, High Reward
In all, from what we have seen, Wisniewski has the potential to be a solid depth defenseman for the Edmonton Oilers in 2016-17. As a proven offensive threat, Wisniewski combines an elite work ethic with a sound defensive game, making him an all-around asset at the NHL level.
At the age of just 32 years and a right-handed shot, Wisniewski has plenty of hockey ahead of him, yet the major question remaining to be answered is whether or not the Canton, Michigan, native can remain healthy for the duration of a full NHL season, especially so after missing virtually the entire 2015-16 season.
James Wisniewski will get multiple PTO offers and be able to pick his spot to compete for job. Should Oilers offer him a 1-year deal now?

— Bob Stauffer (@Bob_Stauffer) August 10, 2016
In terms of a potential contract, the Oilers would surely be looking towards a one-year deal, the only factor which would need to be hammered out would, of course, be the financial term.
Fortunately, Wisniewski is no stranger to one-year deals, as he signed four of them following the conclusion of his entry-level contract. In 2011, the Columbus Blue Jackets signed Wisniewski to his first multi-year contract, a massive six-year deal worth $33 million. Yet, following a trade to the Anaheim Ducks in March of 2015 and a deal to Carolina that same off-season, he had his contract bought out by the Hurricanes on June 30th, 2016.
While his previous contract carried an annual cap hit of $5.5 million, a deal with the Oilers would come nowhere in that ballpark, regardless of the fact that Edmonton holds nearly $10 million in cap space. Realistically, a one-year deal in the range of $1-1.5 million would be fair for both sides, and would provide Wisniewski with an opportunity to once again prove his worth at hockey's highest level.
In reality, the Oilers have nothing to lose. Griffin Reinhart simply isn't ready, Mark Fayne has stumbled in his time in Edmonton, while Jordan Oesterle, despite playing 17 games in the NHL last season, could use more time at the AHL level, where his game has continued to progress.
[Related: Landing Larsson a Blessing in Disguise]
All in all, signing Wisniewski would be a low-risk, high reward signing for the Oilers. If Wisniewski returns from injury and is able to remain healthy, he could be an extremely valuable member of a new look Edmonton team with post-season desires. His abilities at both ends of the ice would certainly be welcomed, while his incredible work ethic and experience would be perfect in what will be yet another young Oilers locker room.
Sure, he agreed to a PTO with the Lightning, but this does not necessarily mean he will sign a contract with the team, which is already loaded with size and skill on the back end. At this stage of his career, Wisniewski wants minutes at the NHL level, minutes he will likely not receive in Tampa Bay.
Brett Slawson is a four-year veteran of The Hockey Writers who covers the Toronto Maple Leafs, NHL prospects, and the OHL's Mississauga Steelheads.
Contact Brett on Twitter @brettslawson92, or by email at brett_slawson@hotmail.com.