The 2023 NHL Draft has been known for the big guys up top, Connor Bedard, Adam Fantillli, Leo Carlsson; the list goes on. It has been well-documented that this draft class is heavy on forwards, but what about defensemen? Two names that stand out as potential options for the Arizona Coyotes are David Reinbacher and Axel Sandin Pellikka.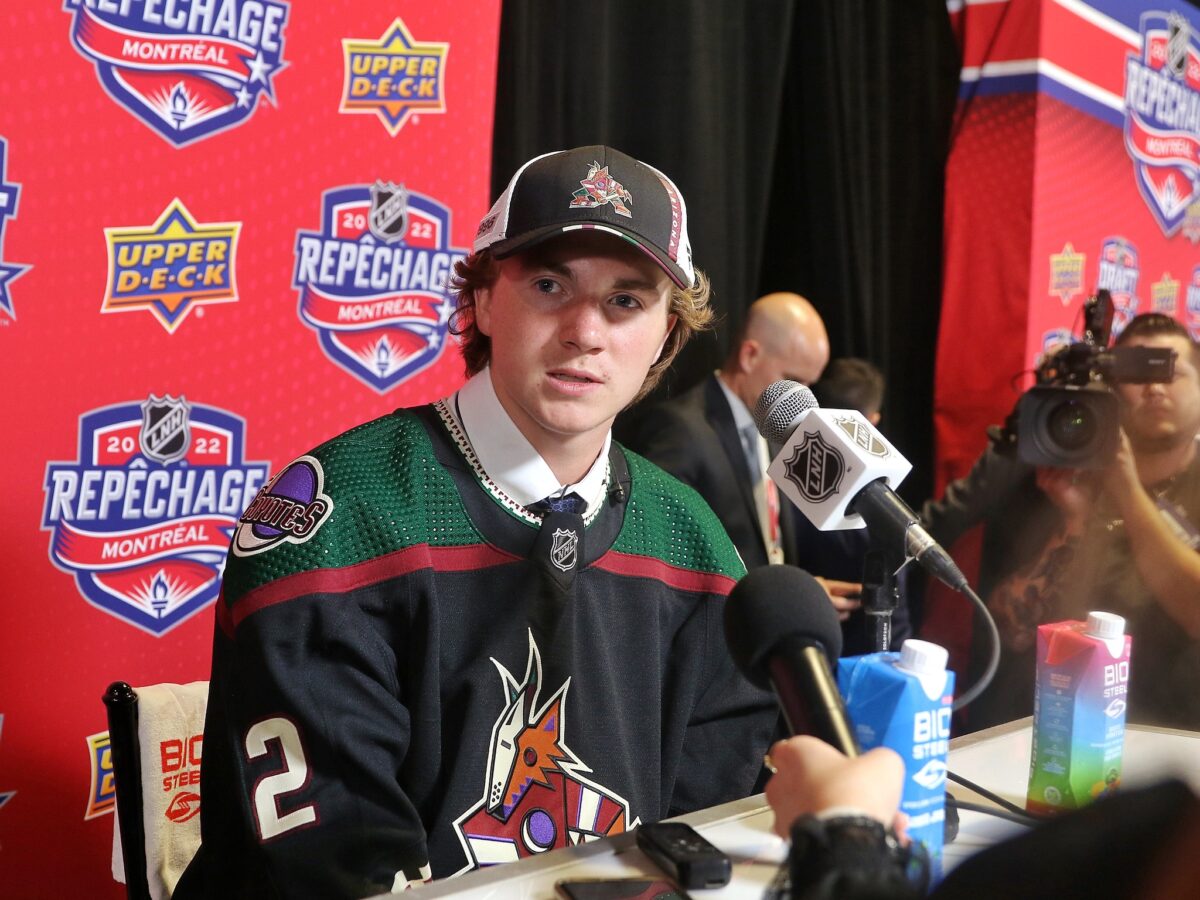 The Coyotes have been able to build their forward group with the likes of Logan Cooley and Dylan Guenther over the past two drafts, but not so much on the other side. With an impending lack of defensive talent in the team's pipeline, they may turn to Reinbacher or Sandin Pellikka. The two defensemen have been tagged as top picks in a draft class that isn't expected to be rich in that position. Could the Coyotes target one of them at sixth overall?
David Reinbacher
Reinbacher has been highly touted as the best defenseman in this year's draft class. During his 2022-23 campaign, he notched three goals and 22 points in 46 games as an 18-year-old in a men's league. While he doesn't have lethal offensive production, he plays a very simple game that makes him most desirable.
What makes Reinbacher so good is his calmness on the ice. He never panics, so you'll rarely see him get caught scrambling. He also has arguably the highest defensive IQ in this year's crop of defensemen. He isn't the flashiest guy on the ice or the best skater, but all of his other attributes make up for it.

There's plenty to like with Reinbacher, especially for a Coyotes team who's very shallow on defense. Whether it's his frame or his NHL readiness, they could take him sixth overall. There still could be other forwards on the board, like Dalibor Dvorsky, Zach Benson, and Ryan Leonard, but if they feel like he is the best fit, they could take a swing at him. While it's not certain what the Coyotes will do with their first pick, he will likely be one of the top options for Bill Armstrong and company.
Quotables
"The trademark of his offensive game is his effective shot which is able to find the net through any screen and can be a real problem for netminders. Not only this but Reinbacher is extremely consistent in his placement of his shot as he either goes mid glove or mid blocker."

Joe Maciag, Recruit Scouting
"On the rush, he makes it very difficult for the attacker to beat him wide or to access the triangle between his legs and stick. In the defensive zone he is tough to play against, as he defends actively with his stick and body to hold the play to the outside."

Miroslav Simurka, FC Hockey
Axel Sandin-Pellikka
With Reinbacher being more of a two-way defenseman, Sandin-Pellikka has the potential to have the highest offensive upside in this year's draft. During the 2022-23 season, he played for the J20 Nationell Swedish Junior League with 36 points in 31 games. He also dressed against Swedish Hockey League (SHL) talent this year. In 22 games, he had two goals and five points. Adding onto his impressive draft year, he also played in the 2023 World U18 Championship for Sweden. In seven games, he recorded two goals and 11 points.
---
Latest News & Highlights
---
Sandin Pellikka has been ranked all over the place by scouts, some as high as fifth by Craig Button and some as low as 15th by Elite Prospects. Although there is a mix of where many see him going, there is no denying his skill. He has a high offensive IQ, along with his ability to walk the blue line. Not to mention his first-class skating, which is atop the best at the 2023 Draft among defensemen.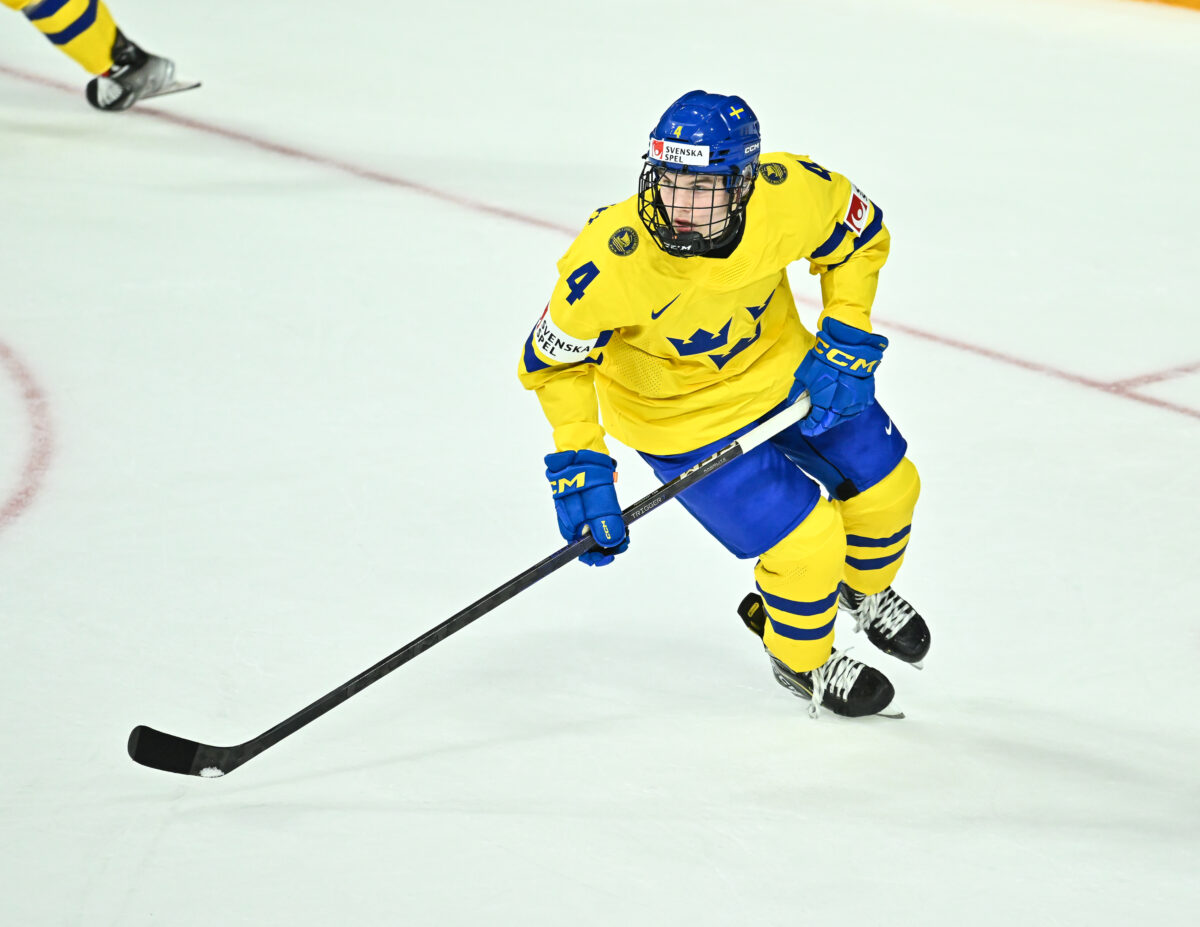 Sandin Pellikka could be exactly what the Coyotes are looking for, a dynamic offensive defenseman that can do it all. Of course, his game isn't perfect, just like every prospect. He lacks size and strength and doesn't have an elite defensive game. Coming into the draft, he's likely locked himself into the top-15, but don't be surprised if a team like the Coyotes take a gamble on him at sixth overall.
Quotables
"One of the reasons for Sandin-Pellikka's powerplay dominance is how comfortable he is to play different roles as we often see Sandin-Pellikka pinch down into more of a Left Wing position with the aim to one-time pucks on net. Paired with his ability to act as a forward on the powerplay is his sneaky skating which allows him find space at the backdoor or in the slot without being picked up by defenders." 

 Joe Maciag, Recruit Scouting
"Sandin Pellikka's skating is a thing of beauty. His stride is technically sound. His straight-line speed is excellent. When it comes to his first few steps, or acceleration, he is explosive. As for his edges, he generates a lot of speed through his crossovers, can stop on a dime, and transitions from forwards to backwards skating near-flawlessly. His four-way mobility is evident and at a high level."

Kyle Pereira, LWOS
Coyotes Have Options Going Into Draft
Adding Reinbacher or Sandin Pellikka wouldn't necessarily fix the Coyotes' needs on defense, but it would undoubtedly help it. They already have guys like Maveric Lamoureux, Artem Duda, and Jeremy Langlois, but the more help they can get, the better.
Overall Reinbacher is likely the best fit for the Coyotes. He has the height that Armstrong has looked for since becoming GM. His NHL readiness could also play a big factor in the decision to pick him at six. Even though there will still be plenty of talent on the board, Reinbacher could be a match for the Coyotes at the draft.