John Chayka was named general manager of the Arizona Coyotes on May 5, 2016, and that's made him the youngest GM in the history of the four major professional sports. His first season in charge is coming to an end and his team's 29th overall ranking may be perceived more negatively than it actually should be. This second-last place in the standings is not an accurate reflection of the team's improvement.
The often used saying that the proof is in the pudding is a phrase I honestly can't stand but in the case of Chayka, the pudding is not in this year's final rankings. Instead, it's in the myriad of numbers leading to and following it. Yes, Chayka is a numbers guy and it's making all the difference to the club's owners.
Before Chayka became the club's general manager, he served as their Assistant General Manager, Analytics for a year. Before that, he co-founded Stathletes Inc., and served as the company's Director of Hockey Operations. Stathletes, a hockey analytics firm, tracks data via video analysis and breaks down the game by interpreting data collected through player performance metrics. Obviously, the guy's a big fan of analytics, a movement sweeping the League but isn't embraced by all GMs and coaches.
Unfortunately, a lack of analytics enthusiasm can get you fired, as the Florida Panthers' former head coach Gerard Gallant can attest. The Panthers' ownership had publicly acknowledged their favorable views towards analytics in the past, stating their intent to rely heavily on them. Still, Gallant refused to have an open mind and was eventually let go.
Gerard Gallant fired by Panthers in dysfunctional mess https://t.co/q2uR8fjzlB via @YahooSports #NHL #panthers

— Greg Wyshynski (@wyshynski) November 28, 2016
Chayka, on the other hand, has more than just an open mind to the changing landscape. His mind is wired to ideate in new ways of measuring performance – ways that no one else is measuring. Measurements that even the Chicago Blackhawks aren't using. Is it really a surprise that his very first NHL draft pick as GM was used on a guy developing in the NCAA?
No, not a chance.
Chayka isn't afraid to go against the grain and his youthfulness probably has a lot to do with it. His non-traditional approach to doing business is part of the Millennial way of life and it's setting him apart from the masses. The result will be one of two things; he'll either break records and rise to the top or prove why executives under the age of 30 should never become general managers.
Coyotes Embrace the Rookie Movement
Besides being young, there's a whole slew of characteristics about Chayka that makes him one of a kind. One of them was employing nine different rookies this year. With the end goal of integrating youth into the lineup, it makes a lot of sense. Chayka believes that if he keeps some of these guys around for 10 to 15 years, that extra 15 or so games it took them to get going was simply a price worth paying. Theoretically, it's a smart investment for the Coyotes but at this point in Chayka's career, that's all it is; a theory.
It's common knowledge that bringing young players into the League before they're ready can actually disrupt their trajectory. But maybe that's the real theory here. After all, his rookies are performing well compared to the League's other rookies and the Coyotes are beginning to see a return on their investment because of it. Last night, goalie Mike Smith broke the franchise shutout record in their win over the Colorado Avalanche and it goes to show just how far teamwork can take a team with heavy involvement from their rookies.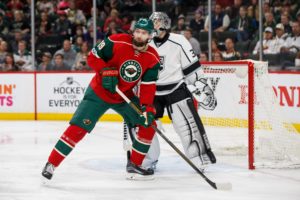 Regardless of all the theories, Chayka's persistence in giving experience to his young ones is a signature move and part of his bigger plan. So was trading Martin Hanzal and Ryan White (as well as a 2017 fourth round pick) to the Minnesota Wild for a first-round pick in the 2017 Draft, a second-round pick in the 2018 Draft and a conditional fourth round pick in the 2019 Draft. The conditions include that if Minnesota wins a round in this year's playoffs, it becomes a third-round pick and if they win two rounds, it becomes a second-round pick in 2019.
The Coyotes will also be getting another lottery pick at the draft this June and still have guys like Clayton Keller, Dylan Strome, Nick Merkley and Christian Fischer coming through the pipeline. Simply put, the Coyotes are going to start looking like a decent team soon enough and that's not a theory. It's a probability.
Draft Aftermath Speaks Loud & Clear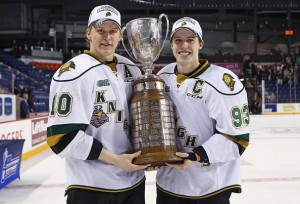 Chayka is all about making statements and he's quite good at it. At the 2014 Draft, he wasn't yet employed by the Coyotes and so he didn't influence the questionable pick selected at No. 58 in the second round, Christian Dvorak. The questions regarding the young forward were raised by fans and based on his perceived likelihood of scoring at the NHL level. The concerns were that his 41 goals in 2014-15 and 52 goals in 2015-16 with the OHL's London Knights may have been largely attributed to Mitch Marner's presence.
The thing is, measuring an NHL asset's value by his potential to score isn't always the most effective way of measuring his potential at all. It's merely the simplest. No general manager will tell you their secret sauce when it comes to interpreting raw data but in Dvorak's case, his role in the Coyotes' system wasn't likely to be one of designated goal scorer. So why would he be measured with the same metrics used for Radim Vrbata, Tobias Rieder and Oliver Ekman-Larsson?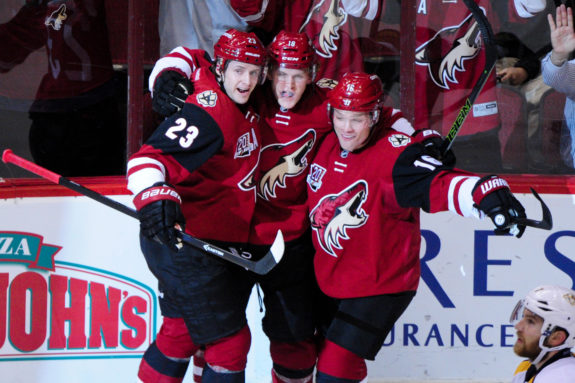 Before Dvorak cracked the Coyotes' roster, Chayka's team of analytics gurus collected all kinds of data on him, combed through it and discovered trends in his style of play. One of these trends was an aptitude for gaining puck possession over time using the faceoff strategically.
Since the beginning of this season, Dvorak has been navigating the faceoff and in doing so, he's gained his team a competitive advantage. By winning faceoffs, increased puck possession is achieved and Dvorak hasn't only been working on his faceoff win percentage but he's been choosing where his faceoffs happen and how frequently they happen. It's safe to say his role in the Coyotes' system isn't just one of winning faceoffs but one of generating them too, all in an effort to gain puck possession for the team over an extended period of time.
Knowing this about a player going into the season is a good reason not to be nervous about him. In starting his NHL career, Dvorak took on the responsibility to deliver and as such, gained the confidence of Head Coach Dave Tippett, which earned him more ice time. Along with more ice time came more scoring chances and with more scoring chances, came more goals. That's why we're seeing headlines like, 'Arizona Coyotes' Christian Dvorak is Beginning to Break Out', and 'Rookie Centre Christian Dvorak Finding NHL Form…,' and 'Coyotes' Christian Dvorak Scores Two Goals Again' in the news today.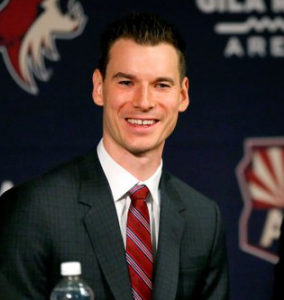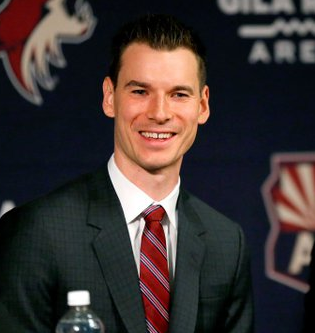 The league's youngest general manager isn't your average 27-year-old and he isn't your average hockey fan either. In fact, he isn't your average anything. Now that payoffs on his interesting actions are starting to get noticed, we're seeing a new found confidence in the franchise, trickling down to every player on the roster. This particular kind of growth may not be what the league is used to seeing but it certainly has potential to give fans the dividend of a team they can be proud of.