There's no easy way to build a sure-fire Stanley Cup contender – no simple blueprint that will bring a team unmitigated success. To create a perennial powerhouse in the NHL, you must have a lot of things go right for you. For example, your drafting has to be spot on, player development has to be done carefully, you need to make timely trades and free agent signings that work out, and you have to hope that, at the end of the day, everything comes together to form a finely tuned hockey machine.
To say that there's a lot of luck involved is an understatement. A general manager has a lot on his plate when it comes to building a formidable hockey club. With so many things that can go wrong with the construction of a team, it's a wonder when we see teams like the Chicago Blackhawks maintain a level of success and stardom for such a long period of time.
These Chicago Blackhawks were not built overnight and there's one man in particular who could be credited with laying down the foundation and getting the ball rolling early on for this modern-day dynasty.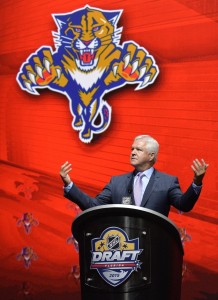 That man is Dale Tallon and he's working his magic once again, this time in Sunrise, Florida.
Tallon's Work in Chicago
Tallon has his paws all over the Chicago Blackhawks' three Stanley Cup winning teams. He was one of the main architects in putting their team together and he really started shaping this roster over a decade ago.
Tallon first joined the Hawks organization in 1998 as director of player personnel. He slowly climbed the ranks and became general manager of the club in 2005. Under Tallon's tutelage the Blackhawks slowly improved, all while raking in some high draft picks and harvesting some major talent. Jonathan Toews and Patrick Kane were drafted in 2006 and 2007, respectively, and important pieces like Patrick Sharp, Brian Campbell, and Kris Versteeg were acquired or signed along the way.
The Blackhawks made the playoffs in 2009 for just the second time in eleven seasons and finally began to shed their label as cellar-dwellers in the league.
The Blackhawks ultimately demoted Tallon after the 2009 season and he was out the door by 2010, missing the team's first dance with glory. (It should be noted that even though he wasn't with the organization when they won their first Cup, the team still elected to have the former GM's name engraved on the trophy.)
Tallon did a great job turning the laughing-stock Chicago Blackhawks into one of the best franchises in all of sports. His demotion was disappointing to say the least and coerced Martin Havlat (who was also dismissed from the team in 2009) to lash out at the club and, more directly, president John McDonough. Havlat said, "McDonough couldn't stand that Dale was so successful and getting the credit for building the Hawks from a last place team to making the Conference Finals in 3 short years."
To have former players step up for you like that just shows the kind of job Tallon did in Chicago and Blackhawks fans still reap the benefits to this day.
Tallon's Work in Florida
Tallon entered his job as general manager of the Florida Panthers in the same way he entered his gig with the Blackhawks – knowing it's been about a decade since his team last made the postseason.
He went to work right away, trying to make an immediate impact. He let go of a lot of his veterans in an attempt to make the team younger and faster. He let go of his captain Bryan McCabe and brought in some familiar faces from the Blackhawks like Versteeg and Campbell.
In just two years, the Panthers finished 1st in the Southeast Division with a dynamic, young, and fast team. However, their lack of experience and inconsistent efforts led to a disappointing, albeit exciting, first round exit at the hands of eventual Eastern Conference champion New Jersey Devils. Tallon even earned a GM of the Year nomination in that season and the future seemed bright for these Cardiac Cats.
The Future in Sunrise
That 2012 season has been in the rear-view mirror for a little while now and the Panthers have not made the playoffs since. They've gone through a lot of turnover as a team but there's still reason to be optimistic as Tallon is still overseeing things as general manager.
The Panthers appear to be on the doorstep of another playoff berth as the team has a young core of legitimate talent and it won't be long before this team starts becoming a real threat at the top of the league. Guys like Jonathan Huberdeau, Nick Bjugstad, and Aleksander Barkov are all developing nicely as Panthers draft picks and with veteran Jaromir Jagr back with the team providing his leadership, we should see a nice boost in an offense that finished 13th in goals for in the Eastern Conference last season.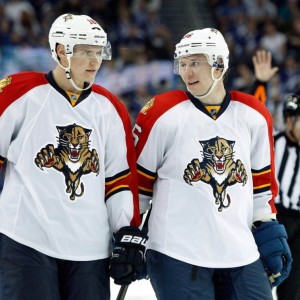 Defensively, Aaron Ekblad was a stud last year and will only continue to grow, while other former Tallon Florida draft picks Erik Gudbranson and Dmitry Kulikov form a formidable pairing as well.
Goaltender Roberto Luongo showed he can be a game changer when healthy and could provide some much-needed help in net as this young team continues to grow.
While Tallon's former project lifted their third Stanley Cup in six years, there's reason to believe that his newest design is on the doorstep of similar greatness. With his sharpness and planning, he's seen plenty of success while turning promising prospects into sensational stars. The hockey renaissance in Chicago was unfathomable when Tallon took over. But since 2009, the Blackhawks have led the league in attendance every single season. Constructing a team that can bring people to the arena is something that the Panthers are in desperate need of.
Sure, building an NHL team isn't an easy task. But based on his past accomplishments and how the Florida Panthers are fairing, it's safe to say that Tallon has a knack for it.