11 games and 3 points.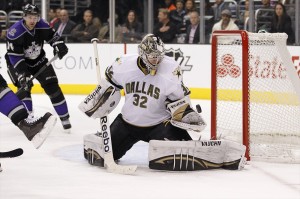 That's all that currently stands between the Dallas Stars and their first post-season berth since 2008. The Stars currently sit in 3rd in the West with 83 points, tops in the Pacific Division, but the 9th place San Jose Sharks and 10th place Calgary Flames are nipping at Dallas' heels with 80 points a piece.
With all points becoming more and more valuable as the season nears its end, Dallas' recent 10-0-1 surge came at one of the best possible times, even though it ended in a thundering halt in a 5-2 loss to the Winnipeg Jets on Wednesday. For as much ground as the Stars gained, they can't afford to ease up on the gas now, not with so many other tough West teams playing good hockey and really gunning for those last few playoff positions.
It will take a continuation of their recent surge, and nothing less, if the Stars hope to keep their post-season dreams alive.
Here now is a quick look at some of the key players on the team, and what will be needed from them if Dallas is to make the playoffs:
–Kari's killing it: No other player on the Stars will be as important in these dying weeks as goaltender Kari Lehtonen is. The big Finn is playing some of the best hockey of his career as of late, going 8-0-1 with a 1.29 G.A.A. and .955 save percentage, and will need to put up similar numbers if his team is to stand a chance. Lehtonen has improved his physical conditionally significantly since coming to Dallas from the now-defunct Atlanta Thrashers, but failed to fully carry his workload last season, looking tired as the Stars faded down the stretch. Lehtonen could easily get the start in all of Dallas' remaining regular season games, however, and a strong performance here could solidify the justification that made him a #2 overall draft pick ten years ago in 2002.
–Ryder finds his place with Stars: He might have been a 3rd line player with the Cup-winning Boston Bruins last season, but is flying high in his newfound 1st line role with the Stars, forming a strong trio with Loui Eriksson and Mike Ribeiro. He recently went on a tear with a 9-game point scoring streak, during which he tied his career high in goals with 30. His 54 points tie him for 3rd on the team, while his 30 goals and +21 rating currently rank 1st.
–More needed from Goligoski: After coming into the season as the team's de facto offensive defenceman, Alex Goligoski has left much to be desired. Although his 27 points in 60 games are the highest total on Dallas' blueline, they are a far cry from the 46 he recorded last season, and nowhere near the the team needs out of him. Dallas' powerplay currently ranks 27th in the league, and won't get better unless Goligoski can provide more from the back end. He had only 2 assists over Dallas' strong 11-game point-scoring drive.