With the 2013-14 season drawing closer and closer, the amount of cuts out of various training camps continue to increase as teams trim down to the desired roster number.
One of those cuts out of the Edmonton Oilers camp today was the 2013 seventh overall pick Darnell Nurse. Nurse was one of four cuts made by the team last night. He will be returned to the Sault Ste. Marie Greyhounds of the OHL.
The interesting thing was not the fact that he was cut, most believed that would be the case, but that he lasted as long as he did. Generally junior aged players that are all but assured to be returned to their junior squads are sent out with the earlier cuts.
Nurse certainly made a favourable impression and earned the right to stay as long as he did, and showed flashes of what the Oilers hope will be a tower of power on their blueline for years to come.
He also outlasted other prospect defensemen like Oscar Klefbom and Martin Marincin, both who were considered to have better shots at making the team than Nurse.
The consensus on Nurse after being drafted was that he had immense potential and had future shutdown defenseman written all over him. It was also noted that he was still very raw and would take some time to develop and had no realistic chance of sticking with the big club this season. All of this is still true, but few expected Nurse to make as favourable a showing as he did in camp.
About 250,000 #Oilers fans have a new hockey crush tonight: Darnell Nurse. Great skill, great fight, great composure, great first impression

— David Staples (@dstaples) September 19, 2013
An Impressive Skillset
The thing that jumps out immediately about Nurse is his skating ability for a big man. He has a long fluid stride and gets up and down the ice in a hurry. He also shows that he can play with an edge and doesn't back down from anyone, no matter who they are. This is one of the traits the Oilers admired in him and a reason he was taken with their top draft pick.
The other part of his game that has surprised many is the offensive side. No he will never be compared to Justin Schultz for offensive prowess, but he did show impressive poise with the puck and the ability to make a strong first pass out of the zone.
Granted he is still raw, as most scouts have indicated, and there will be a learning curve. However, based on first impressions, the curve may not be as steep as originally thought.
At 18 years old, he's already 6'4″, 190lbs and continuing to grow. With his already elite skating ability, if the rest of his game continues to grow, he could be a force to be reckoned with in a couple years.
Returning to Junior
Nurse will now go back to the OHL, a league he will attempt to dominate. With his showing at Oilers camp, it doesn't appear to be out of the realm of possibility.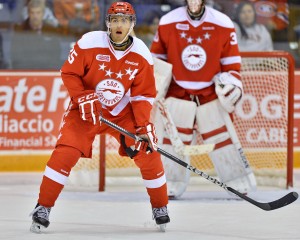 It will also give him a chance to compete for a spot on Canada's WJC blueline. While the World Juniors is traditionally a 19 year olds tournament, Nurse will have an excellent shot at making the team. Only Griffin Reinhart and Morgan Rielly are eligible to return on the blueline, and both are currently still with their NHL clubs and could start the season there.
The tournament is a rite of passage for some and have improved the stock of many a prospect defenseman. Players such as Dion Phaneuf, Shea Weber, Drew Doughty and Alex Pietrangelo among others used impressive showings at the tournament to launch their NHL careers.
Nurse will look to take that next step forward in junior and enter next year's training camp in Edmonton showing the team that there is nothing left for him in junior hockey.
The Oilers will look for him to take a similar path to the Bruins Dougie Hamilton, another hulking blueliner with excellent skating ability. Hamilton was one of junior hockey's best defensemen two years ago and was utterly dominant most nights last season for the Niagara IceDogs. With the lockout ending, it earned him a spot on the Bruins defense where he continued to impress and is now battling for a full time spot there.
The Future Looks Bright
Most of the headlines in terms of young talent has centred around the forwards in Edmonton. However going forward there is an impressive complement of talent on the blueline that could be NHL ready in the next year or two.
The Oilers have defenseman such as Justin Schultz, Oscar Klefbom, Martin Marincin and Nurse who are all blue chip talents and all in their teens or early twenties. They also have second tier prospects like Taylor Fedun, David Musil, Martin Gernat, Brandon Davidson and Dillon Simpson who have the potential to be valuable depth defensemen.
Oiler fans may be getting frustrated with the continued rebuilding process, but the team has assembled an impressive stable of talent. If the prospects on defense can catch up with the forwards, Edmonton won't be out of the NHL playoff picture for long.
They may have to wait a year or two for Darnell Nurse, but from all indications the wait will be well worth it.
______________________________________________________________________________
Follow Carl on twitter @maloney3383 and Google+ for more articles.  
Carl covers the Edmonton Oilers for THW as well as providing additional prospect coverage. Follow him on twitter @carlTHW, connect on Facebook or contact at carl.maloney@hotmail.com for questions, comments or if you're interested in him writing for you.