For the Arizona Coyotes, it has been a season full of struggles at Gila River Arena. The Coyotes have gone winless in their last seven home games and hold a 4-7-2 record in Glendale. Arizona's last victory at Gila River Arena came more than a month ago when they squeaked out a win over the Toronto Maple Leafs in early November. As the Coyotes prepare to try and end this run of home futility on Thursday night against the Nashville Predators, let's take a look at their stats at Gila River Arena.
Lack of Production
Arizona's offense has had a hard time scoring in Glendale. The Coyotes are barely averaging more than two goals per game on home ice with 27 goals scored in 13 games. Seven of those 27 scores came in one night when Arizona lit up the Edmonton Oilers in their third game of the season. The Coyotes recently endured a drought of more than 185 minutes without scoring at home, which started after a first-period goal Tobias Rieder on November 25 against the Colorado Avalanche and ended with a first-period goal by Joe Vitale on December 6 against the Boston Bruins. In addition, no Coyote has reached double-digits in points at home, with Mikkel Boedker and Keith Yandle leading the team with eight points each.
Defensive Issues
While the Coyotes are struggling to find the back of the net at home, visiting teams are not having the same difficulty. Arizona has allowed 44 goals in Glendale and owns the third-worst home penalty kill at 73.2%. Goaltending has not helped recent matters as Arizona has made changes in net during the first two games of their five-game homestand. Mike Smith was pulled after he yielded three goals on 20 shots against the Los Angeles Kings, while Devan Dubnyk saw his night end early against the Bruins after surrendering four goals on 24 shots.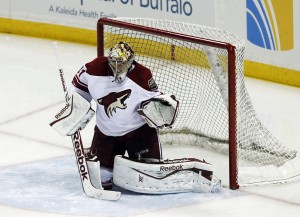 The Coyotes cannot afford to keep missing out on points on home ice. After the Christmas break, Arizona plays eight of nine contests in Glendale, including six consecutive home games to begin 2015. The Coyotes are already staring at a large deficit in the standings, trailing Calgary by 13 points for third in the Pacific and San Jose by 11 points for the second wild card spot. Perhaps the recent roster shakeups, which included trading Rob Klinkhammer to Pittsburgh, will provide a spark that Arizona desperately needs to climb back into the Western Conference race.
Charles Woodall-Pike is a journalist who writes about the Arizona Coyotes for The Hockey Writers.