The Detroit Red Wings are a bit crowded on the back-end, and it's a very good thing.
After a season that saw the Red Wings finish first in Corsi Against per 60 minutes (45.85),  19th in PDO (99.93), and 15th in goals against per game (2.57), the numbers paint an interesting picture. While the team was quite good at limiting scoring chances, the team save percentage wasn't that of an elite team. In fact, it was 21st in the league at .909. It seems as though the defence was actually doing better (statistically speaking) than most people would give them credit for.
The Red Wings limited their opponents to only 2,917 shot attempts during the season, which was the best in the NHL. They were had a full 241 less shot attempts than the next team (Kings), which means they gave up a full three shots less per game than the next best team defensively. The breakdown wasn't in the team defence. (source: http://www.puckalytics.com/)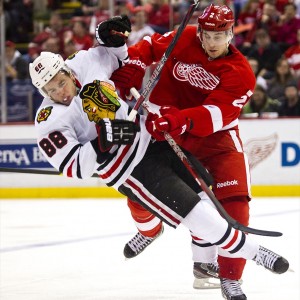 It is well-known that Jimmy Howard struggled this past season. His GAA was 2.44, which isn't terrible, but his SV% was a near-career-low 0.910. Even the team saviour, the Saint himself, Petr Mrazek struggled in terms of statistics this past season. A GAA of 2.38 and a SV% of 0.918 doesn't look like the stats of a man who was praised for his play in the wake of Howard's struggles. At the very least, Mrazek's playoff numbers of 2.11 and 0.925 where much more impressive, and a better indication of his strong play.
Making changes
So where does this leave Detroit's defence? Ken Holland had a nice little throwback to his glory days of making a July 1st splash in the free agency market by signing Brad Richards and Mike Green to one and three-year deals, respectively. Shows a commitment to winning.
Green has failed to reach his unbelievable numbers from 2008-2010, where he scored 50 goals over two seasons with the Capitals, and put up an astounding 149 points. Green actually had more points than both Datsyuk and Zetterberg in the 2009-2010 season, but injuries have kept him from coming close to those numbers again. He has only played in a full season once (2007-2008), and hasn't even played 75 games since that 2009-2010 season. Now that Green has a new team around him, a new coach behind him and a shot at playing a full season, there is hope that he fits into a number two or three defenceman spot on the Red Wings. At $6 million a year, he is certainly paid to be one.
What now?
With Green now in the fold, and effectively taking the place of Marek Zidlicky, the Red Wings now have seven defensemen who played 30 games or more last season; all fairly regular NHLers. In fact, next to Jakub Kindl's 35 games, the next lowest games-played total of the returning defencemen is Kyle Quincey at 73. Detroit's average career games-played for their current projected top seven defencemen is 386 per player, which actually shows their experience. Detroit's defence isn't as young as people assume it is (average age of 28.85),  and they are used to the NHL game, with no player playing less than 150 NHL games over his career. 
If Kronwall and Ericsson stay together (as expected), that leaves Green to play with Dekeyser/Quincey, and Smith and Kindl as third pairing defencemen.
Kronwall – Ericsson

Green – Dekeyser

Quincey – Smith

Kindl
While these pairings don't look terrible, this is all without mentioning the likes of Xavier Ouellet, Alexey Marchenko and Brian Lashoff, all of whom have shown glimmers of being ready for an NHL job, and all of whom played in over 10 NHL games last season.
With the stats to back them up, a rebound year from Jimmy Howard, and some new faces joining the fray (prospects included), the 2015-2016 Detroit Red Wings should have a very solid defense corps when the season opens. Fans gave the back end a hard time last season, when, in reality, the blame cannot be put solely on them.
This season will be different. Experience matters.