When the Detroit Red Wings open up the 2017-18 season with their annual prospects tournament, we'll get the opportunity to watch Hockeytown's future take on that of seven other NHL franchises. The 2017 NHL Prospect Tournament will also give these players a chance to make an early impression on the Red Wings brass in attendance. What better way to push for an NHL roster spot than to start the year with a breakthrough showcase?
Stay tuned for an upcoming column from THW's The Grind Line discussing key Red Wings players to watch at the 2017 NHL Prospect Tournament.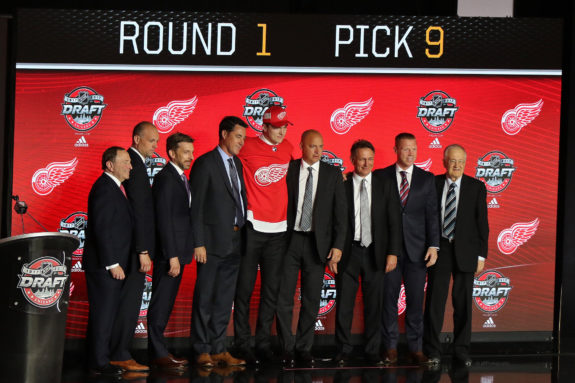 Chances are, most of Detroit's prospects in this tournament will not see NHL time this season. They'll go back to their respective junior and minor-league teams to hone their game so that they can one day compete for an NHL job.
Three of Detroit's top prospects will likely be following this path. Michael Rasmussen and Dennis Cholowski, the Red Wings' first-round picks from the past two drafts, will be headed to the WHL to further develop. And though he won't be at the prospects tournament, goaltender Keith Petruzzelli will be doing the same at Quinnipiac University this coming season.
Regarding Detroit's top forward, defense, and goaltending non-AHL prospects, here's what to watch for as they continue their development during the 2017-18 campaign.
Michael Rasmussen
2017-18 Team: Tri-City Americans (WHL) | Stats
In all likelihood, Rasmussen will be headed back to Tri-City to build off of his impressive draft season. The center should be full of confidence after attending his first NHL training camp.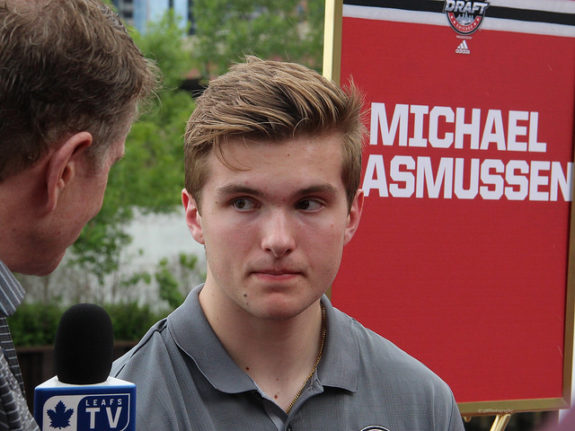 Once the WHL season kicks off, Rasmussen will likely focus on improving a couple areas of his game. His skating, for one, has been a subject of debate. Some draft analysts claim his skating is subpar, while others say it's an underrated factor of Rasmussen's game. Regardless of how strong his skating may be presently, if he wants to play center in the NHL, Rasmussen will need to improve that part of his game. Depending on who you ask, he'll be strengthening a weak spot or making a good quality better.
Another aspect of Rasmussen's game that's more factual is how the center produced a large percentage of last season's points on the power play. The flip-side of that coin is that the center did not produce as much skating five-on-five as he should have. Whether this is an important factor or not, Rasmussen can hush his critics by putting together a strong season from a five-on-five standpoint.
As he continues to develop, watch for Rasmussen to drive play while skating five-on-five. At the NHL level, he'll need to do this as the center of his line. Since Detroit does not have a deep prospect pool at center, Rasmussen rounding out his game is critical to the Red Wings' future.
Dennis Cholowski
2017-18 Team: Prince George Cougars (WHL) | Stats
After signing an entry-level deal with the Red Wings this offseason, Cholowski will likely join Rasmussen in the WHL for the 2017-18 campaign. For the highly-rated defenseman, the WHL represents stronger competition than what he faced at St. Cloud State and also a generally more offensive style of play than NCAA hockey.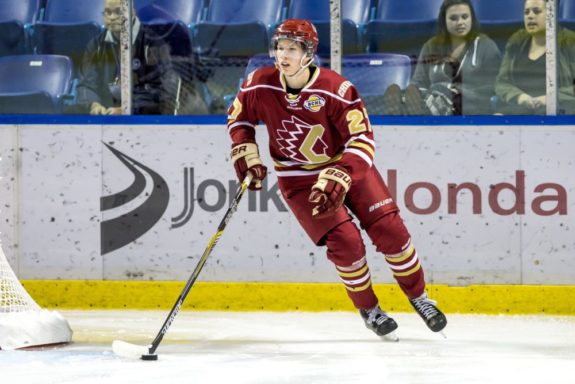 Like Rasmussen, Cholowski will need to work on his skating with Prince George. He's not a poor skater—the NHL just requires top defensemen to be agile and the Red Wings need Cholowski to eventually fill the role of a top-pairing blueliner. Though he wasn't the fleetest of foot during his tenure in the NHL, Prince George coach Richard Matvichuk knows the game well and will aid Cholowski's development in all aspects, especially skating.
The defenseman will also get the opportunity to breathe life into his offensive game with the Cougars. After an impressive draft year with the Chilliwack Chiefs which saw Cholowski register 40 points in 50 BCHL games, the blueliner fell off offensively as a freshman at St. Cloud State.
Look for Cholowski to establish himself early on with Prince George and earn more and more ice time as the season progresses. The more points he puts up, power-play minutes he quarterbacks, and breakout passes he completes, the better it will be for the Red Wings and Cholowski's progression.
Keith Petruzzelli
2017-18 Team: Quinnipiac University (ECAC) | Stats
Stop me if you've heard this before: Petruzzelli needs to work on his skating. Yes, just like Rasmussen and Cholowski, the Quinnipiac-bound goalie needs to improve his skating at the NCAA level.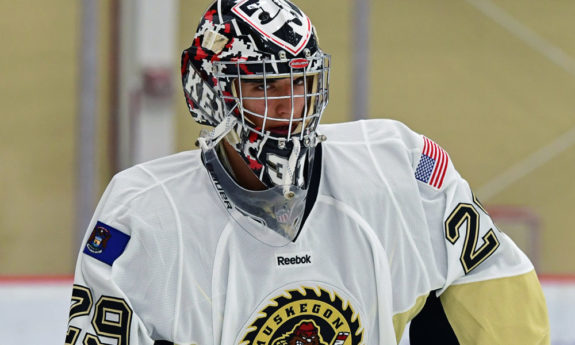 Petruzzelli is not a bad skater by any means. All goalies just need to continually work on their skating to improve muscle memory and get in position quicker to make a save. Former NHL goaltender Ben Scrivens said it best in his article for The Players' Tribune: "…the true test of a goalie's skill isn't blocking a shot — it's getting in position to block a shot." Getting in position requires efficient movement, and efficient movement requires top-notch skating abilities.
To refine his skating, Petruzzelli will need to practice his footwork throughout his tenure at Quinnipiac and carry over what he's learned into games. For the latter part, he'll first need to beat out incumbent co-starter Andrew Shortridge. Petruzzelli is a prized recruit but must prove he's the better goalie from day one.
If he can indeed surpass Shortridge on the depth chart, play the majority of Quinnipiac's games, and have a stellar year between the pipes, Petruzzelli's development will exceed expectations. And given his solid performance during this summer's World Junior Summer Showcase, an appearance on the United States' World Junior Championships team this winter will only add to his progress.
Which Detroit Red Wings prospects will you be watching this year? Comment below with your picks.