The New Jersey Devils may be off to a 2-1-1 start, but they've had less than ideal luck when it comes to personnel up front. Nico Hischier remains out as he rehabs an injury he suffered while training in Switzerland during the offseason. Jesper Bratt's contract dispute didn't get settled until Jan. 10, and because he was still in Sweden at the time, he's yet to skate with the team since he has to go through COVID protocols. 
That left the Devils without two key cogs in their top six, and it forced head coach Lindy Ruff to come up with some different line combos than he probably would've liked.  
One of those line combos through the first four games has been Andreas Johnsson, Pavel Zacha, and Nikita Gusev. On paper, it seems like a pretty good fit. Johnsson and Gusev have shown an ability to score in the NHL, while Zacha had chemistry with Gusev last season.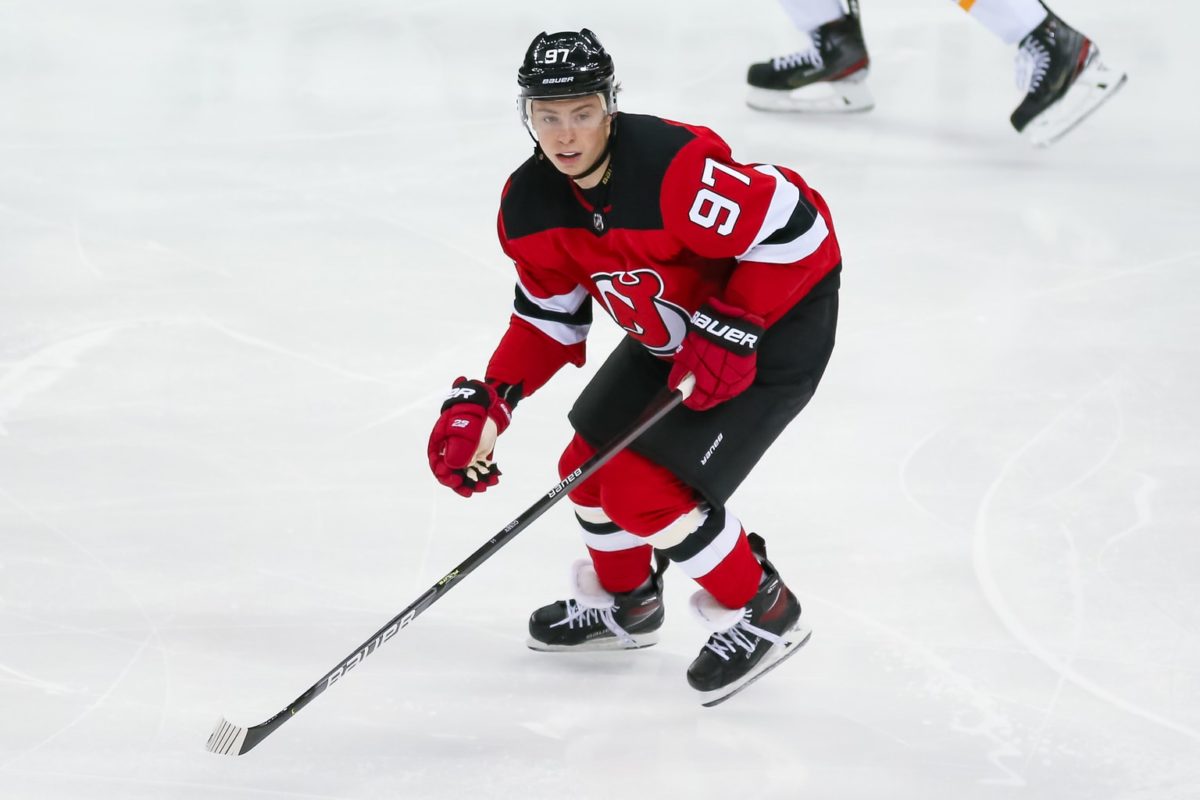 Unfortunately, it's been anything but that. The trio has struggled at even strength and has yet to score a goal. Bratt and Hischier will be back soon, specifically Bratt, who's already begun his mandatory seven-day quarantine. But it still may be a week-plus before he's playing in games, and it could be even a bit longer than that for Hischier. 
The Devils can't wait for Bratt and Hischier to return, even if it's only for a few more games. The team needs Gusev and Johnsson to start producing now, and Ruff may have no choice but to try different line combinations to get them going. Let's take a look at Gusev and Johnsson's struggles and what options Ruff has at his disposal. 
Johnsson and Gusev's Rocky Start
Placing Gusev and Johnsson in a second-line role from the get-go seemed like a good decision. Johnsson averaged 45 points per 82 games with the Toronto Maple Leafs over the previous two seasons, and he was one of their most efficient five-on-five scorers. Likewise, Gusev was the Devils' most efficient five-on-five scorer last season and finished with 44 points in 66 games. 
But their results with Zacha at that game state have not been pretty. The Devils have a Corsi share (CF%) of 48.44% and an expected goals share (xGF%) of 40.18% with them on the ice. When the three of them haven't been on the ice, the Devils have a CF% of 50.8% and xGF% of 48.93%. So those latter numbers make it clear the team has been better with them off the ice. 
Individually, it's been a real struggle for Johnsson and Gusev. Johnsson has a CF% of 44.32%, while Gusev sits at 41.49%. Their expected goal rates are even worse, as Gusev's xGF% is 33.9%, while Johnsson's is 39.74%. (It's also worth noting Zacha's is at 34%.)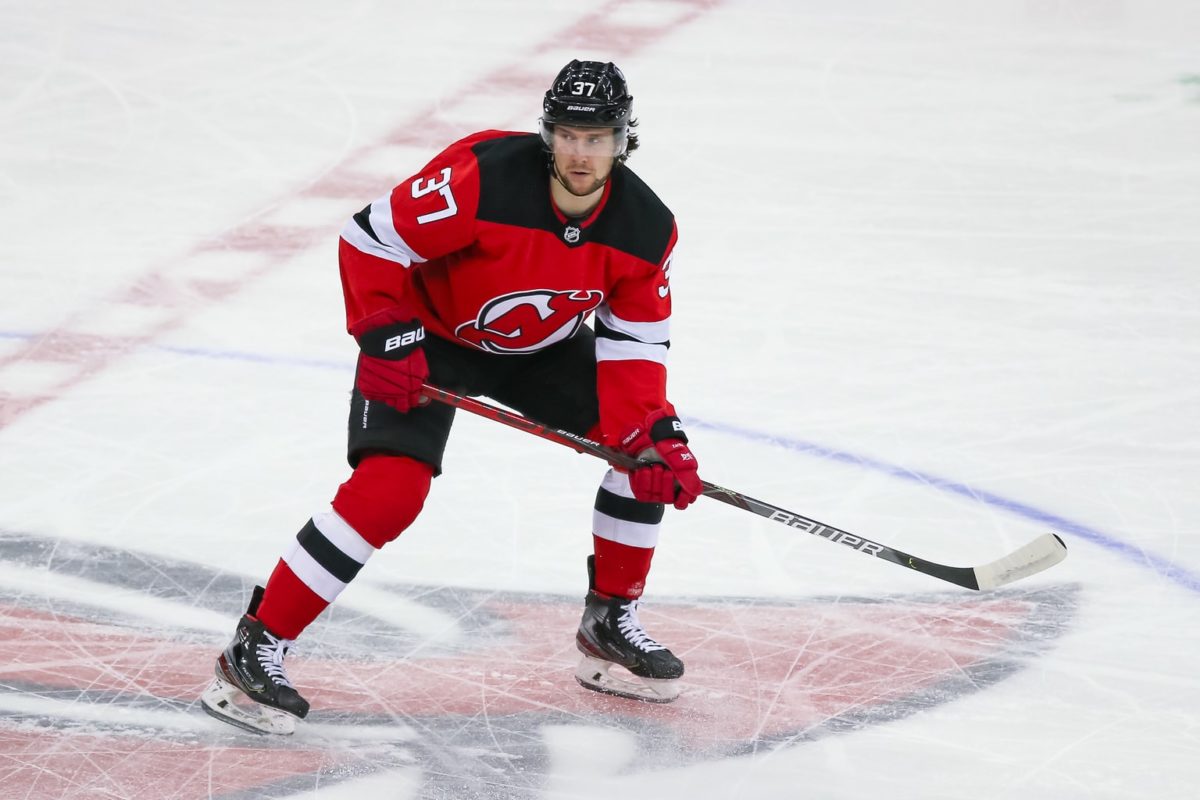 Johnsson has struggled to generate any offense too. He only has two shot attempts at five-on-five and one shot on goal. Gusev, on the other hand, has 16 shot attempts at that game state, but only one of those has been a high-danger chance. Between him, Johnsson and Zacha, they have a combined four high-danger chances in four games, which is not anywhere near good enough for what should be the Devils' second line.
Long term, there's probably not much to be concerned about with Gusev and Johnsson; because in the past, they've shown they can create offense. That hasn't been the case with Zacha in his four-plus seasons in the NHL. The five-on-five production has never been there, and he's never shown an ability to drive a line. 
Related: Devils Get Goaltending Depth With Aaron Dell Waiver Claim
Ruff hinted changes could be coming at the end of the Devils' 4-1 loss to the New York Islanders on Thursday, as he did move Zacha off a line with Johnsson and Gusev. Unfortunately, there aren't many great options until Bratt and Hischier return, but there are a couple of things worth considering to get Gusev and Johnsson going.  
Time to Shuffle the Lines
At the tail end of the Devils' 4-1 loss to the Islanders, Ruff had Yegor Sharangovich take a few shifts at center with Johnsson and Gusev, while Zacha moved to left wing with Jack Hughes and Kyle Palmieri. We'll begin with that potential change since it already got a look, even if it was for a brief time. 
Sharangovich hasn't been awful to start the season, but he has struggled as a first-line winger with Hughes and Palmieri. Moving him down to play center, his natural position, in a lesser role could help him as much as it does Gusev and Johnsson. Sharangovich has good two-way instincts and showed some offensive flash during his loan with Dinamo Minsk (KHL).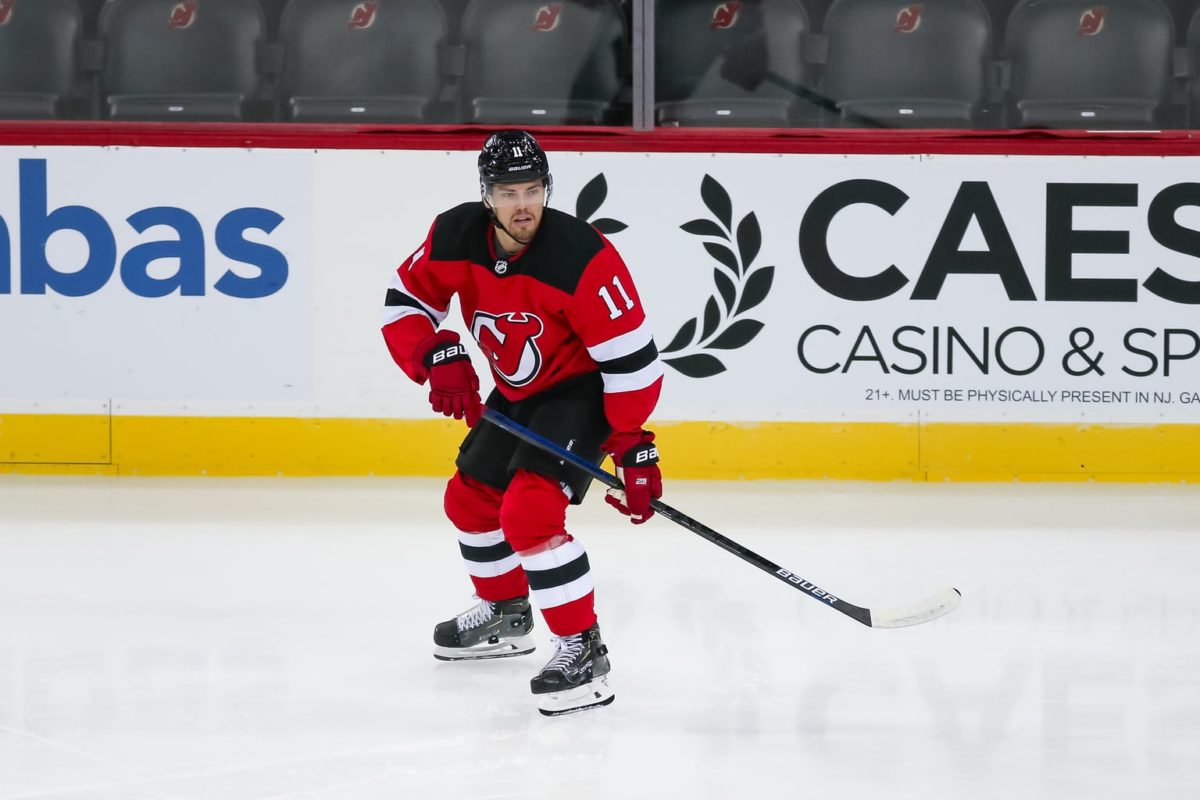 Another option Ruff may want to consider is moving Jesper Boqvist to center with Johnsson and Gusev. Boqvist played down the middle during all of the team's scrimmages during training camp, and he looked quite comfortable there. But at the moment, his line with Travis Zajac and Miles Wood has been the team's best, so it might be hard to break them up. 
There's also the possibility of splitting up Johnsson and Gusev altogether, which might be the best route Ruff could take. If he does, the Devils' lines could look something like this:
Boqvist – Hughes – Palmieri
Wood – Zajac – Gusev
Zacha – Sharangovich – Johnsson
Janne Kuokkanen – Michael McLeod – Nathan Bastian
When Gusev struggled at the beginning of last season, then-head coach John Hynes placed him with Zajac and Blake Coleman, and it got Gusev going. Coleman is no longer with the Devils, but Wood has been one of the team's best forwards so far. He can finish some of the chances Gusev creates, while Zajac can stabilize the line defensively. Ruff would probably settle for that until Hischier and Bratt return.
As for Johnsson, he'd move down to the third line. He's played right wing in the past, so it'd be worth giving him a look there. And everyone on this line, including Zacha and Sharangovich, would be playing in lesser roles than they are now, which should put them in better positions to succeed.
Related: Devils' 5 Best Defensemen of All-Time
All of this will be moot once Bratt and Hischier return to the lineup. Hischier has yet to begin skating, so it could be a while before he plays. The earliest Bratt can join the team is Jan. 27, so he may suit up for a game by next weekend. But something needs to be done until then since what the Devils have going now with Johnsson and Gusev isn't working. Ruff has to do whatever he needs to get them to begin contributing, and it has to happen sooner than later. Otherwise, the Devils could waste a good start to the season.
* * *
Advanced stats from Natural Stat Trick 
---
---