It wasn't long after Adam Brooks arrived at the rink Friday morning that his day took a dramatic turn. The Toronto Maple Leafs ruled out Auston Matthews for the game against the Edmonton Oilers. Brooks, who'd been on the taxi squad, was slotted in as the fourth-line centre.
The Leafs were coming off a poor performance against Edmonton two nights earlier. After a scoreless first, the Oilers grabbed the lead while short-handed. It was a sloppy play by Toronto that gave the puck to Leon Draisaitl in front. If there were fans in the crowd you would've heard a gasp as it seemed the bounces were going to go against Toronto again. Those concerns were turned around just 43 seconds later. A shot banked off of Brooks. He had his first NHL goal, and Toronto grabbed the momentum. The Maple Leafs went on to win 4-2
"Yeah, it definitely feels good. I think there was a lot of pressure taken off me," said Brooks. "That was the first game I've played in 330 days or something like that. So, it's been a long time. It was nice to get that bounce and nicer to come from a guy like Jason Spezza. So you know it was a lot of fun. A great moment that I'll remember forever, obviously and just happy that I got the opportunity to be out there with those guys."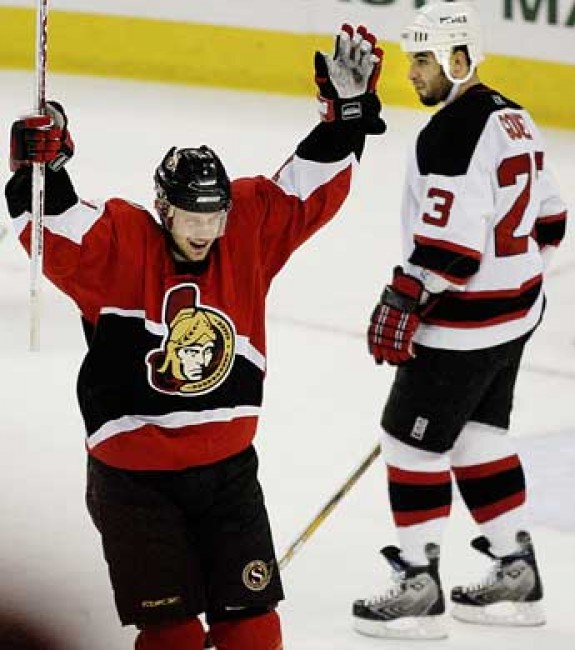 Brooks, who is 24-years-old, would've watched a lot of Spezza playing in his prime. It seems he is a fan of his linemate, "I think for me it's pretty cool to play with a guy like Spezza. In my first game ever, he was on my wing as well. I got him to sign a stick for me. So to say that he assisted on my first goal, a guy that's played for that long and of that calibre, it's a pretty cool moment for me. Just the whole thing was pretty exciting."
Brooks Continues to Be the Underdog
Brooks is one of those guys you can't help but root for due to his determination. His story reads like a motivational speech about not giving up. He was a star in the Winnipeg hockey circuit and got drafted by the WHL's Regina Pats in the first round. Then he got sent back to the Manitoba under 18 league. He got back to the WHL and underperformed for his two seasons. Brooks went undrafted – twice before Toronto called his name in the 4th round of the 2016 draft. He went back to the WHL and put up 130 points in 66 games. He was part of the Toronto Marlies' Calder Cup win in 2018 under Sheldon Keefe.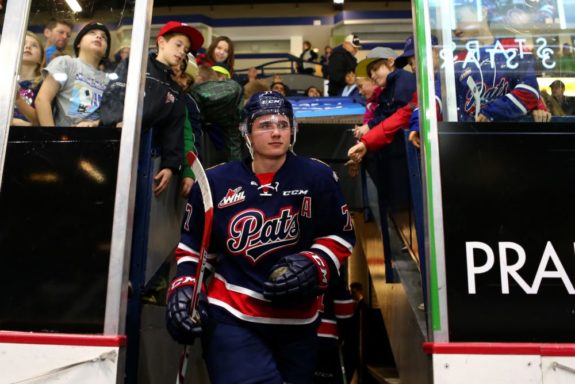 Brooks was part of Toronto's taxi squad during last season's play-in series and started this season there as well. Toronto calls the taxi squad the stay ready players, but Brooks admits the lack of game time, even at the AHL level, is difficult. "No matter how hard you train and no matter what you're doing, whenever you get into the game mode it's always a little bit harder and a little bit of a step up, so you know it was nice to get out there and get my feet wet. Obviously don't know what's going to happen going forward, but I was happy to get the opportunity. Like I said, fortunate to get a bounce like that."
Now he has his first NHL goal, but he does have the puck, "I'm sure my parents will steal it and put it in their basement, but you know, I'm even really sure where it is right now."
He calls it a fortunate bounce. I call it years of hard work and dedication paying off for the kid who won't give up.
---
---

Kevin Armstrong is an award-winning journalist with more than two decades of experience. He's been rink side for World Juniors, Memorial Cups, Calder Cups and Stanley Cups. Like many Canadian kids, his earliest memories include hockey. Kevin has spent countless hours in arenas throughout the country watching all levels of the game.