It's no secret that the New Jersey Devils are barren at defense. The main roster blue line has noticeable shortages and the prospect pool has dried up. An important part of John Hynes' fast, attacking, supportive strategy relies on defenders to drive play up ice to create chances. A low scoring team cannot go far unless its defense is either making plays in the offensive zone or playing stingy hockey in front of the goalie. The Devils' defense does not fulfill either of those necessary skills.
By making the defense a focus of the offseason, the Devils can return to being a highly touted blue line. A revival like that would not only improve defensive play but also offensive. Adding defenders who not only protect the net but also move play up ice will radically affect the Devils' ability to contend in 2017.
Looking at the Current Crop
In aggregate, the Devils defense appears pretty dreadful. However, finding solutions is not as easy as taking the best defensemen available in the draft and signing the best ones in free agency. Instead, handedness and preferred side of play have a huge impact on how effective new acquisitions will be.
Left Side
The Devils defense is currently in disarray. Breaking the corps down by side well illustrates this dreary situation. On the left side are Andy Greene, John Moore, Jon Merrill, Seth Helgeson, and Yohann Auvitu.
Greene is no longer in the top-pairing conversation that he once belonged to as a 30-point defender. These days, he still provides top-notch reliability in the defensive zone, but he has lost a step in the offensive zone given that he relied on a skating ability that has deteriorated with age. At 33, Greene does not have much time left and should no longer be counted on as a top-2 defenseman. Putting him on a second pairing seems more appropriate.
John Moore is second best on the left. His 22 points in 63 games last season was pretty impressive, but he is constantly a liability in the defensive zone and does not offer much on special teams. Like Greene, he is playing above his current skill level and should ideally be on the bottom pairing as a smooth skater with an appreciable shot.
Jon Merrill has shown signs of putting it all together in New Jersey, but he has yet to return to his earlier work that made him out to be a star in the making. He's not particularly good at creating chances, although he would prove many wrong when he stepped in on the top pairing for a few games in February. Still, injuries and inconsistencies mean that Merrill cannot be trusted as a fixture in the lineup.
Seth Helgeson and Yohann Auvitu have proven unable to hold a spot in the lineup. Helgeson offers physicality that, until Steven Santini's arrival, was a useful skill otherwise lacking in the lineup. Now, his aggressive play is no longer needed and he struggles in most other aspects. Auvitu arrived in New Jersey as a bit of a wild card but ultimately proved ineffective over his handful of tryouts.
Right Side
The right side of the defense, for all the flak it gets, is in all likelihood the better side of the two. Featuring Damon Severson, Steven Santini, Ben Lovejoy, and Dalton Prout, the right half of the ice is typically well protected, albeit lacking scoring options.
https://www.youtube.com/watch?v=oE5WZRiUmfk
Starting with the team's most promising defender, Severson had a renaissance campaign in 2016-17. Once seen as a blue-chip, the former Kelowna defender came back down to earth in 2014-15 and 2015-16. He took off again in 2017 and looks every bit the part of a top-pairing defender. He is still young and there are questions of how trustworthy he is in the defensive zone, but the Devils could surely survive with Severson at the top of the order. The rest of the defense, however, is far murkier.
On the second pairing, Lovejoy proved over the season that his transition to John Hynes' system would be anything but seamless. Another Penguins cast-off, Lovejoy signed with the Devils in July to be a middle pairing defender able to control play in his own zone against top competition. That was not the case. Lovejoy did as little on offense as most suspected, and his defensive play was less than rosy. He will need to bounce back next season but should not be given extensive opportunity to do so.
Perhaps the biggest sleeper of the defense, Santini could end up playing a major role for the Devils. As mentioned earlier, he brings sandpaper to a corps that was in desperate need of grit. Having plied his trade for three successful seasons at Boston College, Santini came to the NHL with significant expectations. He showed signs of that with growing pains peppered in. The good far outweighed the bad as Santini deservedly became a fixture in the lineup.
Dalton Prout is mostly an afterthought on defense. He could help in a depth role, which he did plenty of in Columbus. However, his style, much like Helgeson's, is not so needed in an Eastern Conference that tends to reward speed over size and physicality.
What to Do?
As the article title suggests, the Devils need a changing of the guard on defense. We have seen Severson and Moore make waves in New Jersey, but their ability to become top players is contingent on having sufficient ice time. Right now, that is impossible with Greene and Lovejoy clogging the top of the lineup and essentially over-sheltering all of their teammates.
For all that Greene and Lovejoy lack on offense, they make up for with reliable defensive play. However, the Devils need all around defenders just as much as they need scoring help and that means that players like Severson and Moore must have the opportunity to hone their defensive skills so that they can light the lamp but also maintain control in the back.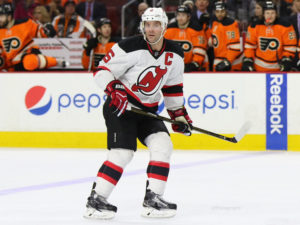 It's not the time to phase out Greene and Lovejoy completely; indeed, they both have noticeable strengths in killing penalties and taking on top competition. However, giving them reduced minutes will help to preserve these two defenders, both of whom are signed on for multiple additional years, while affording opportunities to the younger talents.
Inversely, Severson and Moore need to be thrown into the fire more often and learn to defend sufficiently. They will need more minutes to develop the requisite skills. If they start getting more opportunities to play the natural defensive position, rather than the synthetic one invented by John Hynes, they will ultimately be able to become revered skaters who can do it all.
With regards to Hynes, he, more drastically than any other coach in the league, has his defenders specialize in either the offensive or defensive zone. That seems logical, given that the Devils have two players – Greene and Lovejoy – who can hold their own in the defensive zone in addition to Moore and Severson, who are best suited near the opposing net.
That said, he is not putting Moore or Severson in a role to round out their games. By specializing, Hynes will only prolong the Devils' current problem wherein the younger defenders commit baffling blunders leading to scoring chances from the opposition. Moreover, he risks creating two problem contracts by running Lovejoy and Greene into the ground. Truly, it is time for Greene and Lovejoy to hand the keys over to their future successors.