The New Jersey Devils were only able to come away with one win this past week (1-2-1), but there are still plenty of positives to build upon. Rookie defenseman Ty Smith continues to put up points. They appeared to have found their go-to first and fourth lines, and Andreas Johnsson seems to have gotten into a groove as a result. 
Plus, a look at the Pittsburgh Penguins' general manager vacancy and how that may impact the Devils. Let's get into that and much in the latest news and notes from the last week.
McLeod, Fourth Line Making an Impact
Former first-round pick Michael McLeod finally seems to have found his role in the NHL. He was particularly great this past week, totaling three goals and four points in four games. He had a shot attempt (Corsi) share (CF%) of 55.42%, as well as an expected goals share (xGF%) of 62.32%. There's no way around it; he was one of the team's best players. 
Nathan Bastian, McLeod's linemate, was no slouch, either. He had three assists this past week and had equally impressive underlying numbers, with a 57.9% CF% and 61.65% xGF%. Bastian doesn't have the speed McLeod does, but he works hard and is always a menace on the forecheck and around the net. 
There's been a rotation of wingers with McLeod and Bastian, with Miles Wood and Janne Kuokkanen both getting minutes with them. It was Wood who joined McLeod and Bastian on the fourth line in the Devils' 5-3 win against the Buffalo Sabres yesterday, and they had one heck of a game. McLeod had two goals, while Wood had two goals and an assist, including this clutch goal to give the Devils a 3-2 lead with 0.7 seconds left in the second period.
It may seem a bit obvious, but it's hard to imagine head coach Lindy Ruff breaking up the Wood, McLeod, and Bastian line after their performance. They have a nice blend of speed, grit, and skill that gives the Devils some depth in their bottom six.  
Johnsson Clicking on the First Line
Johnsson got off to a tough start this season. He had no points through his first five games and even had a brief stay on the fourth line. But things changed quickly for one of the Devils' newest players. He has three points (2 goals, 1 assist) in his last four games played, and the Devils dominated with him on the ice at 5-on-5 — he had a CF% of 68%, as well as a 71.61 xGF%, both first on the team. 
A significant reason for Johnsson's sudden emergence is because he's moved to the first line with Jack Hughes and Jesper Bratt. Bratt just returned to the lineup on Thursday after receiving his work visa and finishing his seven-day quarantine. He hasn't missed a step after going 11 months without playing in an NHL game, and he's undoubtedly had a positive impact on this line. As a trio, they have a 70.1 CF% and 76.94 xGF%, though in only 35 minutes together at 5-on-5. 
Related: Devils Need Jesper Bratt to Take a Big Leap Forward
Those numbers will come back down to Earth at some point, but the Devils have punished teams when they've been on the ice. There were times during yesterday's game where it seemed like the Devils had the Sabres hemmed in the defensive zone for a minute or longer when this line was out there. Like the fourth line, it's hard to see Ruff breaking up this unit unless he has no choice. 
Ty Smith's an Early Calder Contender
Devils fans had been waiting in anticipation of Smith's NHL debut for quite some time, and boy has he ever delivered to start this season. The 20-year-old blueliner has eight points in nine games, including a point in each game against the Sabres this past weekend.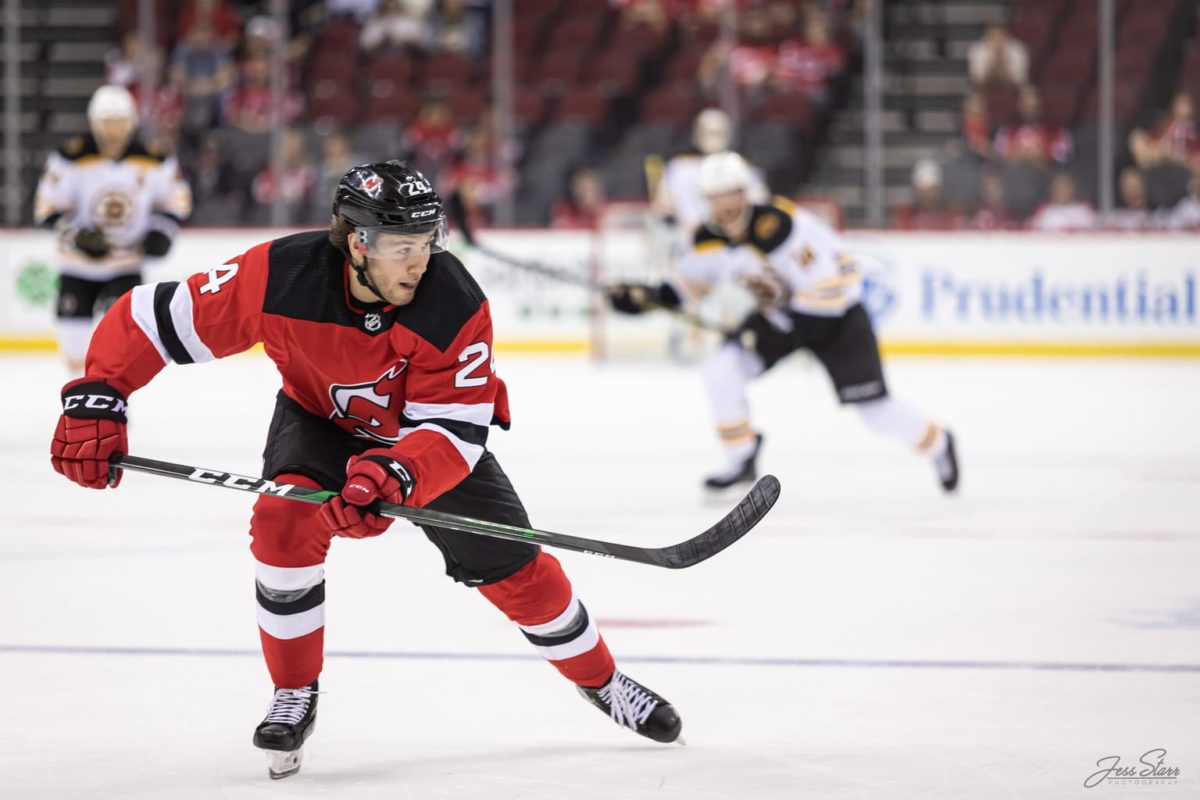 Smith had played with Matt Tennyson as his primary defense partner until this week before Ruff decided to change things up and pair Smith with Damon Severson. It's only been a few games since the two became a regular defense pair, but the early returns are more than encouraging. 
The Devils had a 75% CF% with Smith and Severson on the ice this past week, as well as 76.8% xGF%. They were particularly great against the Sabres in the team's 5-3 win, where they had an xGF% just above 91%. Both of their games complement each other well, as they're both mobile and excel in moving the puck in transition. It helps that Ruff has sheltered the pair and kept them out of tough defensive situations, so that should set them up for continued success. 
Related: Devils' Scott Wedgewood Flashes Some Potential in Recent Outings
And although the Devils' power play has struggled as a unit, Smith has played well there. He moves the puck effectively and has a deceptive shot that manages to find its way through traffic. If he keeps playing this way, and Ruff keeps using him in the right role, he should be running neck and neck with Kirill Kaprizov in the race to win the Calder Trophy as Rookie of the Year. 
Devils' Special Teams Still Struggling Mightily
The Devils' power play and penalty kill have been absolute nightmares to start this season, and there's plenty of work to do to get them headed in the right direction. It doesn't help that they're both hurting the team during pivotal moments of games. 
For example, the Devils had a 5-on-3 power play for a full two minutes in Saturday's 4-3 shootout loss to the Sabres. Long story short, it was one of the worst 5-on-3s I've seen in quite some time. The Devils' puck movement was too slow, and they failed to create any high-danger chances in a full, two minute 5-on-3. That's unacceptable and kills any momentum a team can build.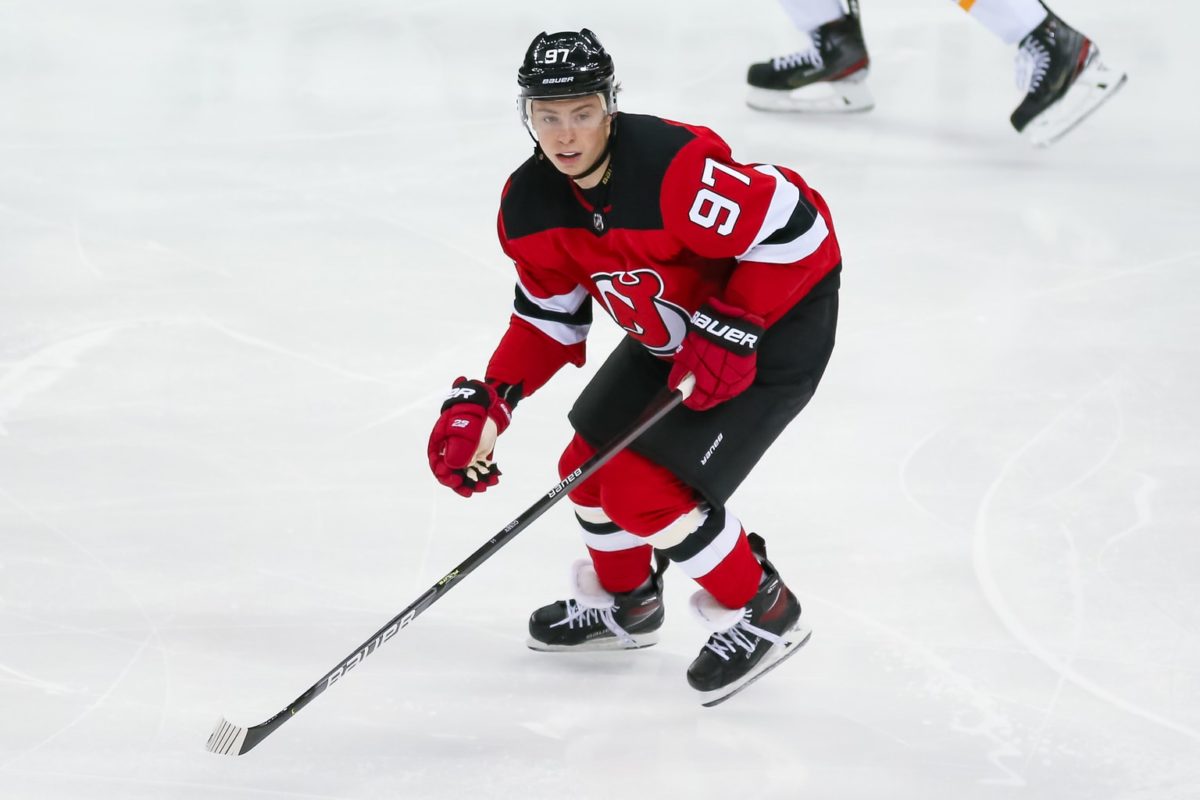 The Devils' penalty kill, on the other hand, has shown some signs of life. They looked better in their first contest against the Sabres. And though they gave up two power play goals yesterday, they showed some improvement in closing down passing lanes in the center of the ice (that was true on Saturday as well). With that said, they still need to improve defending in front of their net because it's too easy for opponents to create havoc in front of the Devils' goalies. 
The Devils are also missing key personnel on the penalty kill. Travis Zajac and Mackenzie Blackwood are both on the NHL's COVID list, while Nico Hischier is still working his way back from an offseason injury he suffered while training in Switzerland. Once they all return, the penalty kill should see some improvement. 
It's also worth noting that defenseman Sami Vatanen has received his work visa and is in New Jersey beginning his mandatory seven-day quarantine. The team signed him to a one-year deal a little over three weeks ago, and while he may not offer a ton at 5-on-5, he should help both of the Devils' special teams units. If he has four straight negative COVID tests over the next week, then he'd be eligible to play on Feb. 8. 
Tom Fitzgerald and the Penguins' GM Vacancy
When Jim Rutherford announced his abrupt resignation earlier this week, many speculated that Fitzgerald, the Devils' GM, could be a candidate to replace Rutherford in Pittsburgh. Fitzgerald has a multi-year deal with the Devils, though he's only under contract as GM until this summer. That might seem a bit odd since the Devils only hired him as GM in July, but nothing has exactly been normal over the last year.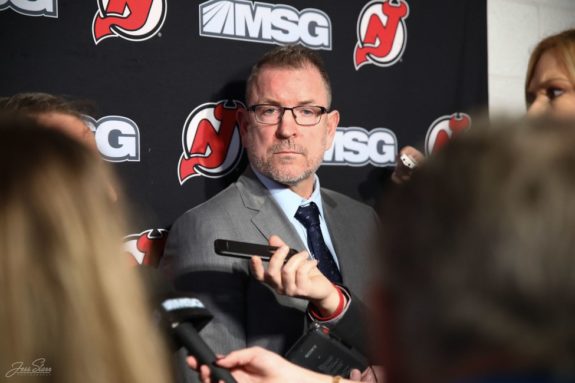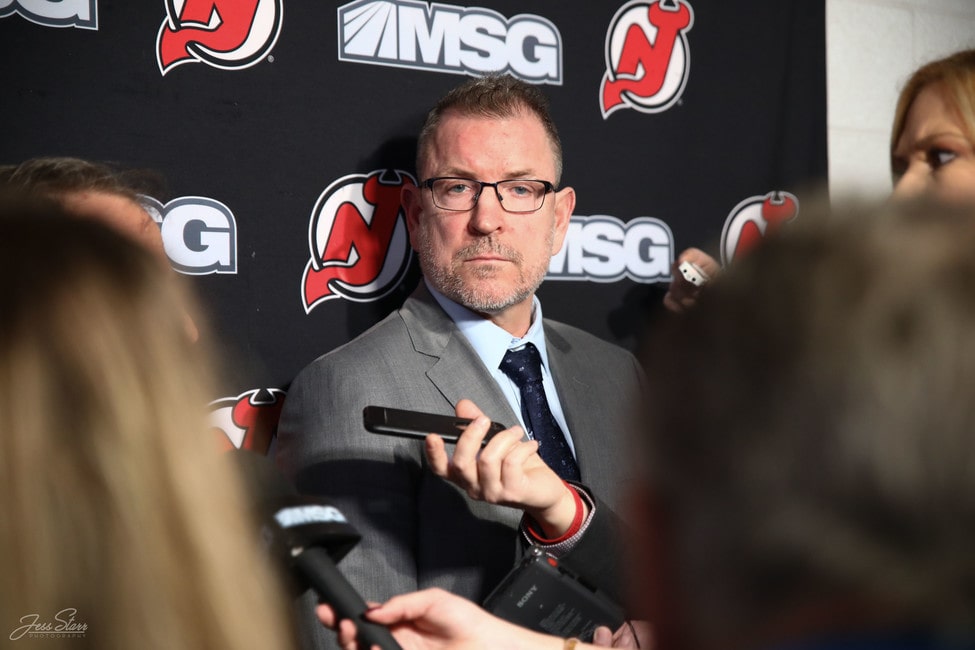 That led to speculation that the Penguins could interview Fitzgerald, but as it turns out, that won't be the case. On Saturday Headlines, Sportsnet's Elliotte Friedman reported the expectation is the Devils would not permit the Penguins to interview Fitzgerald (about 2:20 into the video). 
The Athletic's Pierre Lebrun also reported the Penguins would like to have a GM named in the next 2-3 weeks. Given that timeline, it seems unlikely they'd be able to hire Fitzgerald since he's under contract until July. And now that we know ownership won't be permitting the Penguins to interview him, that should put any rumors to rest. 
Looking Ahead
Overall, the Devils are off to a good start (4-3-2) and are doing it without some of their top players. They're getting by with contributions from young players like McLeod and Smith, and the team looks to be buying into Ruff's system. 
They'll need that to continue this week, as their road trip concludes with two games against the Penguins, followed by a Saturday matinee at the Prudential Center with the New York Rangers. It should be another busy week, so stay tuned to The Hockey Writers for the latest coverage. 
* * *
Advanced stats from Natural Stat Trick 
---
---