The New Jersey Devils have had an active offseason, making upgrades on offense, defense, and in net. But even with the new additions, they still have $18 million in available cap space. They have to re-sign restricted free agents Jesper Bratt and Mackenzie Blackwood, which should take up around $6-7 million in additional cap space. 
General manager Tom Fitzgerald isn't going to spend to the cap ceiling, especially in a world where the NHL salary cap remains flat at $81.5 million. He likely maxes out the team's spending around $75-76 million, so he'll still have about $6-7 million to bring in one or two more players after re-signing Bratt and Blackwood. 
That may not seem like a lot to work with, but some teams may have no choice other than to offload players who are on friendly contracts to get cap compliant. The Devils are one of the few teams who can take advantage of that, and there are a few players they should look to target. Let's take a look at some potential fits. 
Jaden Schwartz
Schwartz was a first-round draft choice of the St. Louis Blues at the 2010 Draft and has spent his whole career with the team. The left-winger finished this past season with 22 goals and 57 points in 71 games. He's averaged 61 points per 82 games over the last three seasons and has been one of the Blues' top scorers. 
While his counting totals impress, Schwartz's underlying numbers paint a picture of one of the league's most underrated forwards. He's averaged 2.04 points per 60 minutes (points/60) at five-on-five since 2017. The Blues have controlled over 55% of the expected goals when he's on the ice. And his RAPM chart shows a winger who has a very strong two-way impact at even strength: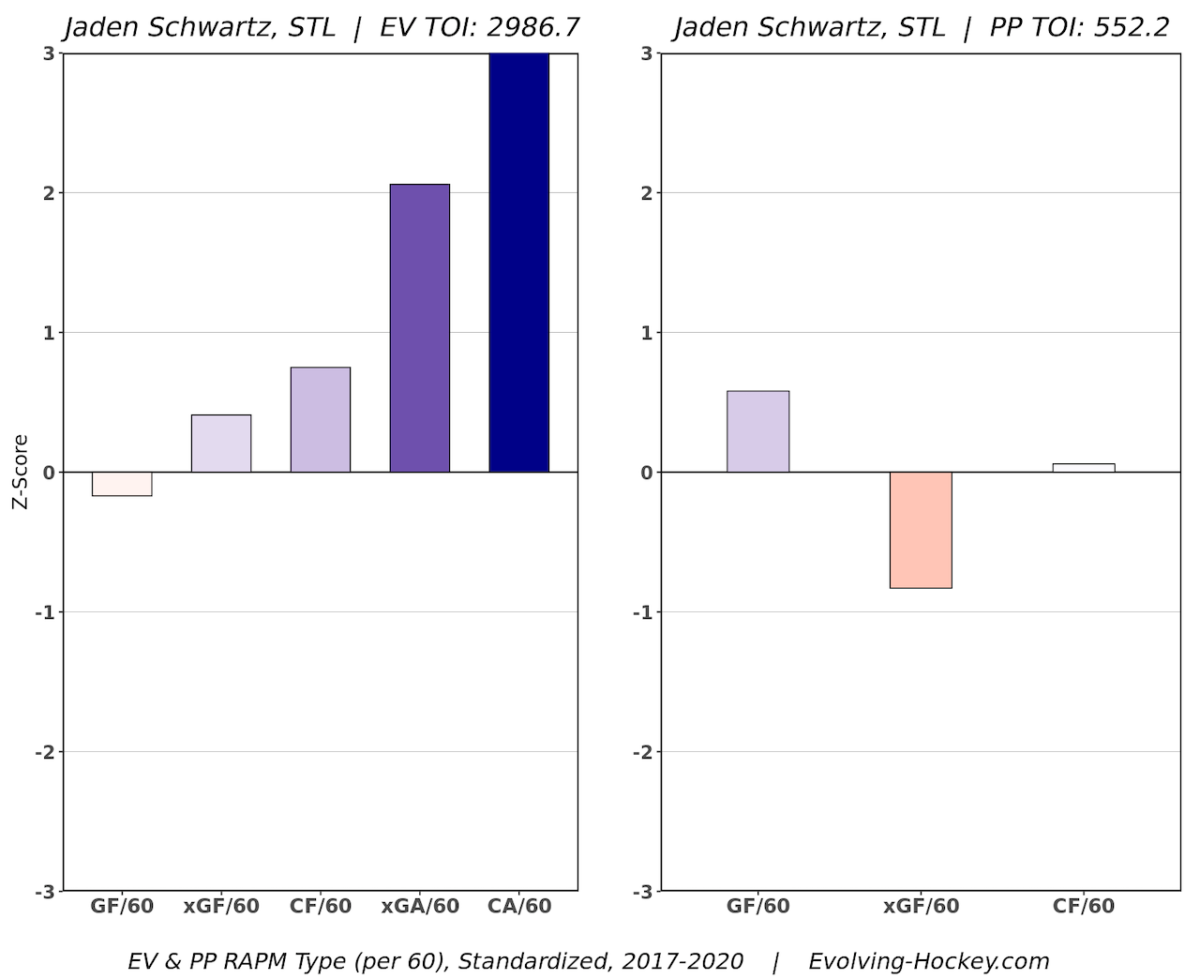 The Blues have no cap space after signing Torey Krug to a $45 million contract, so they'll have to make a move to get cap compliant before 2020-21 begins. Schwartz has one year left on his contract, at a cap hit of $5.35 million, and it seems unlikely they'll be able to re-sign him moving forward. That means they could look to recoup some assets instead of losing him for nothing in free agency. 
If it doesn't take a first-round pick to acquire Schwartz, the Devils should have plenty of interest. He's a top-line winger who excels in every facet of the game and would be a perfect fit alongside Nico Hischier or Jack Hughes. A second-round pick and a B+ prospect should be what they look to pay for Schwartz. 
Rickard Rakell
Rakell was a first-round pick of the Anaheim Ducks at the 2011 Draft. And like Schwartz, he has spent his whole career with the team that drafted him. He finished this past season with 15 goals and 42 points in 67 games. He's averaged 59 points per 82 games over the last three seasons and had a career-high 34 goals and 69 points in 2017-18. 
Over that stretch, Rakell has averaged 1.77 points/60 at five-on-five, and his even-strength offense has been worth a GAR of 22.3. That latter number is better than names such as Patrice Bergeron, Sidney Crosby, and Mitch Marner. That in no way means Rakell is better than any of those three, but he is a high-level offensive winger.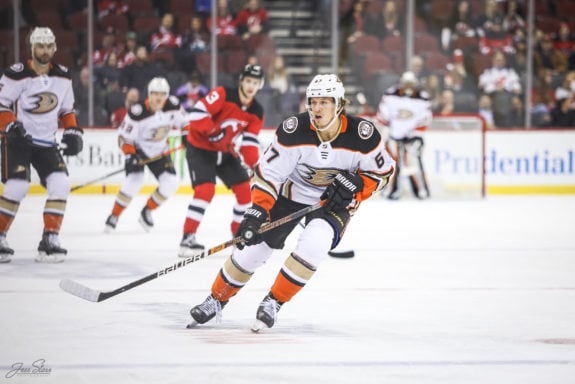 Rakell is far from the best defensive player out there. But New Devils' coach Lindy Ruff can mitigate that by placing him on the second line and giving him offensive minutes against easier competition. Ruff seems intent on implementing a fast-paced system, so an offensive player like Rakell might be what he seeks too. 
Though Schwartz is a better all-around player, Rakell is a year younger and has two years left on his deal, at a cap hit of $3.789 million. The Devils are not giving up a first-round pick to bail out a team that has zero cap space like the Ducks. But if a second or third-round pick and a B+ prospect get the job done, it'd make sense to go after Rakell. The Devils have a deep farm system, so giving up a prospect shouldn't be an issue, either. 
Erik Cernak
Cernak was a second-round pick of the Los Angeles Kings at the 2015 Draft but came to the Tampa Bay Lightning as part of the trade that sent goaltender Ben Bishop to the Kings in 2017. Cernak became a regular for the Lightning in 2018-19 and was key to their Stanley Cup victory just a few weeks ago. 
Cernak is not a flashy defenseman by any stretch, but he does a lot of little things well. He plays a physical game and has the frame to do it, at 6-foot-3, 233 pounds. He doesn't offer much in the way of offense, but he makes up for it by being a stout defensive defenseman. He's incredibly effective at breaking up opponent's zone entries. And while he's not an offensive dynamo, he does excel in transition: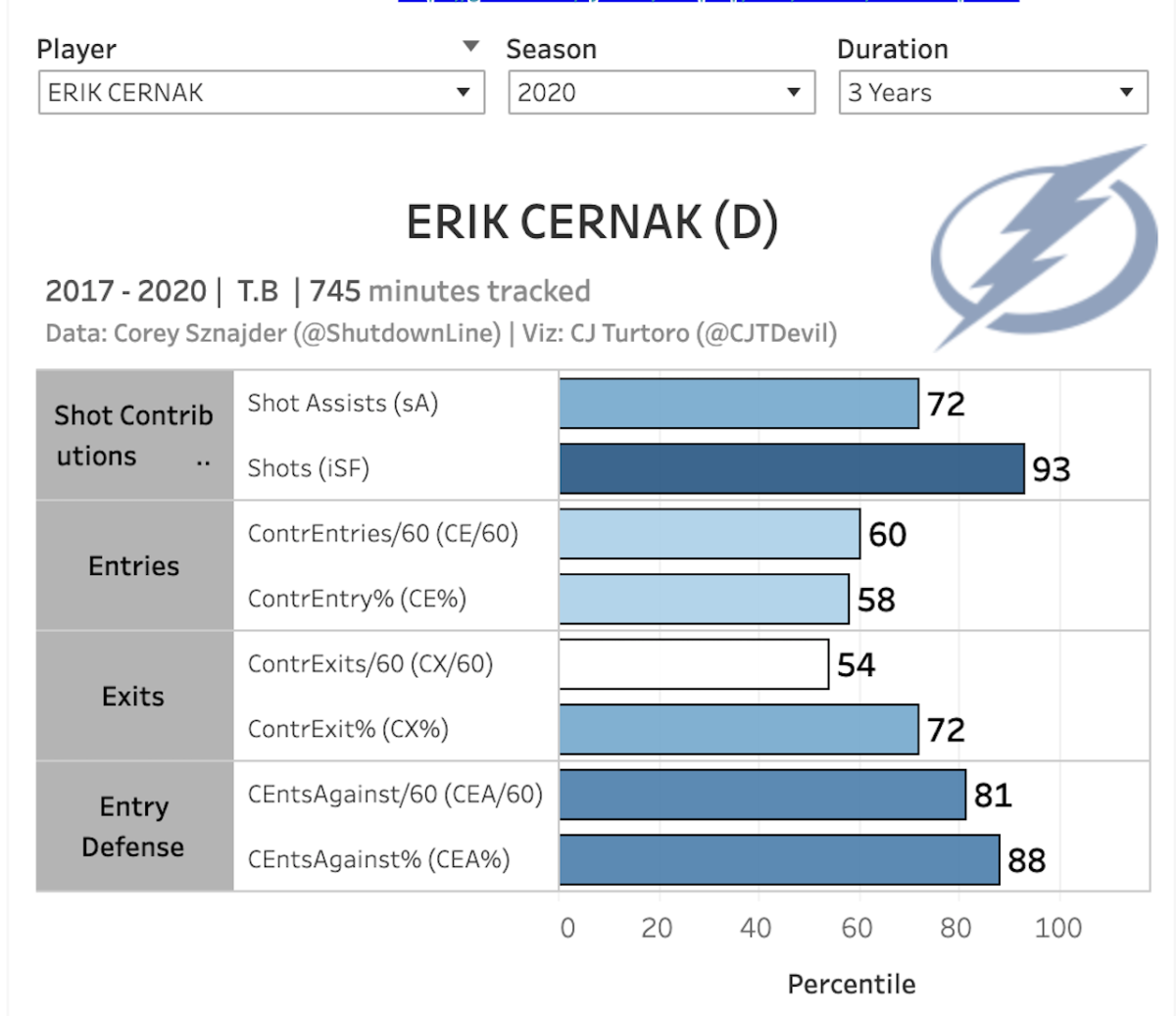 The Lightning's cap problems aren't a secret. They only have $2.9 million in cap space and have yet to re-sign RFAs Mikhail Sergachev, Anthony Cirelli, as well as Cernak. They tried to free up space by placing Tyler Johnson on waivers, but no one bit, so their cap problems continue. 
Because no one seems intent on letting the Lightning off easy, they may have no choice but to trade one of their RFAs. And if the Devils are to help them out, Cernak seems like someone they'd covet. They're looking to add some size and puck-moving ability on defense, and he checks off both boxes. 
Related: Top 5 Free Agents the Devils Should Target
It's also easy to envision a scenario where the Devils land Cernak as a sweetener for taking on the contract of someone like Alex Killorn. Killorn is 31 years old, but he's still a steady two-way winger and someone the Devils could use too. If that scenario has a way of working itself out, it'd be pretty hard to pass on it. 
Alex Tuch
The Golden Knights are in a cap bind after signing Alex Pietrangelo to a massive contract that pays him $8.8 million a year. They traded Nate Schmidt to the Vancouver Canucks to free up some space, but they're still above the cap ceiling, so another move has to be made at some point. The logical choice is finding a suitor for defenseman Alec Martinez, who has one year left on his deal, at a cap of $4 million. 
But if they choose to trade a forward instead, it could be Tuch. He was part of the Vegas Golden Knights' selections at the 2017 Expansion Draft. And like many of their choices, he became an integral part of their roster. He's collected 106 points in 194 games with them — a 45-point pace over 82 games — including a 20-goal, 52-point season in 2018-19.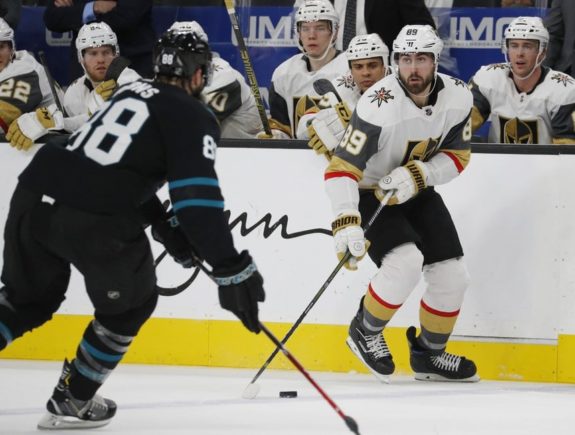 But for as good as Tuch was that season, he's a bit of a difficult player to figure out. His performance was worth a GAR of 17.3 in 2018-19, but he has a combined GAR of 7.4 between 2017-18 and 2019-20. Injuries played a role in his most recent season, but he looked more like the player who put up 52 points in 2018-19 during these past playoffs. 
Tuch is only 24 years old and has a reasonable contract that runs through the 2025-26 season, at a cap hit of $4.75 million. The Devils are looking to add players similar to his age, so he is a fit in that sense. But there is a bit of risk in trading for him because it's far from a guarantee he bounces back to his 2018-19 levels. If the Devils can acquire him for similar to what the Canucks gave up for Schmidt (a 2022 third-round pick), he'd probably be worth the risk. Otherwise, there should be better options. 
Nick Jensen
The Washington Capitals have had a busy offseason, signing Henrik Lundqvist to split duties with Ilya Samsonov in net. They also signed Justin Schultz and Trevor van Riemsdyk to bolster their defense and brought back Brenden Dillon on a four-year contract. After all that, it puts the team about $250,000 over the cap ceiling. 
They'll have options to get cap compliant, as they can place Michal Kempny on long-term injured reserve after he suffered an achilles injury training a few weeks ago. The expectation is he'll be out 6-8 months, so putting him on LTIR would free them of his $2.5 million cap hit for as long as he's out. 
But if they look to the trade route to move money, trading Jensen could be an option. He's not the sexiest choice, but he would be a solid depth addition for the Devils' defense. He doesn't offer much offensively, but he's above-average in transition. His defensive impacts at even-strength are also quite impressive: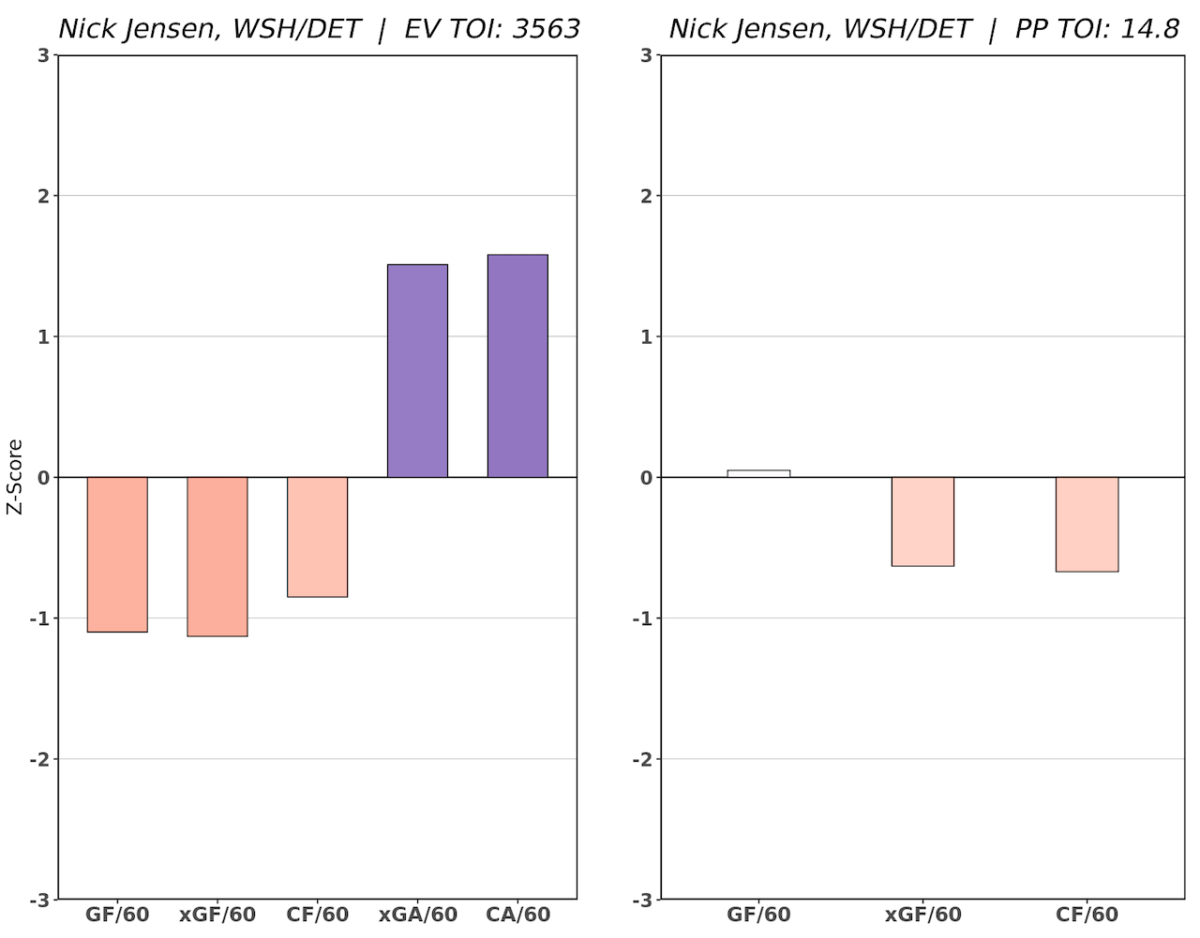 Including Jensen, the Capitals have four right-handed shots on their blue line. It's a position of strength for them, with van Riemsdyk, Schultz, and John Carlson. While not as good as Jensen, van Riemsdyk is a steady third-pair defenseman who can kill penalties. And he could fill that role if they trade Jensen while only costing $800,000 on the Capitals' salary cap.
As for the Devils, they'd be getting a reliable third-pair blueliner who defends well at even strength and can kill penalties. Fitzgerald has been looking for cost-effective options for the Devils, and Jensen checks off that box (he has a $2.5 million cap hit through 2022-23). He likely wouldn't take much to acquire and would be the final piece the Devils' blue line needs heading into 2020-21. 
Cost-Effective Deals Make the Most Sense
If the Devils make another trade, it's not going to be for someone who takes up a significant portion of their remaining salary cap. That's why a player like Rakell, who has a cap hit of less than $4 million, could be an enticing option. The same is true of Cernak, who should not take more than $2.5-3 million annually to re-sign. And if he was part of a package that included Killorn, the Devils should still have somewhere around $5 million left in cap space after re-signing Bratt and Blackwood. 
Related: Devils News & Rumors: Killorn, Ristolainen, & More
The bottom line is Fitzgerald won't go into next season with eight figures of cap space left. There'll be another move, whether it's in free agency or a trade. It just may take some time. But if the opportunity to pull off another Andreas Johnsson-like trade comes about, it'll be hard for him to pass on the opportunity. 
* * *
Advanced stats from Evolving Hockey, Natural Stat Trick
---
---