The New Jersey Devils had a ripe opportunity to exorcise some of their home demons. Coming off a 5-1 win against the Detroit Red Wings just 24 hours earlier, they faced a St. Louis Blues team without Ryan O'Reilly and Vladimir Tarasenko due to injuries. The Devils outplayed the Blues but fell by a score of 5-3, their eighth loss in a row on home ice. Here are three takeaways from the back-to-back, including some thoughts on the Red Wings game. 
Devils' Bottom-Six Would Benefit From Haula Moving Down
Head coach Lindy Ruff has done a relatively good job managing his forward lines this season. That said, it's probably time to move Erik Haula down the lineup to strengthen their depth and put some of the Devils' shooters in better positions to succeed. Ruff had a thoughtful quote on why Haula remains on Jack Hughes' line, and the core of what he said was correct: 
However, for as good as Haula's on-ice numbers are alongside Hughes, it's getting more difficult to justify keeping him on that line, especially since Ondrej Palát has returned from his injury. Even though Haula is creating chances, he has one goal in his last 20 games. Plus, a line with Hughes on it isn't going to struggle to possess the puck. Sometimes, it's OK to sacrifice some possession if someone other than Hughes starts scoring goals on his line. 
Against the Blues, Yegor Sharangovich, Dawson Mercer and Alexander Holtz were in the bottom-six. Now, it's not like any of them are elite shooters, though Holtz has that potential. But we've seen what Mercer and Sharangovich can do when given a chance alongside the team's top forwards. Ruff can't place all of them in the top-six, but he should look to move them around. 
Since Tomáš Tatar has looked great alongside Hughes the last two games, there's good reason to keep him there and swap Haula out for either Sharangovich or Mercer. Moving Haula to the third-line center role should also help the Devils' depth, which has been inconsistent, at best, over the last few weeks.
Palát – Nico Hischier – Jesper Bratt
Tatar – Hughes – Mercer
Sharangovich – Haula – Holtz
Miles Wood – Michael McLeod – Jesper Boqvist
With Holtz looking like he's starting to find his game, giving him more of a top-nine role with players closer to his skill set could help him find some consistency. While he had good moments playing alongside Wood and McLeod the last two games, they're far from ideal linemates for him. Whatever the case is, the Devils are getting goalie'd too often, so finding minutes for wingers with more scoring upside should be in the cards. And improving their depth by having Haula center the third line wouldn't hurt, either. 
Devils Goaltending a Mixed Bag in Back-to-Back
On Wednesday against the Red Wings, Vitek Vanecek came to play. He made 32 saves on 33 shots and stopped 2.27 goals above expected at all strengths. The Devils didn't have their best at five-on-five, particularly for the first half of the game. But Vanecek made timely save after timely save to keep the Devils in it before they broke through on the power play courtesy of Dougie Hamilton. The Devils were out-attempted 55-40 at five-on-five and lost the expected goals battle 39.52 percent to 60.48 percent. Without Vanecek's efforts, they don't come away with the win.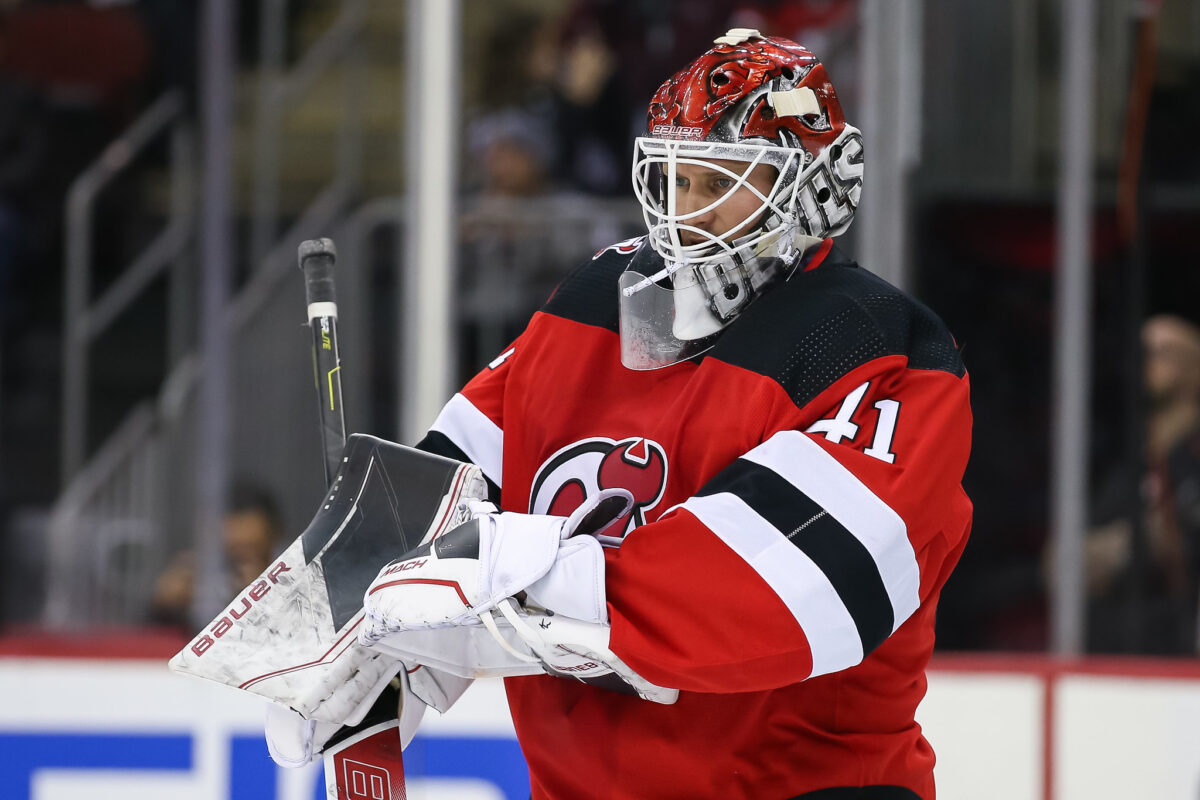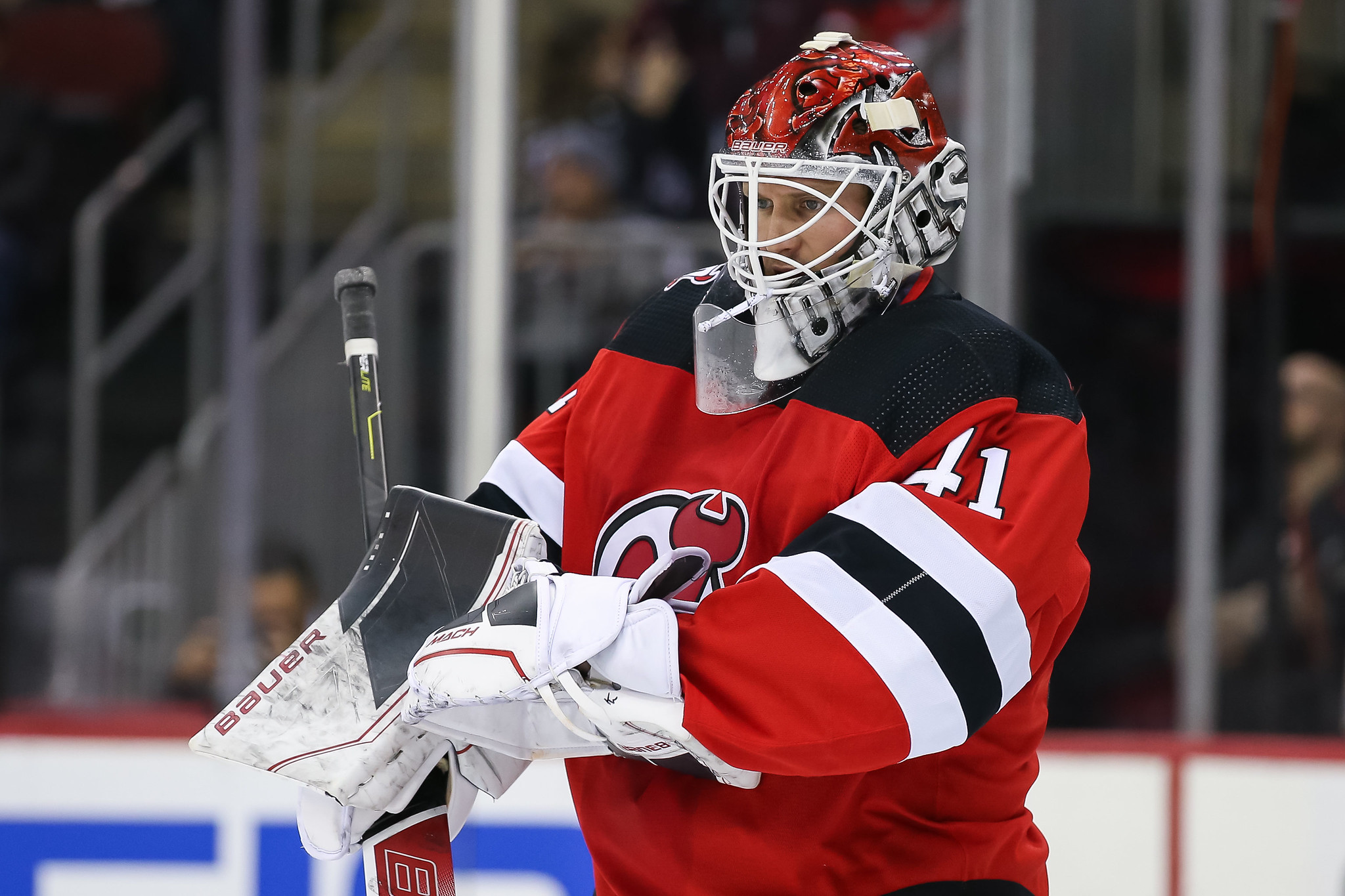 Last night's tilt against the Blues was a 180. The Devils had 39 shots on goal compared to 19 for the Blues. At five-on-five, they out-attempted the Blues 55-25 and controlled 64.44 percent of the expected goals. It's not like Akira Schmid played all that poorly, though he'd likely want back the third goal he gave up. But he certainly didn't give the Devils performance that Vanecek did against the Red Wings. He's not the reason they lost, but they did need better from him last night. 
Devils Power Play Rebounding
The Devils' power play had been slumping recently, but they seemed to find their game over the last two contests. They scored twice with the man advantage against the Red Wings and added another last night against the Blues to get within one goal in the third period. 
Against the Red Wings, the Devils took advantage of some shorthanded miscues by Detroit's penalty killers. On Hamilton's goal, he fired a bomb from the point after Dylan Larkin failed to pick up his assignment; the team's second power-play marker didn't look much different other than Hischier redirecting Hamilton's shot. 
Related: Devils' Untouchable Prospects Midway Through 2022-23
---
Latest News & Highlights
---
Last night, they fired away on Jordan Binnington while on the power play, totaling seven shots on goal, eight scoring chances, and six high-danger chances. And that doesn't even account for a 5-on-3, which is how the Devils scored their power-play tally. Their puck movement was crisp, and while they did give up a bit too much the other way against the Blues, their power play seems to be heading in the right direction. 
Devils Quick Hits
The Devils do really miss John Marino. With him still out with an injury, Kevin Bahl has gotten extended playing time, and it has not gone well. He was on the ice for the Blues' third goal and was caught way out of position. Sure, Schmid should've made a save there, but it wasn't a great moment for Bahl either. Ruff doesn't seem to have much more confidence in Nikita Okhotiuk, so it'll be interesting to see if Bahl remains in the lineup against the New York Rangers tomorrow afternoon. 
Though it was Palat's first time in game action in over two months, he played pretty well. His forechecking ability helped Hughes tally his second goal. And his on-ice numbers at five-on-five were solid; he finished with a 76.19 Corsi for percentage and 64.97 expected goals percentage. It may take him another game or two to get up to full speed, but the team sorely needed him back in the lineup.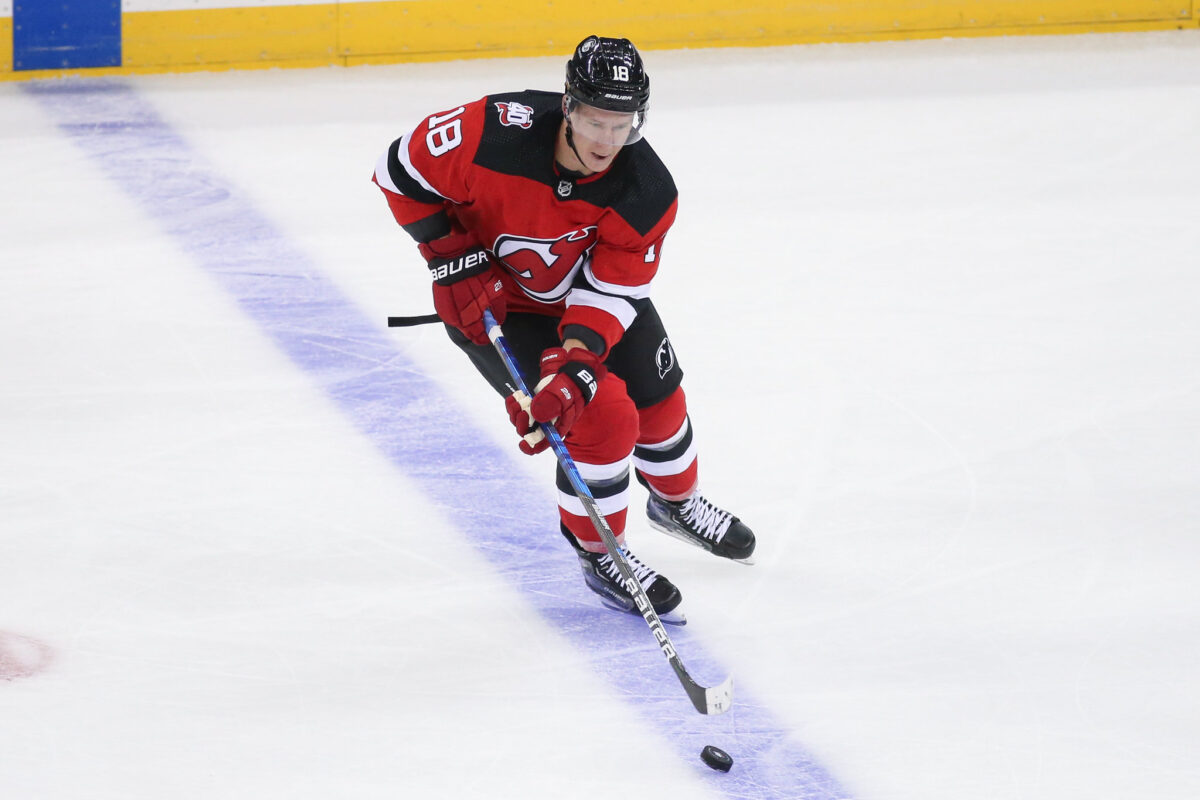 Though Hamilton had a multi-point game against the Red Wings and picked up another yesterday, the last two games were nightmares for him. He was underwater in xG% against the Red Wings, and he had too many miscues and untimely penalties against the Blues, one of which the Blues converted into a goal on the power play. Ruff was critical of Hamilton after yesterday's game, and he's right. The Devils' top defenseman needs to be better than he was over the last two games. 
Damon Severson has played very well as of late. He was arguably the Devils' best defenseman against the Blues, as New Jersey had a 28-8 shot attempt advantage and controlled 79.37 percent of the expected goals with him on the ice. While the Devils miss Marino, Severson's stepped up in his absence while moving back into a top-four role. 
The Devils are 24-12-3 on the season, but they need to get a positive result against the Rangers tomorrow. They're on an eight-game losing streak at home, and the Rangers have made up plenty of ground in the Metropolitan Division standings. The Devils need to end their home skid, and there's no better time to do it than against their biggest rivals.  
* * *
Advanced stats from Natural Stat Trick