What should have been a memorable moment in NHL history quickly turned into a disgusting act on the center stage of the hockey world.
After what seemed like the entire NHL fan base had picked the Boston Bruins to return to the Stanley Cup Final, the Montreal Canadiens handed their Atlantic Division foes a seven-game loss to advance to the Eastern Conference finals for only the second time since 1993 — the year the Canadian team won its last Stanley Cup.
Not only that, this was the first time that goaltender Carey Price led his team through the first two rounds of the playoffs — not to mention against formidable foes who know how to put the puck in the net. Defenseman P.K. Subban is having a remarkable playoff run and forward Danny Briere is on a quest to win his first career Stanley Cup at the age of 36.
Nobody is talking about that, though. The discussions have revolved around a few moments that slander the good name of the sport.
After the grueling final moments of Game 7 played out, the Canadiens gathered in their zone for the usual celebration after a series victory. Tradition looked to play out, as Boston skated single file to center ice to exchange pleasantries with the team that bested them. One player decided that the game was not over and continued to run his mouth long after the final whistle.
"I'm going to [expletive] kill you next year," was a phrase uttered by Bruins forward Milan Lucic toward Canadiens forward Dale Weise. He had some more choice words for defenseman Alexei Emelin, which have not surfaced to the NHL media as of Friday morning.
After the game, Lucic continued to show his true colors, calling out Weise for discussing the choice words with reporters.
"That's said on the ice so it'll stay on the ice, so if he wants to be a baby about it, he can make it public," he said.
The handshake line is a sacred tradition that displays one thing to the audience watching in the arena or at home: we may not like you, but we respect you.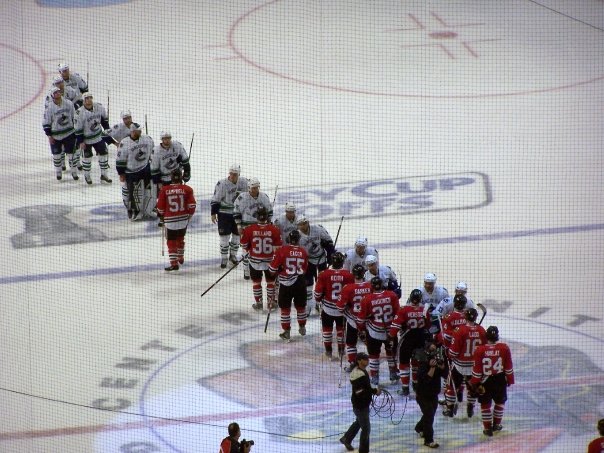 As a fan of all things hockey (and a beer league skater, as well), I can understand the frustration and anger that can come from battling a team for seven games. However, the handshake line encapsulates the game of hockey as a whole. If you decide to take your personal vendettas out during these final moments of the series, you are disrespecting the game that we hold so dear.
Think about it. Of all the friends you have that do not enjoy the NHL, what's the one thing you always hear them say that they respect about hockey?
Think Blue, a Los Angeles Dodgers baseball blog, posted a story earlier this season about how baseball could use something like hockey's greatest tradition. This taken directly from writer Harold Uhlman:
"It's something all sports fans can appreciate and hockey fans expect. After a long hard fought series comes one of the sports world's greatest shows of sportsmanship and respect. Players line up to shake hands, putting the pride and integrity of the game and of their franchise above their own. The winning team takes some time to celebrate while the losers simply wait out of respect until the celebration is finished."
The sign of sportsmanship can be seen in every series, even the ones that you think there should be bad blood. For example, the St. Louis Blues and Chicago Blackhawks from Rd. 1 featured a hit that was scrutinized and debated over for well over a week. Blackhawks defenseman Brent Seabrook caught Blues forward David Backes with a headshot that resulted in the injured Backes missing two games and Seabrook sitting out three games with a suspension. However, when the series ended after Game 6, it was a different scene on the ice.
Backes and Seabrook met at center, exchanged pleasantries and it even looked like an apology was made. Backes ended the quick conversation with a few pats to Seabrook's shoulder and the two continued through the line.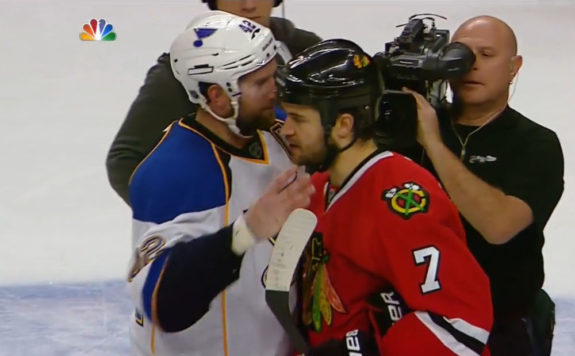 If those two can find a way to let bygones be bygones (at least until next season), it's hard to believe that anyone else can hold a grudge.
However, it seems like we hear about some bad blood year after year as of late. In 2009, Pittsburgh Penguins superstar Sidney Crosby reportedly snubbed Detroit Red Wings captain Nicklas Lidstrom in the handshake line. His reason? "I just won the Stanley Cup, and I think I have the right to celebrate with my teammates," he told reporters a few days later.
Two years later, the Penguins and Washington Capitals broke the Winter Classic handshake tradition, after the Capitals won the up-and down contest, 3-1.
"There's a bit of a hate for each other," said Capitals defenseman Mike Green after the game.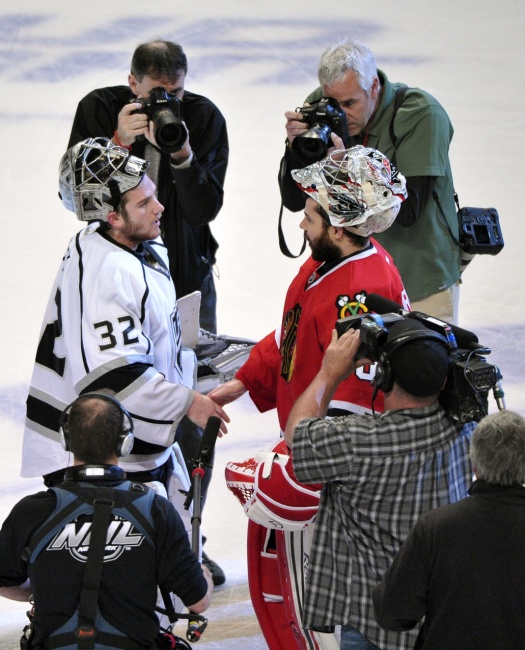 We've seen arguments. We've even seen handshake brawls. It's these types of distasteful performances that provide haters of hockey the gun with which to shoot us down whenever we talk about the grace of our sport.
There are many speculating as to whether Lucic deserves a suspension for his actions. The real punishment, though, will come from within. The Bruins star now has to think about his defacement of the game until he hits the ice again next season.
He won't have the opportunity to rectify his unjust actions until next postseason, either. If he has any respect left for the game he plays at all, this is a sanction that will go far beyond anything the league can hand him.
I am a former NHL media member and reporter for the St. Louis Blues, working for various media outlets. Currently, I am an NHL News Writer and Editor for The Hockey Writers. I live in St. Louis and work as a freelance copywriter in numerous industries.