| | | | |
| --- | --- | --- | --- |
| Born: | Jan 29, 1959 | Draft: | 1979 Red Wings, 3rd Overall |
| Hometown: | Sudbury, Ontario | Position: | Right Wing |
| Known For: | Buffalo Sabres Hall of Fame | Shoots: | Right |
| National Team: | Canada | Current Status: | Retired |
Mike Foligno (born January 29, 1959) is a retired Canadian ice hockey player, having played his final year in the NHL with the Florida Panthers during the 1993-94 season. Drafted 3rd overall in the 1979 NHL Entry Draft by the Detroit Red Wings, Foligno broke into the NHL as a 21-year-old during the 1979-80 season, scoring 71 points (36 goals, 35 assists) in 80 games. He finished second in Calder Trophy votes for rookie of the year, behind winner Ray Bourque. After another full season, Foligno was traded to the Buffalo Sabres during the 1981-82 season. He spent nine seasons with the Sabres, becoming an alternate captain from 1986 to 1988 and then captain from 1988 to 1991.
During the 1990-91 season, Foligno was dealt to the Toronto Maple Leafs to finish his season. The next year, he broke his foot during a game against the Winnipeg Jets, causing him to miss the majority of the season. In the 1992-93 season, Foligno was a part of the Maple Leafs team that pushed towards the Conference Final but were defeated by the Los Angeles Kings. The following season, he registered no points in four games and was traded to the Panthers.
Known for the "Foligno Leap," he represented Canada three times in the IIHF Ice Hockey World Championship, capturing one bronze medal in 1986. Foligno's two sons, Marcus and Nick, both play in the NHL and have performed the Foligno Leap during their playing career. He is also the uncle-in-law of long-time Ottawa Senator Wade Redden.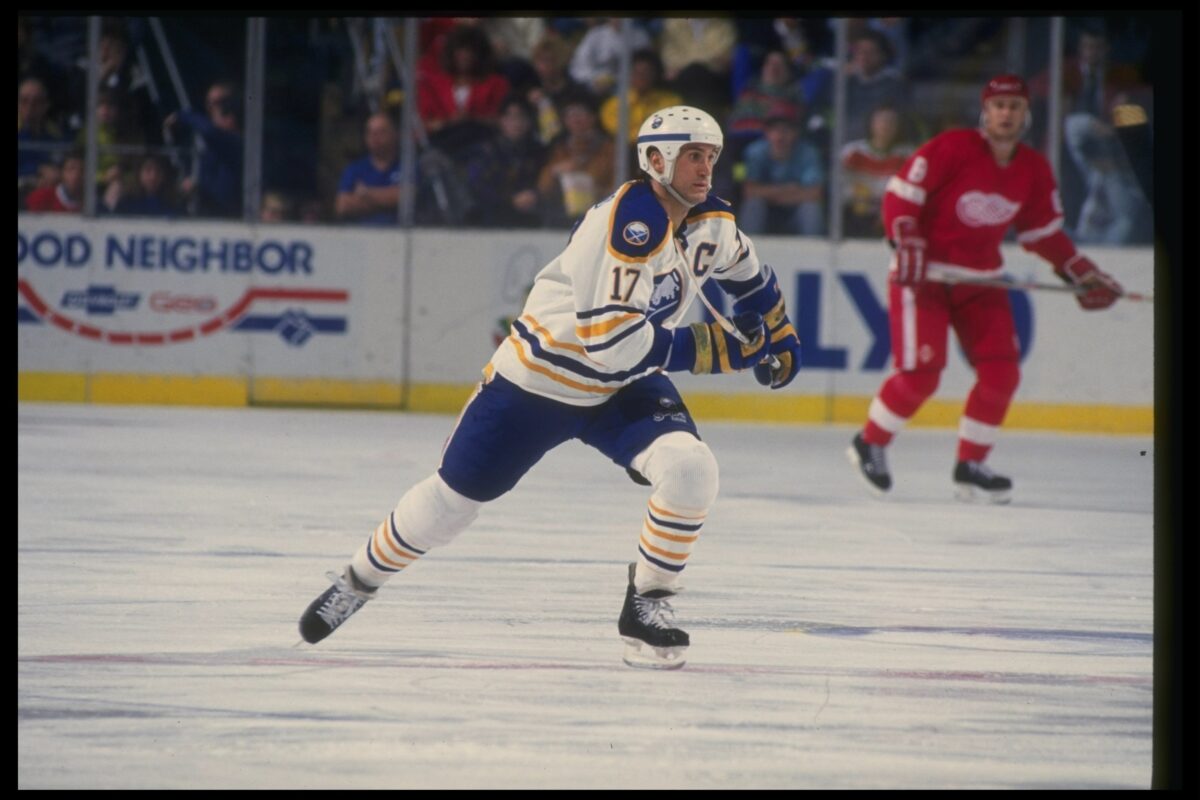 Mike Foligno Statistics
Trade Tracker
Date
Traded From
Traded With
Traded To
Traded For
December 2, 1981
Dale McCourt
Brent Peterson
Danny Gare
Jim Schoenfeld
Derek Smith
December 17, 1990
Eight-Round Pick
(Tomas Kucharcik)
Brian Curran
Lou Franceschetti
November 5, 1993
–
Cash Considerations
Deeper Dive
Staff History
St. John's Maple Leafs, AHL (Assistant Coach) 1995-1996
St. John's Maple Leafs, AHL (Head Coach) 1995-1996
Toronto Maple Leafs (Assistant Coach) 1995-1996
Toronto Maple Leafs (Scout) 1996-1997
Colorado Avalanche (Assistant Coach) 1996-1997
Hershey Bears, AHL (Head Coach) 1998-2003
Sudbury Wolves, OHL (General Manager) 2003-2010
Sudbury Wolves, OHL (Head Coach) 2003-2010
Anaheim Ducks (Assistant Coach) 2010-2012
Chicago Wolves, AHL (Assistant Coach) 2012-2013
New Jersey Devils (Assistant Coach) 2013-2015
Vegas Golden Knights (Pro Scout) 2016-2018
Achievements
OMJHL First All-Star Team (1979)
OMJHL Most Outstanding Player (Red Tilson Trophy) (1979)
OMJHL Most Points (Eddie Powers Trophy) (1979)
OMJHL Top Scoring Right Winger (Jim Mahon Trophy) (1979)
World Championship Bronze Medal (1986)
Buffalo Sabres Hall of Fame (2002)
Sources