Troy Terry is set to begin the first of a seven-year extension he signed last month with the Anaheim Ducks. He received his well-earned payday, and now it's time to perform. The expectations will be high, and as the eldest member of a talented core group of forwards, Terry will shoulder a lot of pressure to live up to this contract and lead the Ducks' offensive attack for the next seven years.
Terry Earned This Contract
Despite an underwhelming start to this NHL career, Terry has risen into the elite class of goal-scorers in the last two seasons. During that time, when he played in 145 contests, he scored 60 times, accumulated 128 points, and produced 380 shots on goal (to the tune of a 15.8% shooting percentage), and earned two consecutive All-Star Team nods. The Ducks simply were not a great team during this time, yet Terry produced through it all and absolutely earned the contract he signed. The Ducks are lucky to have him at the bargain price – $7 million average annual value (AAV) – that they got him for. This was lower than I predicted earlier this summer.
A Quick Look at the Ducks' Offense in 2023-24
Despite Terry's aforementioned individual successes, the Ducks' offense on the whole has been pretty dreadful the last few seasons. Their defense is worse, but the offense needs work too. Reinforcements are on the way, though, it would seem.
As these reinforcements ready themselves or continue adjusting to the pro game, Terry will once again be one of the few reliable sources of offense for this team. Sure, we might see more from Ryan Strome and Frank Vatrano this year. One could make the argument the Ducks need more from them if we want to climb out of the Western Conference basement. Trevor Zegras and Mason McTavish will need to be better, too.
---
Latest News & Highlights
---
Say Leo Carlsson makes the roster, and he joins the aforementioned guys, Adam Henrique, and Alex Killorn to round out the top nine. Does that sound like a 31st or 32nd-ranked offense in the league? We can debate how much better it would be, but it certainly shouldn't be among the league's worst anymore.
Where Does Terry Slot in?
As a top-line winger, Terry projects to be the Ducks' go-to goal scorer for the foreseeable future. I recently pegged him as the most likely Duck to score 50 goals, as well as a candidate (one of the few) to score 100 points in a season. He can facilitate, but Terry is a tried-and-true finisher, the best the Ducks have to offer at the moment. Zegras, for the time being, figures to still play some center until McTavish and Carlsson are ready to play the position full-time, which will only further Terry's ability to put the puck in the back of the net.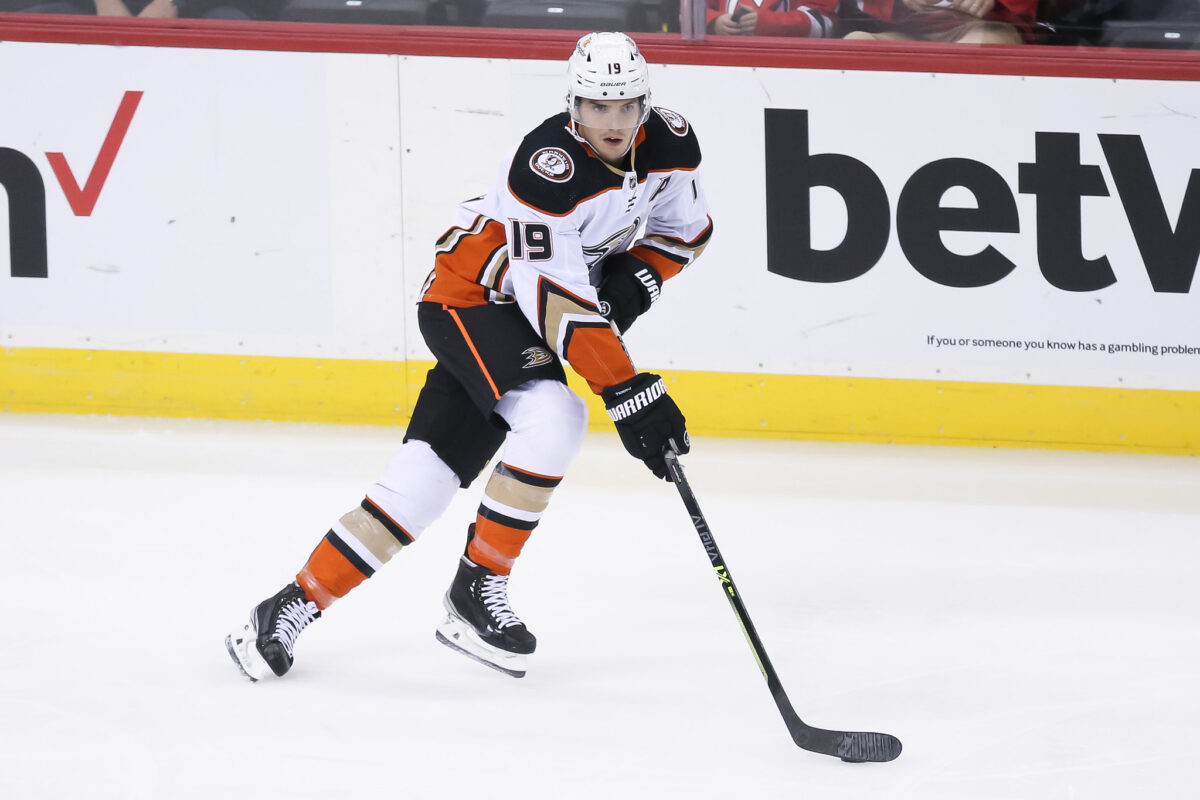 Ultimately, it probably doesn't matter too much who the man in the middle is for Terry, as long as that player can feed him the puck in open space and in high-percentage scoring areas. My bet is Zegras or McTavish, or both, become his running mate on the top line. Who wouldn't love to see that? Unless you played for or were a fan of another team, of course.
Prediction for Terry in 2023-24
With the additional pieces on both sides of the puck that figure to help this team's offense, look for all the Ducks' offensive weapons, Terry included, to take advantage. I think he can produce another 35-goal season. In fact, it's not an exaggeration to say the Ducks probably need that from him if they are going to be competitive.
Related: Anaheim Ducks 2023-24 Projected Lineup
My prediction, while realistic, is not based on any quantitative model but rather an educated prediction based on the following qualitative factors and assumptions:
He stays healthy and plays 70 or more games, as he has the last two seasons.
The Ducks resign Zegras, who sensibly stands to be one of his two primary line-mates next season.
Everybody just gets a little bit better than they were last season (that's not asking much).
Ryan Getzlaf was a big part of Terry's renaissance that began during the 2021-22 season, both as a pass-first facilitator and positive off-ice influence. While he scored 14 fewer goals last season, his first without the Ducks legend feeding him pucks, he was part of a new-look top line that often included Zegras and Henrique, with some McTavish mixed in as well. Assuming the aforementioned factors, expect Terry to skate beside these offensive weapons, Killorn, too, at even-strength and on the power play, and produce a season that resembles his 37-goal, 67-point outbreak two seasons ago.
How do you see Terry's first season under the new extension playing out? Sound off in the comments below!
---

---