The Anaheim Ducks will have plenty of new faces competing for roster spots when training camp opens in a couple of weeks. The team will also have new head coach Greg Cronin at the helm after Dallas Eakins was fired. Anaheim has not qualified for the playoffs in five straight seasons as the organization enters the development stage of its rebuild. 
The Ducks possess one of the best prospect pools in the league, with Steven Ellis of DailyFaceoff ranking the team third overall and The Athletic's Corey Pronman putting Anaheim first (from, Anaheim Ducks rank No. 1 in NHL Pipeline Rankings for 2023, The Athletic, Aug. 24, 2023). Leo Carlsson, Nathan Gaucher, Pavel Mintyukov, Olen Zellweger, and Lukas Dostal should get long looks during training camp. However, Anaheim general manager Pat Verbeek has no intention of rushing any of them to the NHL level before they are ready. During the offseason, the Ducks focused on bringing in experience and leadership via trades and signings with the additions of Alex Killorn, Radko Gudas, Robert Hagg, Ilya Lyubushkin, and Alex Stalock. 
Barring injuries or a particular prospect standing head and shoulders above the rest, it wouldn't be a surprise if Anaheim leaned toward icing a more veteran-laden lineup going into the regular season. More seasoning for the club's prospects in the American Hockey League (AHL) could prove to be much more beneficial for the future of the franchise. With that in mind, here is a look at what the Ducks could look like entering the 2023-24 campaign:
Ducks Projected Forward Lines 
Anaheim has plenty of options at center despite Isac Lundestrom's offseason Achilles injury. The 23-year-old forward is not expected to return to the lineup until the calendar flips to 2024 after being given approximately six months to recover from surgery. The Ducks also need to sign Trevor Zegras, who is currently still a restricted free agent (RFA), following the completion of his entry-level contract.
| | | |
| --- | --- | --- |
| Left Wing | Center | Right Wing |
| Adam Henrique | Trevor Zegras | Troy Terry  |
| Alex Killorn | Mason McTavish | Ryan Strome  |
| Frank Vatrano | Leo Carlsson | Jakob Silfverberg  |
| Max Jones | Benoit-Olivier Groulx | Brock McGinn  |
It would make sense to have Killorn on the top line. After all, the Ducks signed him to a lucrative four-year, $25 million contract in July with the hope that he can provide some much-needed scoring. Anaheim also wants to take advantage of his winning pedigree, which includes two Stanley Cup championships as a member of the Tampa Bay Lightning.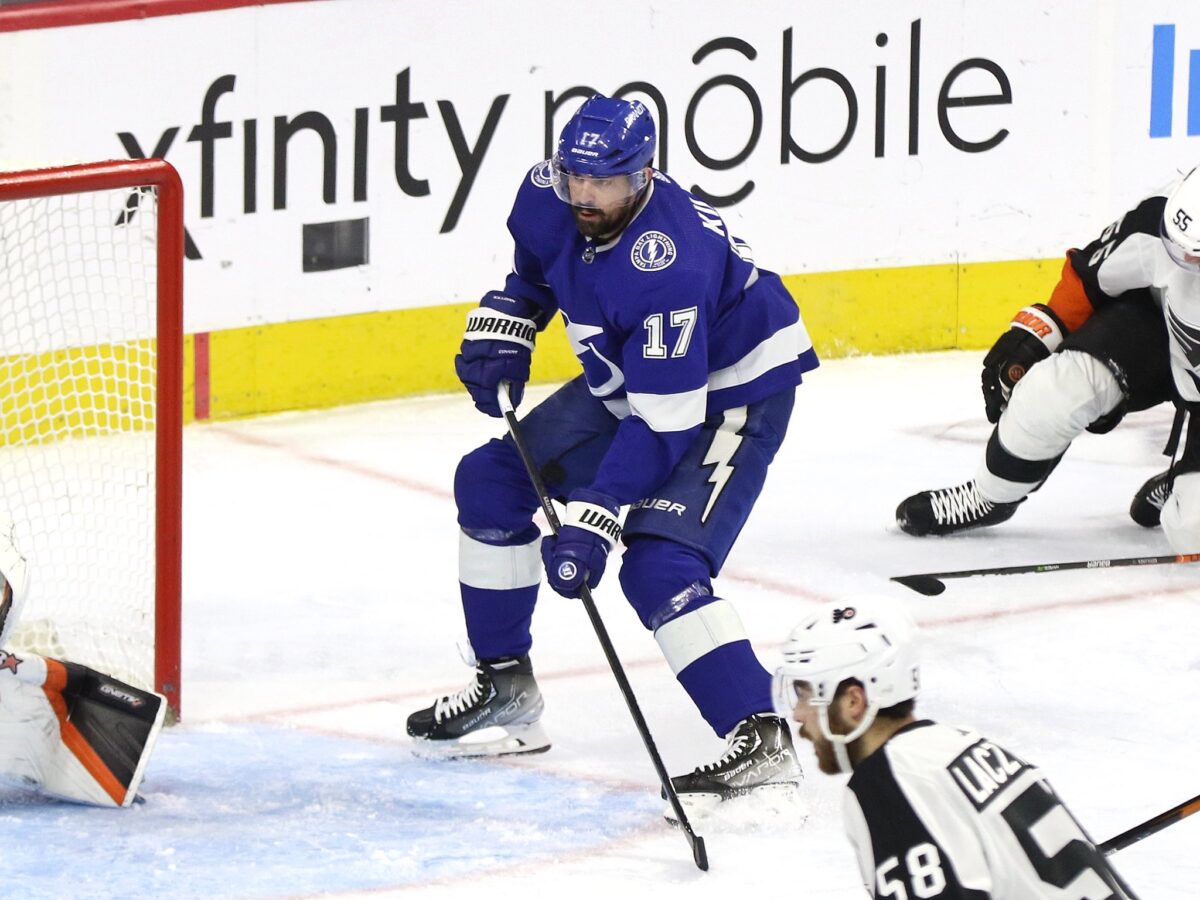 However, using Adam Henrique in that spot spreads around the offense a bit more, and it could boost his trade value to play alongside Zegras and Troy Terry, who have been Anaheim's top two-point producers in each of the past two seasons. Henrique, who is eligible for unrestricted free agency next summer, is a likely candidate to be moved ahead of the trade deadline. 
Carlsson stands a very good chance to start the season with the Ducks, especially with Lundestrom unavailable. That opens the door for Carlsson to receive at least a nine-game stint in the NHL. If he manages to impress during that span, he could land himself a permanent position in the lineup. If it is decided that he is better off playing elsewhere, the 2023 second-overall selection might be returned to Örebro HK of the Swedish Hockey League, or he could head to the AHL's San Diego Gulls.
Carlsson could move up the Anaheim depth chart and play on one of the top two lines as a winger or a center. Mason McTavish had some success during his rookie year as the Ducks' first-line center, and Zegras has been shifted to the wing before. Carlsson, Zegras and Terry would make for an intriguing combination on the top line. It may be something that Cronin experiments with during camp. Giving Carlsson a less pressure-packed spot out of the gate, with fellow Swede Jakob Silfverberg as a linemate, has the potential to be a good starting point. 
Related: 5 Anaheim Ducks' Questions to Answer in 2023-24
Benoit-Olivier Groulx finds himself in a good place to claim a spot on the Ducks' roster entering the season. He made progress in the AHL last campaign, and he has 20 games of NHL experience with Anaheim over the past two seasons. Groulx's two-way play sets him up as a good option for an energy-line role alongside Max Jones and Brock McGinn. Despite having the inside track, Groulx will face some competition from Gaucher, Sam Carrick, Glenn Gawdin, and Andrew Agozzino for the fourth-line center role. 
Zack Kassian, who signed a professional tryout agreement (PTO) with Anaheim in August, will be in the mix for the fourth-line role during camp. He was bought out of the final season of his four-year, $12.8 million contract by the Arizona Coyotes in June after he cleared unconditional waivers. Kassian will battle with Brett Leason for a depth spot on the roster. 
Ducks Projected Defense Pairings 
Anaheim's defense corps will have a very different look this season. The team still needs to sign RFA rearguard Jamie Drysdale to a new deal.
| | |
| --- | --- |
| Left Side Defenseman | Right Side Defenseman |
| Cam Fowler | Jamie Drysdale  |
| Robert Hagg | Radko Gudas  |
| Urho Vaakanainen | Ilya Lyubushkin  |
Gudas, Hagg, and Lyubushkin are not known for their offensive capabilities, but they all hit anything that moves. The trio of offseason acquisitions will block shots, kill penalties, and make sure opposing teams pay a physical price for playing in the Ducks' defensive zone in 2023-24. 
However, Cam Fowler and Drysdale will be leaned on heavily for their offensive skills and their ability to move the puck. Zellweger, Mintyukov, and Jackson LaCombe possess those valuable traits as well, but they could all be ticketed for the AHL for at least the start of the season. Tyson Hinds and Drew Helleson could also spend time in the minors before eventually getting playing time with the Ducks.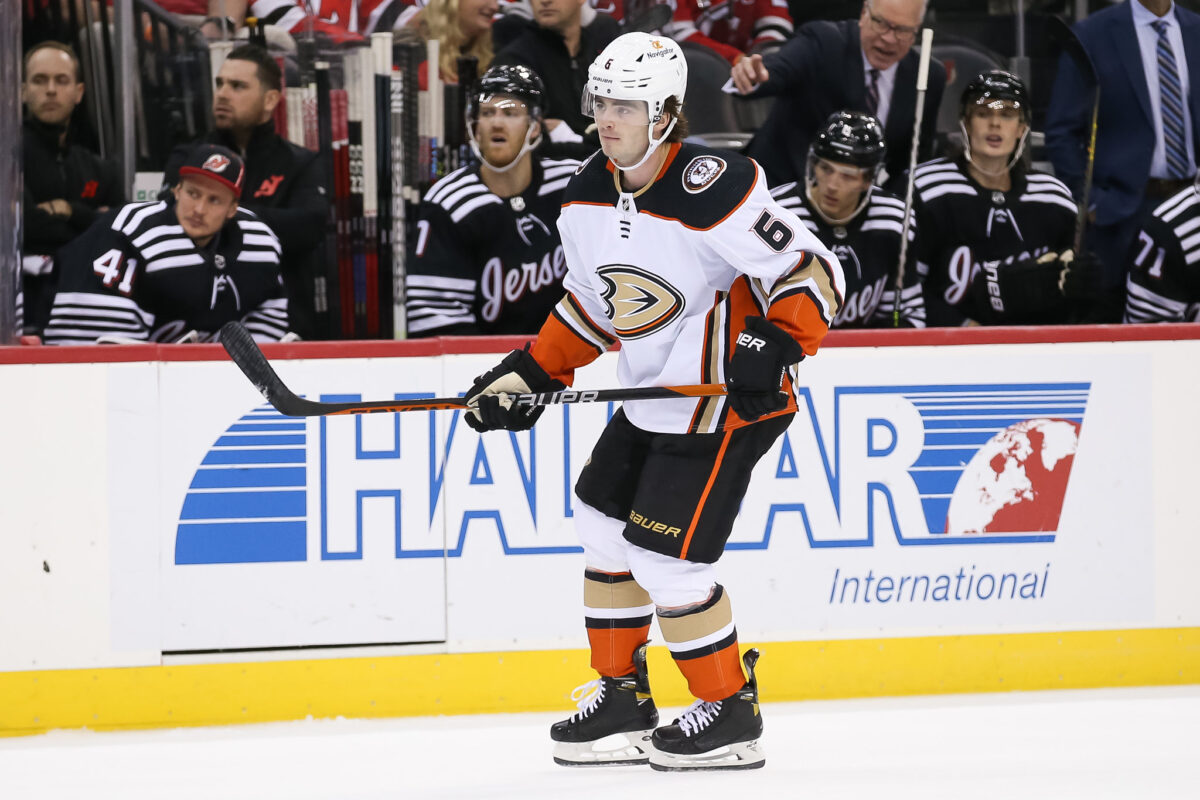 A spot on the back end could open if Urho Vaakanainen is unable to stay healthy. He has been limited to just 37 appearances with Anaheim over the last two seasons and will try to secure his position on the roster following hip surgery in March. His tentative hold on the third pairing could allow Zellweger, Mintyukov or LaCombe to snag a spot on the left side for opening night. Of course, that placement could also go to Colton White, who is slated to be an extra defender going into the season, or Scott Harrington, who agreed to a PTO with the Ducks after playing in 17 contests with the team in 2022-23.
Ducks Projected Goaltenders 
With trade talks quieted for now, John Gibson is slated to be back in the crease for the Ducks for another season.
| | |
| --- | --- |
| Starting Goaltender | Backup Goaltender |
| John Gibson | Alex Stalock |
If Gibson gets through another offseason of trade speculation, he will be the No. 1 goalie of the Ducks again going into 2023-24. The team will probably continue to struggle offensively and defensively in front of him, but he is a potential bounce-back candidate. 
The Ducks inked Stalock to a one-year, $800,000 contract in August to provide the team with some insurance between the pipes. He could be the backup for Gibson or Dostal this campaign. The overworked Gibson has had some injury issues in recent years, and there is always the possibility for a trade to finally come to fruition. 
Unfortunately for Dostal, he is waivers exempt, which means a demotion to the minors for the start of the season is likely. The 23-year-old netminder is deserving of an NHL spot following some very good seasons with San Diego, but it appears as though he will become a victim of the numbers game because Anaheim probably won't carry three goaltenders. 
Final Thoughts on Ducks Projected Lineup 
The line juggling that will occur during training camp will be interesting to monitor, especially with a bevy of prospects on the cusp of seeing NHL action. However, it shouldn't come as a shock if the team's brass opts for a safer approach and goes with more experience to begin the 2023-24 season. The youth movement on the blue line should occur gradually over the course of the campaign but could be accelerated by trades or injuries.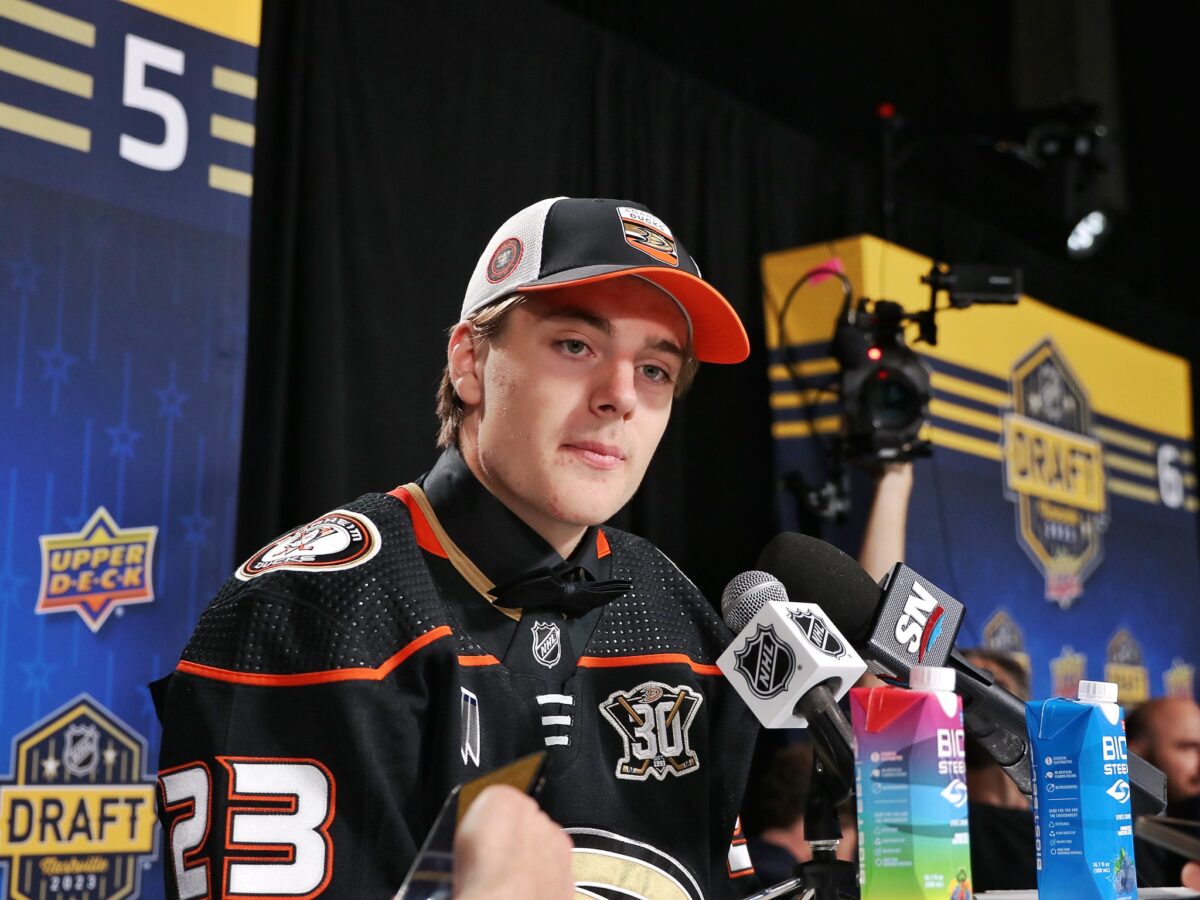 Anaheim fans should get to see plenty of Carlsson, who is already viewed as being NHL-ready, in 2023-24. His versatility makes him the strongest bet to see regular playing time with the Ducks, and he has the skill set to make an immediate impact. There is a chance that Gaucher, Zellweger, or Mintyukov could crack the lineup out of camp as well, but giving them a bit more time to hone their skills in the AHL would be a good strategy.