The Windsor Spitfires took another step towards their 2023-24 Ontario Hockey League (OHL) season on Wednesday afternoon. They announced their training camp cuts and preseason roster, proving general manager Bill Bowler has a tough job ahead of him.
Coming into camp in late August, Bowler knew that nothing came easy. Not only were the veterans hungry to get back to the ice, but he had dozens of rookies and free agents anxious to show that they belonged. With over 50 players in camp, management took as long as they could to make crucial decisions. However, we now have some answers as they get ready to battle in actual OHL games.
Bowler Reassigns Campers
The Spitfires came into this season's training camp with 57 players – eight goaltenders, 18 defencemen, and 31 forwards. Bowler brought in a host of veterans, draft picks, and free agents. However, not everyone could make it past the camp stage.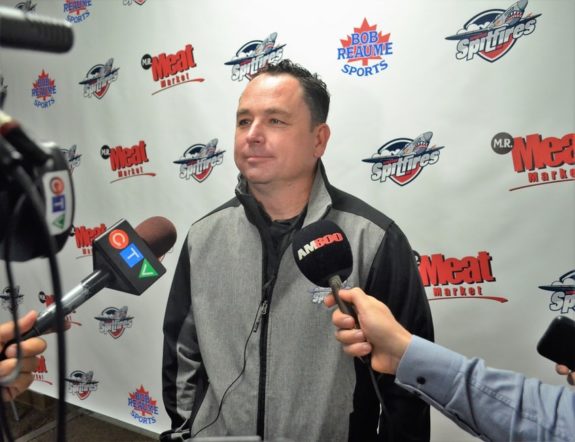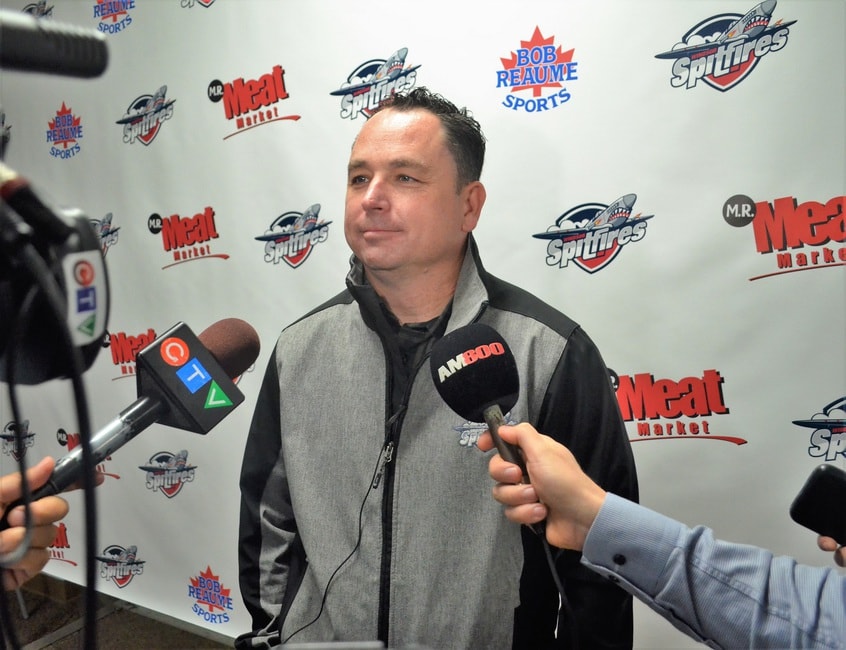 Normally, players are reassigned in small chunks during training camp. This season, though, the club was impressed enough to keep everyone around through the Blue-White game on Sat., Sept. 2.
Following that, five out of the eight goaltenders were reassigned. Included in that were 17-year-old Tre Altiman, who played in 29 games last season for the Spitfires' Jr. B affiliate, the LaSalle Vipers, and 17-year-old Paolo Frasca, the club's 11th-round pick in 2022. He was considered a frontrunner for the third-string spot.
On defence, several were sent elsewhere, including 6-food-3, 187-pound Gage Evans and free agent Blain Bacik. The 17-year-old Evans was a late pick in 2022 but showed a physical game. Bacik, 18, was a free agent who played a gritty game for the Chatham Maroons Jr. B last season.
Finally, on forward, multiple players were sent out, including 2022 sixth-round pick Jack Dean and 2022 15th-round pick Nathan Gaymes. While they made a good impression, and you could have argued both for the preseason, some seasoning at a lower level won't hurt.
In total, 24 players were reassigned (assignments not disclosed):
Goaltenders – Altiman, Frasca, Dante Bertolin (2023 Under-18 Draft), Gabriel Donohue (2023 Draft), and Christian Stevens (free agent).
Defence – Bacik, Evans, Jacob English (2022), Luke Laevens (2023), Lucas Hihn, Nick Lofranco, and Christian White (all free agents).
Forwards – Dean, Gaymes, Caeleb Bowler (2022), Julian Gignac, Kyle Butt, Marcus Lagana, Mickael Tissier (all 2023), Jackson Ward (2023 Under-18), Adriano Tonin, Josh Caloiero, Liam Carlone, and Angelo Protopapas (free agents).
Spitfires Release Preseason Roster
The club also released its preseason roster, where the remaining players will have a chance to showcase.
One of Bowler's toughest decisions was in goal where he had seven goaltenders vying for just two spots. While the starting position was 18-year-old Joey Costanzo's to lose, his backup wasn't certain. Veteran Ian Michelone, 19, plus rookies Frasca and 2022 sixth-rounder Carter Froggett, both 17, had impressive camps. In the end, management chose Froggett to join the two veterans.
Related: Windsor Spitfires Looked to Reload at 2022 OHL Draft
Defensively, the starting six is basically set, including veterans Rodwin Dionicio (Anaheim Ducks) and Anthony Cristoforo. However, several others will get a shot for an extra spot, or two. On Tuesday, they announced that rookies Adrian Manzo and Michael Lavigne (the 2023 OHL Draft) were signed and would be joining the Vipers. However, both will get a chance at some OHL action first, as they made the preseason roster.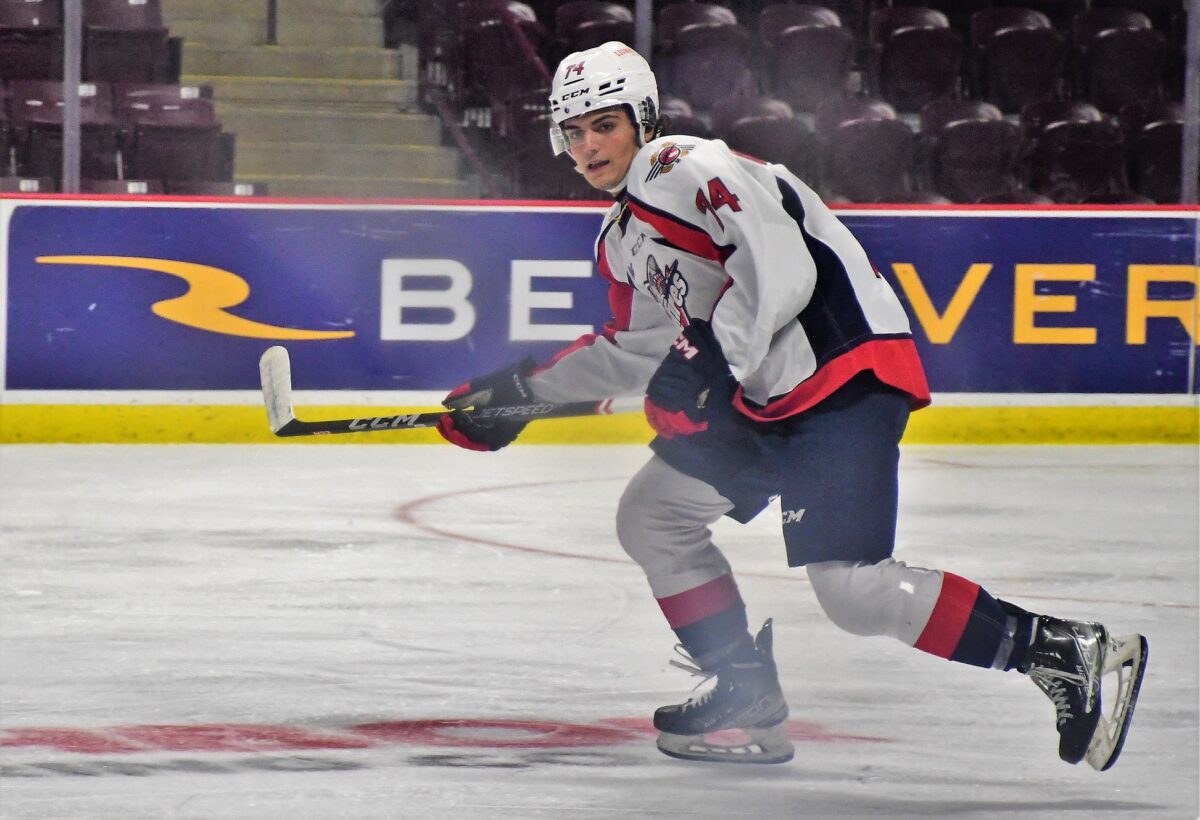 Up front, every one who returned from last season is still around, including Ryan Abraham, 19, who was injured through much of last season. Among the new faces are free agents Ryan Struthers (former Mississauga Steelhead and Niagara IceDog), 19, plus Kyler Morgan, 18, who comes from the Kitchener-Waterloo Saskins Jr. B.
Here's the full breakdown of the preseason roster:
Goaltenders – Costanzo, Michelone, and Froggett
Defence – Cristoforo, Dionicio, Lavigne, Manzo, Tanner Winegard, Nick DeAngelis, Jozef Eichler, Evan Hjelholt, James Jodoin, Trevor O'Dell, and Carson Woodall.
Forwards – Abraham, Struthers, Morgan, Aidan Castle, Alex Christopoulos, Cole Davis, Nick Graniero, Liam Greentree, Jack Greenwell, Jacob Maillet, Ethan Martin, Noah Morneau, Jack Nesbitt, Oliver Peer, Colton Smith, A.J. Spellacy, and Alec Stewart.
Their first preseason game is Sat., Sept. 9, at home against the Flint Firebirds. The season opener is Friday, Sept. 29 on the road against the Sarnia Sting.
---
---