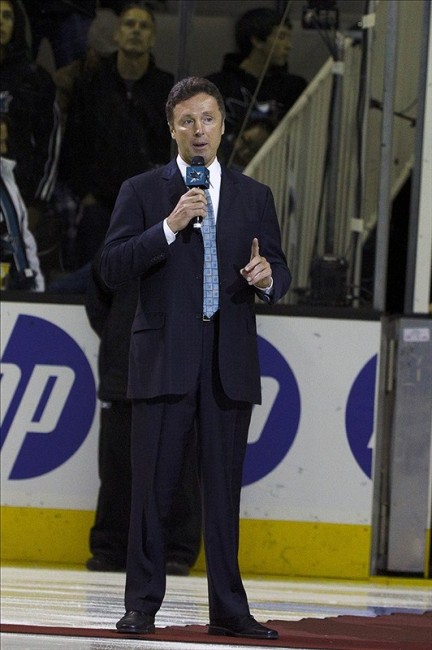 Perhaps just a little bitter over potentially losing young phenom Tomas Hertl for the season, San Jose Sharks General Manager Doug Wilson stirred the pot on Monday when he essentially called out Dustin Brown and the Los Angeles Kings for their lack of concern over the incident that injured Hertl.
It was knee-on-knee collision in a game last Thursday that seemed to be incidental, but nonetheless did its harm and will sideline Hertl, who leads all rookies with 15 goals, for a while after he undergoes surgery next week.
On Monday, in between periods of the Sharks' game against the Avalanche, Wilson spoke to reporters and expressed his disappointment with the Kings.
"Having played in this league a long time…when I was a rookie, I was tripped into a net in Hartford by the great Gordie Howe, and injured and carried off the ice," Wilson said, via Kevin Kurz of CSN Bay Area. "He came in between periods all the way around the rink to make sure I was OK. So, my response to the lack of, maybe, concern towards our player, is disappointing."
Wilson also reportedly mentioned how the Blues' Maxim Lapierre apologized to Dan Boyle after he injured Boyle with a hit earlier this season.
Neither Brown nor the Kings have yet to publicly express concern over Hertl. In an interview with Jon Rosen of LA Kings Insider last Friday, Brown spoke at length about how he shouldn't have been given a game misconduct and asserted his innocence, but did not even mention Hertl's name.
In fact, here's what he had to offer when asked to describe the collision:
My leg is just as much at risk as his leg in a collision like that. If I have weight on my right leg, and then I'm sturdy on that leg and leaning in this way, maybe it's different. Like I said, I'm just as much at risk in that play as he is.
While Brown's statement may be true — the video shows that Brown was trying to get out of the way and the contact seemed to be accidental — the least he can do is come out and say how he wishes the best for Hertl or make some other generic comment.
And he probably will after he reads Wilson's quotes and is asked about it during his next meeting with the press. But it shouldn't take such lengths to "force" Brown to express concern over a play that could potentially ruin the season for the league's best rookie.
Be sure to check in with our partners TiqIQ for your Winter Classic Tickets
Eric is a journalism student at the University of Southern California and a sports editor at the Daily Trojan. He grew up in the Bay Area and has followed the Sharks since a young age. He served as a beat writer on the team for SFBay.ca during the 2014-2015 season. Previously, Eric has worked at FanSided and Bleacher Report.