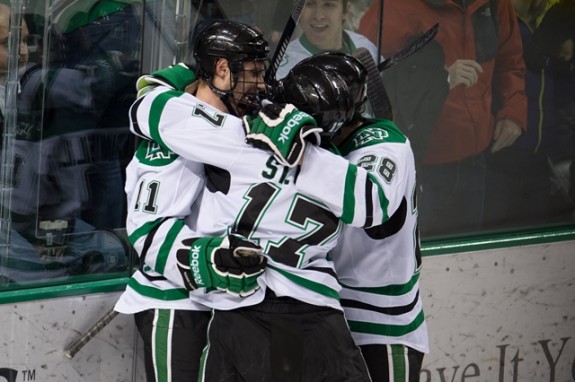 Recently, the subject of the fly-by in the NHL has come up and some NHL players are starting to do away with the practice. In case you're wondering what a "fly-by" is, all five players skate by their bench, high-fiving their teammates, after scoring goal. I think it's time for the college hockey teams to do away with this practice as well.
Here's an idea. Instead of doing the fly-by after scoring a goal, celebrate briefly with your teammates and then skate back to center ice.  Former North Dakota alumnus and current Minnesota Wild forward Zach Parise thinks fly-bys are cheesy and wants to see less of them. I agree with the all-pro forward.
"I've never been a fan of it, but we couldn't get a majority vote to completely rule it out, so I guess it depends on who scores and what they want to do," Parise said.

Parise continued, "After it went in, all I could think was, 'That was a pretty goal,' It was just one of those where you knew that was a nice goal, just the way it developed, everyone on the ice touching the puck."

After the goal, the Wild players skated to center ice instead of skating by the player bench.  (s/t Michael Russo)
Excessive celebration lacks class
I fail to see the point, why every time a goal is scored, the entire line has to skate by the bench and high-five their teammates on the bench.  Why? There's no sense to this.  Then after every player on the bench has been high-fived, they skate to the blue line and high-five their goaltender, too.
This practice is unneeded, outdated, and at times borders on being unsportsmanlike. I believe this is a form of taunting and is excessive celebration. There's a difference between celebrating a goal and rubbing it in.
Enough is enough, act like you've scored a goal before. If you're a division I college hockey player, you probably have. Some players in college hockey act like every goal they score is the game-winning, Stanley Cup clincher.
Recently, during a non-conference game between North Dakota and St. Lawrence – after scoring a goal – a Saint's defenseman skated by the North Dakota bench pretending that his stick was a sword. The defenseman motioned, as if he was putting the imaginary sword back in a sheath, he then flew-by by the St. Lawrence bench hooting and hollering. In my opinion, that was an unneeded and a classless act in a 3-1 game. 
Ironically, Don Cherry talked about this subject last week, on the Coach's Corner. Cherry said, "Act like you scored before, there's no reason to  fly-by the benches and high-five, every time your team scores a goal."
The St. Louis Blues are starting to discontinue the practice of doing fly-bys and I think it's a good idea. 
Dan O'Neill, Post Dispatch — Perhaps you noticed during the last two games, wins over Nashville and Winnipeg. When the line of David Backes, Alexander Steen and T.J Oshie have been on the ice for Blues' goals — and that has been the case on six occasions — there has been no skate to the bench for a Conga line of high-fives.

There has been the traditional raised arms, the traditional hugs and smiles among those involved. And there has been a return to positions for the drop of the puck. In short, the Blues act like they've been there before, and aspire to be there again.

"That came from a few gentlemen who used to play here," Backes said. "They felt like the going through the line thing was a high school, college type of play.
In conclusion, I would think that NCAA division I hockey would want to focus more on sportsmanship and less on showing up your opponent. Maybe curtailing fly-bys would be a good place to start. Wouldn't college hockey players want to emulate Zach Parise, David Backes and T.J. Oshie?
Eric is a 1996, 1999 graduate of the University of North Dakota. Eric covers the University of North Dakota Hockey and Division I college hockey. Eric is the Contributing Editor for Inside Hockey.