Mike Smith is 38 years old and he's played for 16 NHL seasons. During those 16 seasons, he's tended goal for five different NHL teams (the Dallas Stars, Tampa Bay Lightning, Arizona Coyotes, and the Calgary Flames). He's now in his second season with the Edmonton Oilers. 
Related: Which James Neal Will Show Up for the Edmonton Oilers in 2020-21?
Smith's best NHL season came in a decade ago during his 2011-12 season with the Phoenix Coyotes. During that season, Smith played 67 games and posted a 38-18-10 record with a goals-against-average of 2.21 and a save percentage of .930.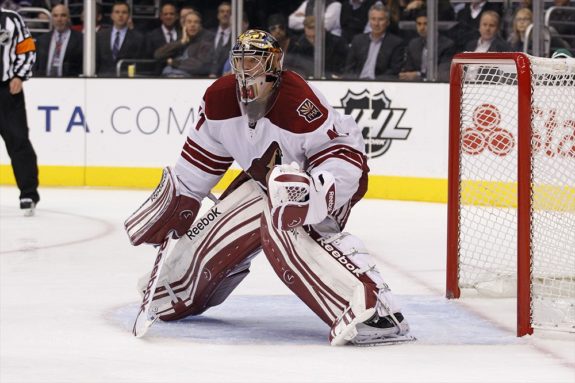 It's ten years later, but is it possible that Smith is playing as well or better than he was during his prime? Or, has he just reached his prime as he's approaching 40 years of age?
Smith's Goalie Play Is Spurring the Oilers Forward
Better yet for the Oilers, Smith's absolutely on fire. With his current 2020-21 winning streak and season's record – which are both the same – now standing at 6-0 record, he's helping to carry the Oilers' team with him. 
On Thursday night, his acrobatics in the net helped lead his team register a 3-0 shutout win over the Vancouver Canucks. Smith looked simply unbeatable. 
Related: Top 5 NHL Goaltenders of the 1950s
It is also no coincidence that, with Smith's hot goaltending, the Oilers have also experienced recent success and now hold an 11-2 record over their last 13 games. Thursday's win against the Canucks allowed the Oilers to sweep their two-game series in Rogers Place in Vancouver. 
Smith's Displays Great Acrobatics in Goal
The specifics of Smith's Thursday night victory show that Smith racked up a 32-save shutout during the Oilers' 3-0 win. Smith was perfect on the night, stopping every shot the Canucks threw on net. It was his second shutout of the season and has come in only the seven games he's played. Earlier in the season, Smith had been on long-term injured reserve due to what was believed to be a leg injury.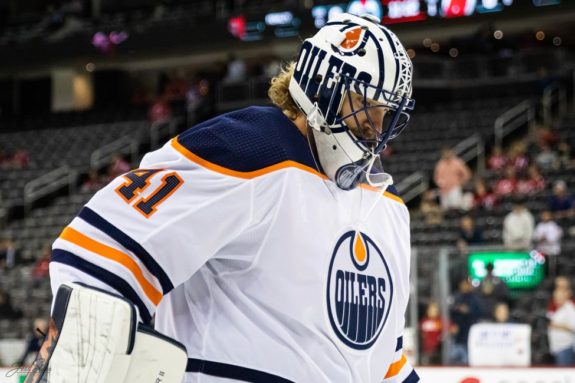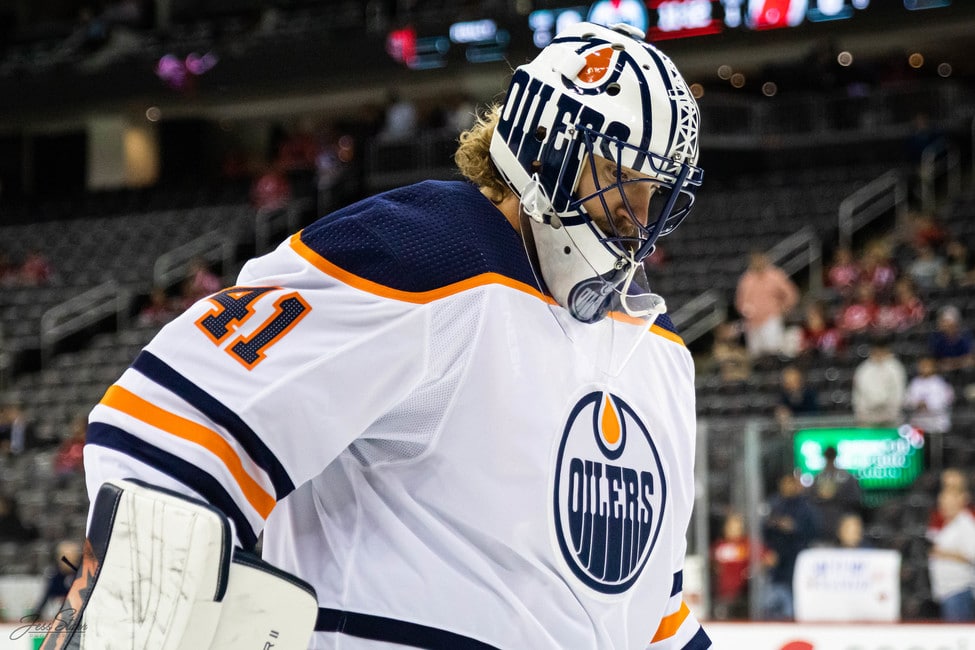 Smith's perfection in goal seems to extend to his confidence as well; and, if ever there were a picture of a "perfectly confident goalie," that would be the 38-year-old NHL veteran. He simply looks great. 
Is Smith's Level of Play Sustainable?
The question for the Oilers is how long can Smith, at his age and the workload needed to play this COVID-19 shortened and condensed season, maintain the level of play he's had for the season? Goalies can't keep this level of success up, can they? Yet, Smith shows no indication of slowing down and in fact he seems to be improving with more time in the net.
Related: Top 3 All-Time Canadiens Goalies
It wasn't as if Smith wasn't busy throughout the game; in fact, he helped the Oilers kill off four penalties to keep a strong Canucks' top six off the score sheet. With the victory, Smith now sports a 6-0-0 record with a goals-against-average of 1.73 GAA and a save percentage of .944. 
Smith's Miraculous Save Against the Canucks
The video below shows one of Smith's best saves of the game. For this save, he uses his veteran savvy to keep the puck from barely "squeaking" over the goal like. And he's successful, by about an inch. 
Related: Connor McDavid Predicts Jesse Puljujarvi Will Be Huge for the Oilers
Thinking like a goalie, the video shows that when Smith figures out where the puck is, knowing that if the officials can't see the puck in the net they can't call it a goal, Smith covers up, lays on top of the puck, and simply doesn't move. Only a difficult camera angle actually shows that, although most of the puck has crossed the line, there's about an inch of it that remains on the goal line – no goal.
The video is an interesting example of how the Oilers' goalie uses his craft knowledge to keep the Canucks off the score sheet.
What's Next for the Oilers?
The Oilers host the high-flying Toronto Maple Leafs in Hockey Night on Canada Saturday night. Will Smith be in net for the Oilers? It's probably too soon to announce starting goalies, but if it is Smith it will be interesting to see if he can stay on top of his game against Auston Matthews, Mitch Marner, the recently-productive William Nylander, and crew.
This matchup has the makings of a great NHL game.
The Old Prof (Jim Parsons, Sr.) taught for more than 40 years in the Faculty of Education at the University of Alberta. He's a Canadian boy, who has two degrees from the University of Kentucky and a doctorate from the University of Texas. He is now retired on Vancouver Island, where he lives with his family. His hobbies include playing with his hockey cards and simply being a sports fan – hockey, the Toronto Raptors, and CFL football (thinks Ricky Ray personifies how a professional athlete should act).
If you wonder why he doesn't use his real name, it's because his son – who's also Jim Parsons – wrote for The Hockey Writers first and asked Jim Sr. to use another name so readers wouldn't confuse their work.
Because Jim Sr. had worked in China, he adopted the Mandarin word for teacher (老師). The first character lǎo (老) means "old," and the second character shī (師) means "teacher." The literal translation of lǎoshī is "old teacher." That became his pen name. Today, other than writing for The Hockey Writers, he teaches graduate students research design at several Canadian universities.
He looks forward to sharing his insights about the Toronto Maple Leafs and about how sports engages life more fully. His Twitter address is https://twitter.com/TheOldProf