In the span of just under four months, Kailer Yamamoto has gone from a potential first-round pick in the 2017 Entry Draft, to turning heads at his first pro training camp, to making the Edmonton Oilers' opening night roster. Not too shabby for a kid who had been told for years he had next to no chance of making the NHL due to his lack of size but still managed to do so at 19-years of age.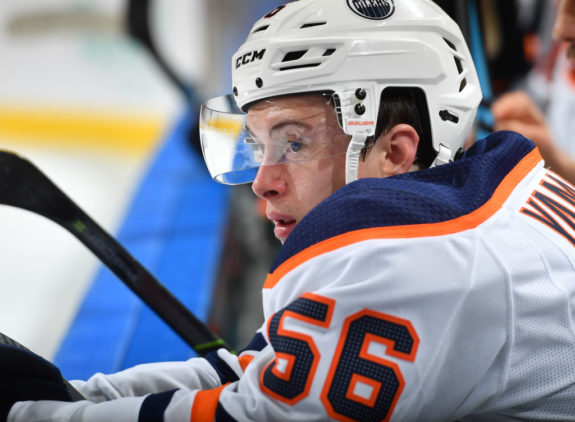 One can certainly question Todd McLellan's use of the youngster through his first two appearances, especially when you consider the Oilers current lineup construction and early struggles. In my mind, having Yamamoto play in anything other than a top-six role seems rather pointless, as this group of bottom six forwards is not exactly filled with high-end skill for the kid to play with but I digress.
Yamamoto Is Still Waiting
In the grand scheme of things, the here and now means little when it comes to Yamamoto. There was absolutely no one within this organization who felt he had a glimmer of hope to make the team but then training camp happened. With fellow 19-year old Jesse Puljujarvi unable to make an impression on this coaching staff, the door for this kid to grab a spot was opened and he did exactly that.
However, this was never going to be anything other than an October look-see. A token stint in the pros for busting his tail off to the degree he did and forcing those in charge to stand up and pay attention. Kudos to Yamamoto but his fate was sealed long ago. Be it in the next week to ten days or later this month, a trip back to the WHL is coming and there is absolutely nothing wrong with that.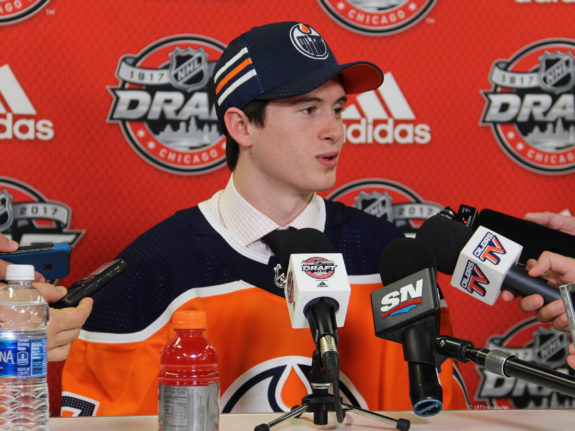 The fact the Spokane native was able to force himself into the opening night lineup on a team coming off a 103-point campaign says quite a bit about the player. From his standpoint, this can and should be viewed as nothing but a massive win. While he did say his plan was to stick in Edmonton for the entire 2017-18 season on the day he was drafted, again, that was never a realistic option.
Yamamoto Earned Look-See
Most were suggesting Yamamoto was at least three years away from being a regular. One more season with the Spokane Chiefs, one year of seasoning in the AHL and off to Edmonton he goes. Sounds reasonable enough but with what the young American winger has shown to date, chances are he may be able to skip step two altogether or make his stay in Bakersfield a brief one.
Don't get me wrong, it would be great to see Yamamoto get a shot on the first or second line in one of the Oilers upcoming games to show what he could do next to top-flight players. However, even if he were to chip in on the scoresheet, which is quite possible, it would not change where he is headed but certainly, would give the kid a ton of confidence heading back to the WHL.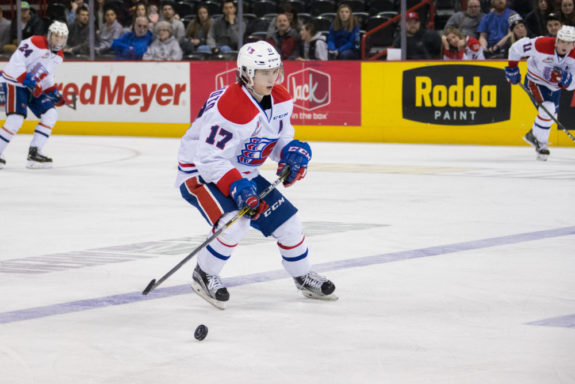 Regardless of whether or not that opportunity comes, Yamamoto can go back to junior knowing his dream of playing in the NHL is just around the corner. Everything we have heard and read about this kid suggests he is as driven as they come and this experience should only intensify that drive. You can bet the organization will let him know what he needs to work on and it will be up to him to do the rest.
With the Edmonton Oilers headed for what will be the first of many years in which they will be forced to dance around the salary cap, adding a player with his skill-set and insignificant cap hit would be a welcome addition. In other words, Kailer Yamamoto already has one foot in the door and needs only to continue on his current development path to secure a spot on the club in 2018-19.
Also available from Rob Soria: