With the 2017-18 NHL season just around the corner, Edmonton Oilers forward Patrick Maroon is about to embark on the most important campaign of his career. After being relegated to the role of nothing more than a spare part during his final season with the Anaheim Ducks, the hulking winger has managed to turn things around since arriving in the Alberta capital.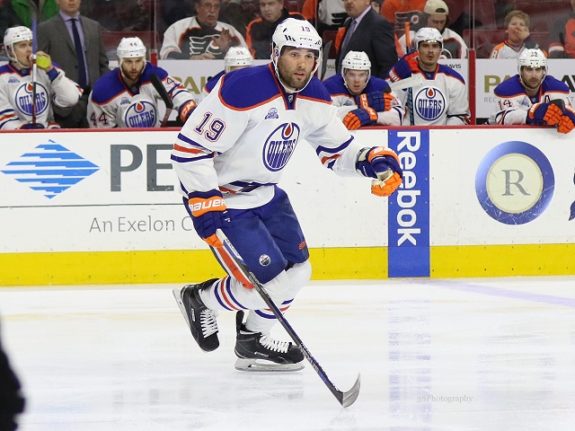 In what has worked out to be a perfect fit for both the club and player, if that trend were to continue over the next six months, it will likely put Maroon in line to receive a substantial increase in pay and potentially lead to his ultimate departure. Though not a scenario the vast majority of Oil Country would like to see play out, it may be one this organization has little to no control over.
Club & Player Needed One Another
Though his tenure in Orange in Blue has been brief, the 29-year old has done nothing but produce offence and bring a dimension to this roster that had been absent for ages. With that said, much of his success has come courtesy of a skating next to Connor McDavid on a nightly basis. However, there is no question Maroon deserves a ton of credit for his impressive turnaround and it has been one that did not surprise this writer in the least.
The moment the former London Knights' standout showed up in the physical condition he did at last September's training camp, it was clear he was all business. While the organization was hoping Milan Lucic would lay claim to the left-wing spot on the first line, Maroon quietly waited his turn and when the opportunity presented itself, he picked up right where he left off in 2015-16. To his credit, he never looked back on went on to enjoy a career year.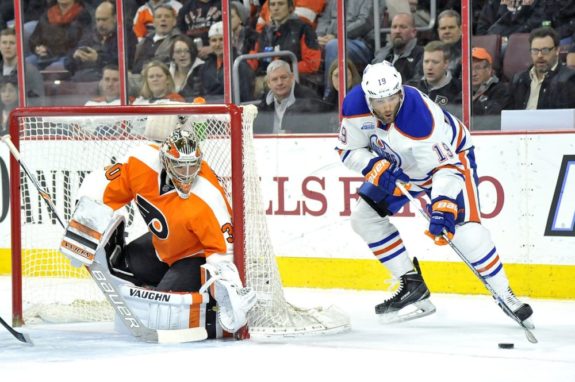 The combination of being given a new lease on life in Edmonton and playing next to the best player in the game was the exact tonic needed. In his 97 regular season appearances with the Oilers, Maroon has managed to light the lamp 35 times. In comparison, he scored a grand total of 26 goals in 204 games with the Ducks, a good chunk of which was spent playing with the duo of Ryan Getzlaf and Corey Perry.
McDavid, Maroon Chemistry Undeniable
Again, the fit has been a good one for all parties and there would appear to be no reason to think that it won't continue in 2017-2018. Though the club's general manager loves what the player brings to the table and Maroon seems to thoroughly enjoy being part of this group, there are other things to consider from both an individual and organizational standpoint.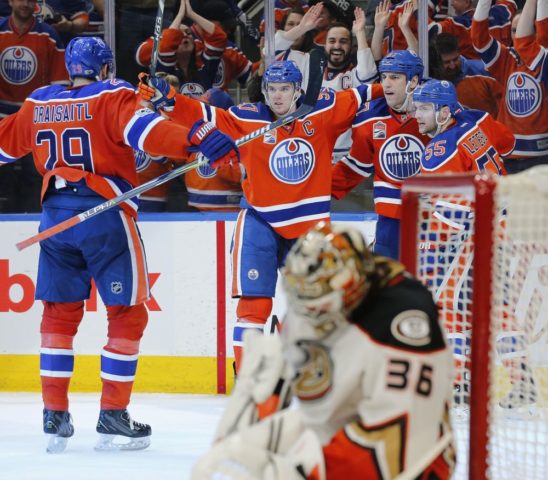 With the kind of money Edmonton will be shelling out for Leon Draisaitl and McDavid starting in 2018-19, paying top dollar for complimentary pieces is essentially a non-starter for Edmonton. Add to that the numbers at which Lucic and defenceman Kris Russell are already signed to on long-term pacts, and whatever potential wiggle room Peter Chiarelli might have had at his disposal is all but gone.
As far as Maroon is concerned, he owes it to himself to get as much money as the market will bear. This will be the one and only chance he will get to sign a deal that could see him earn major dollars and unless the Oilers can offer a number comparable to what he could secure via unrestricted free agency, it's something not even worth considering. Like it or not, he needs to look out for himself and not the club.
Chiarelli Has Minimal Wiggle Room
Good luck finding an Oilers fan who doesn't look back fondly on watching the big man get emotional when discussing what it was like to have his young son Anthony in the crowd to see him score against the Blues in his hometown of St. Louis last December. That my friends is who and what is priority one to the former sixth round pick and none of us should lose sight of that. Taking care of one's family is important to all players but it is an absolute must for a guy in Maroon's situation.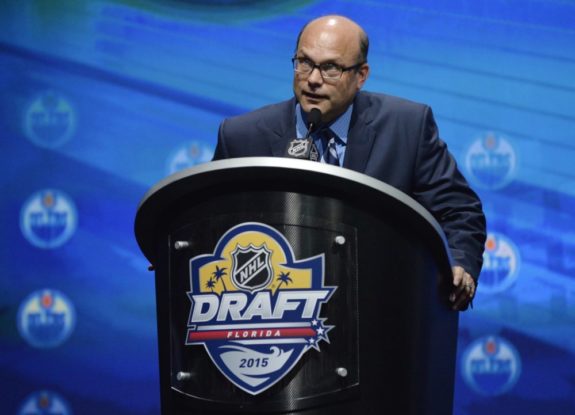 If playing two plus seasons with the best player in the game can net him a tidy little extension, more power to him. Should he can come close to replicating or eclipsing what he did a season ago, the list of potential suitors for a player with Patrick Maroon's skill set would be a rather lengthy one. A tough spot to be sure but one the Edmonton Oilers would gladly take if helps get them to where they want to be.
Also available from Rob Soria: 
Connor McDavid: Hockey's Next Great One
Rob Soria is the Author of Connor McDavid: Hockey's Next Great One. He has chronicled the Orange and Blue since creating his Oil Drop blog in 2011 and has also had his writings featured over at HometownHockey.ca and Vavel USA, where he has covered the NHL, MLB and ATP Tour. Rob was born, raised and still resides in Edmonton, Alberta and can be reached via twitter @Oil_Drop.