With roughly 25% of their 2017-18 season now in the books, it is clear there is something wrong with the Edmonton Oilers and contrary to popular opinion, it is not all on the players. No question the collective could be performing better but there does appear to be a taboo topic of sorts in my neck of the woods. Like it or not but the time has come for Peter Chiarelli to take some heat for where his club currently sits.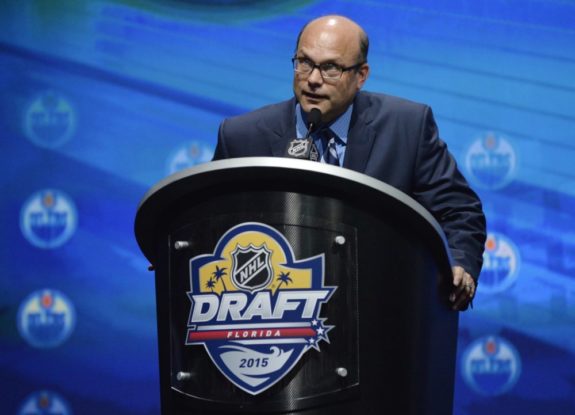 It is not uncommon to hear the word accountability thrown around when it comes to professional athletes and yet it seems to be a one-way street. Be it the fans or media, neither one takes issue in calling out players for what is deemed to be a not good enough. Performance, effort, leadership…the list goes on and on. You name and it falls under said window.
Players Held to Different Standard
Yet when it comes to management types, there are fans and many in the media who seem reluctant to challenge questionable decisions. And in a place like Edmonton, how could anyone possibly call out the moves that were or were not made by the man who led the Oilers out of their "Decade of Darkness" and back to the playoffs after just two years? To be perfectly honest, it is actually quite simple and long overdue
There have essentially been four major missteps Chiarelli has made since taking over the reins in the Alberta capital. The Griffin Reinhart trade, the Taylor Hall for Adam Larsson swap (in conjunction with the signing of Milan Lucic), removing Jordan Eberle from the equation without a suitable replacement and the refusal to address the extended absence of defence Andrej Sekera.
Say what you will of Hall for Larsson or Eberle for Strome, the Reinhart trade remains the worst & the one that started the snowball rolling https://t.co/4nDc5X9VCi

— WheatNOil (@WheatNOil) October 29, 2017
While trying to stomach the first two moves on that list are difficult enough, it is the last two that are the biggest reasons why media-types should be calling out the Oilers general manager in the here and now. Watching Hall enjoy the season that he is in New Jersey and Matthew Barzal having a breakout rookie campaign with the New York Islanders isn't pleasant but that mess was already made. The piling on is what is even more perplexing.
Oilers Have Used Their Assets
The problem with Chiarelli is he decided to double down on his ineptness over this past offseason and his club is now paying for it. There are those who will try to sell you on the notion the Eberle for Ryan Strome trade was a salary dump but if that were truly the case, how exactly are those $3.5 million in savings being used to improve this club? That's right…they haven't been used at all.
[RELATED: More Edmonton Oilers News]
Even though he was moving out a perennial 25-goal, 60-point player, apparently the need to replace said production wasn't deemed necessary. Instead, they were counting on Strome turning into something he has never consistently been at the NHL level and that the likes of Drake Caggiula, Jesse Puljujarvi and Anton Slepyshev would pick up the slack.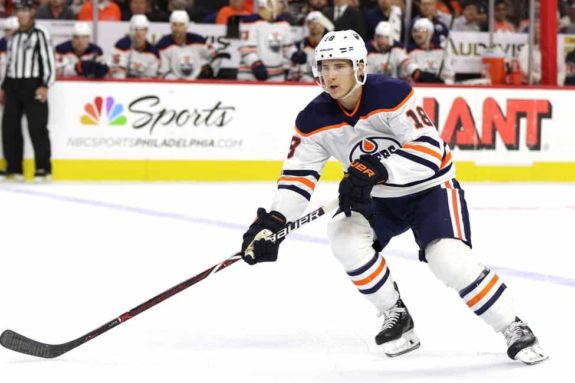 As puzzling as the decision to not add a proven forward to mix upfront was, it would have been far more palatable if the savings from the Eberle deal were used to bolster the backend. At worst, Sekera is the Oilers second-best defenceman and yet management felt there was no need to replace the talented rearguard while he recovered from off-season knee surgery. Confused? Well, you should be and still all quiet on the western front.
Not Replacing Sekera Was Biggest Mistake
How exactly someone can come to that conclusion who has watched this team play is beyond me but instead, Chiarelli inexplicably turned his focus towards re-signing Kris Russell to a four-year extension. Yes, the same player who is already logging third pairing minutes and confirming that he is a solid No.5 or No. 6 defenceman but nothing more. Not exactly the work of a GM who had the intention of improving his roster.
Hence my concern when reading the thoughts Chiarelli shared with TSN's Frank Seravalli following last week's GM meetings in Montreal. His frustration is understandable but his comments are a tad misguided and off base.
"My general takeaway: general disappointment. There's your headline. We're almost at the 20-game mark and it's obviously disappointing where we are. It's obviously not satisfactory. We were behind the eight ball to start for a number of reasons…execution was one of them. Now we're in recovery mode and you lose runway. So that's where we are. It's a grind. We've got to get some traction."
Sorry but for that to be the initial response we get from the general manager of a team who currently sits ahead of only the dreadful Arizona Coyotes in the Western Conference isn't good enough. Right or wrong, many had Edmonton picked as a Stanley Cup favourite and for Chiarelli to come out and essentially throw Todd McLellan and his players under the bus isn't a good look but it certainly is the easy out.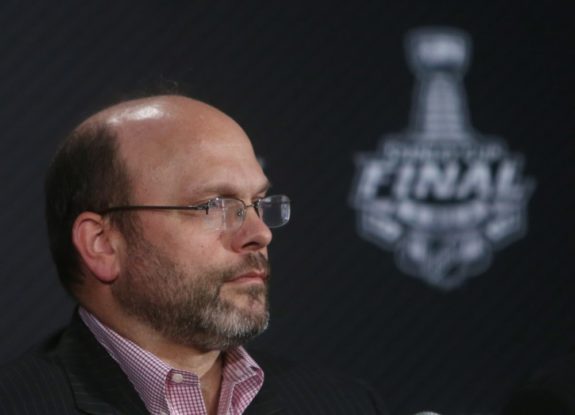 How about a little bit of that aforementioned accountability from the management team? Every individual can believe whatever they would like but something that cannot be argued is the fact this lineup is not as good as the 2016-17 version. Though Chiarelli would briefly hint at the organization possibly holding some responsibility for the club's struggles later on in the piece, it was a half-hearted effort at best.
"For me, it goes back to where our mindset was in terms of managing expectations. I'm not laying blame for our record on that. It's something that we thought we would be able to address. We did address it. Maybe we didn't do a good job of it. I think the way we started, we were loose. Then we tightened up. And when you tighten up, generally as a team you have trouble scoring goals. We're seeing that."
Simple translation, if you want answers to that question ask the players and coaching staff. Seems fairly cut and dry and yet not one media member has challenged the Oilers boss on his comments. Instead, the steady chorus of Edmonton's "best players need to be better" continue to make the rounds, despite the rosters obvious flaws. No one wants to admit it but what happened in 2016-17 means absolutely nothing in the here and now.
Last Year No Longer Matters
The past is just that and should be viewed as nothing more. For those who suggest certain parts of this fan base need to move on from the aforementioned Hall and Reinhart deals, might I suggest they take note of this roster's current construction? Last year was a blast but this was never about getting back to the playoffs and having a nice post-season run…at least not after the arrival of No. 97.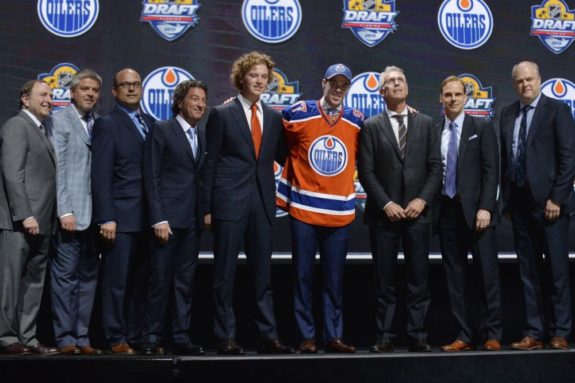 The simple presence of Connor McDavid changed everything. With the assets Edmonton already had in place, there was every reason to believe the potential for building a championship club with long-term sustainability was a very real possibility. Fast forward to the present day and suddenly that no longer looks like the certainty it once did.
Now does that mean this organization won't once again hoist the Stanley Cup sometime in the near future? Not at all but the chance of them putting together the sustained run that looked to be a foregone conclusion, just a short time ago, will be far tougher to accomplish with their cap situation and a roster full of plodding players who can't score. Though no one in the local media seems to want to say it out loud, this is on Peter Chiarelli and he needs to wear it.
Also available from Rob Soria: