Malcolm Spence saved his best for last, literally.
With Team Canada engaged in a 2-2 overtime battle with Czechia for the gold medal at the 2023 Hlinka-Gretzky Tournament, it seemed the teams were going to play 20 minutes of 3-on-3 without a winner. That's when the instant impact of Spence stepped in and called game.

With just over 10 seconds left in the extra period, Spence stole the puck at the blue line and raced down the right side. With a Czech defender closing in, Spence scored a beauty of a goal outwaiting goaltender Jakub Milota to send Canada to a 3-2 win and a celebration.
---
Latest News & Highlight
---
For someone who hasn't turned 17 yet, this moment for Spence will stay with him for a long time. Now consider that his slashing penalty in the third period created the power play that allowed Czechia to tie the game. He hung in there and when it mattered the most, he delivered.
"I knew it was late in overtime and I knew [the Czechs] were tired because they were keeping a fast pace in overtime. I knew the [Czech defender] was on for quite a bit of time and that I could pick his pocket if I moved my feet, so that is what I did," Spence said. "This is the best moment of my life and nothing will ever beat this. I cannot thank everyone who was involved with this team enough. I am just so happy."
"I think our guys handled adversity very well. We spoke for a few minutes before the game about expectations, and we knew what kind of crowd it was going to be. It was great for our kids to go out and experience that, and they stepped up when they needed to," Letang said. "I am proud of everyone. Our kids got better every day and that was our goal as the tournament went on. It has been a fun ride, but I am looking forward to a little bit of rest now."
If you weren't aware who Spence was before this tournament, you know him now. It turns out he's been doing special things ever since his arrival in the OHL.
A Promising Future
Spence was the second-overall pick of the 2022 OHL Priority Selection. Only his good friend Michael Misa went ahead of him and he was granted exceptional status. Before that status was granted, Spence was widely considered the top prospect available. The Erie Otters took full advantage of this situation.
Although the team struggled last season, Spence showed why the Otters drafted him. He made his OHL debut just after turning 16. He played 64 games and finished with 16 goals and 42 points. On many nights, he was the best skater on the ice in terms of impact.
Spence missed the cutoff for the 2024 NHL Draft by a week. His Sept 22 birthday makes him a top prospect for the 2025 NHL Draft. He has everything you look for in a top prospect.
During the Hlinka-Gretzky Tournament, Spence finished with five points in five games (2-3-5). But it was his defense that was shining early on.
You Might Also Like
Head coach Alan Letang used Spence as one of his main penalty killers. His speed was valuable in being able to keep up and close gaps on his opponents. Once he caught up, he used his stick to break up plays. A steal, breakaway and score in the moment of highest pressure will be remembered for a long time. The winning play started thanks to exceptional defense, something Spence takes a lot of pride in.
It's already clear what Spence can do with the puck on his stick. To have the calmness to wait out Milota before finishing that goal is a rare thing. He can finish. He can dish. And he has the speed to make things very uncomfortable for the opposition.
Impact offense. Attention to detail on defense. Speed to burn with and without the puck. The ability to move on from mistakes and not miss a stride. All of this while being just as good a person. This is why Spence has a very promising future.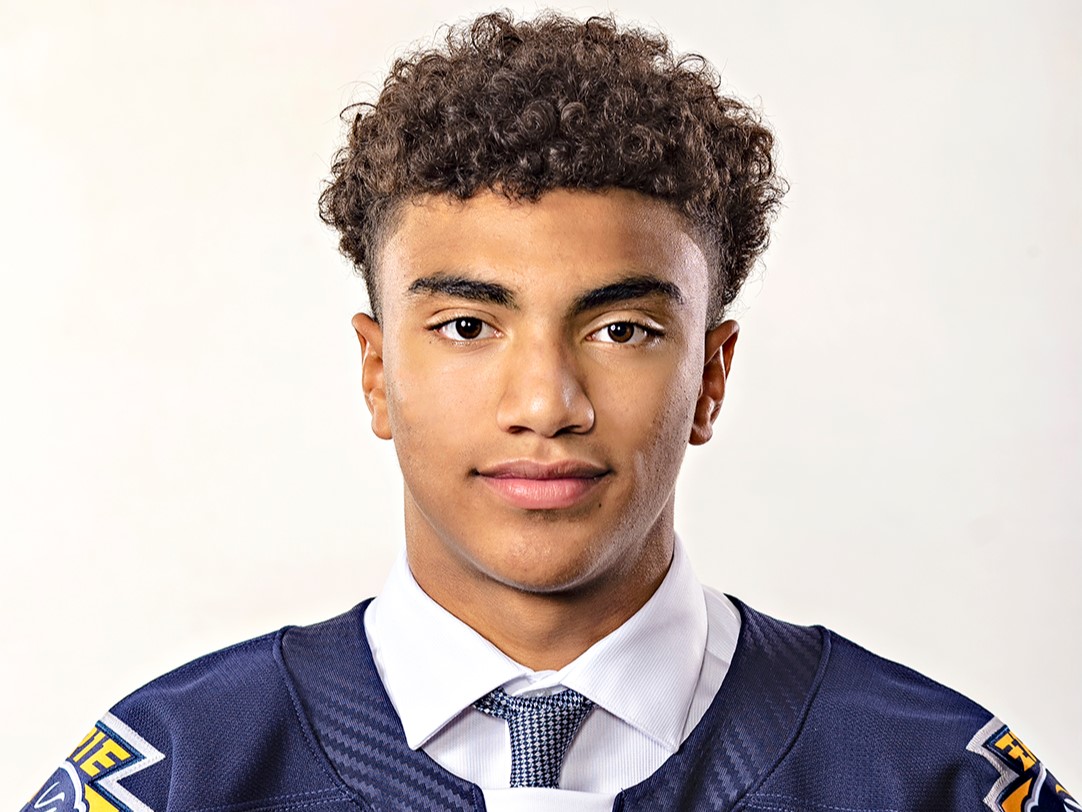 Take it from one of Spence's teammates. Carey Terrance, recently drafted by the Anaheim Ducks, scored 30 goals for the Otters in his draft season. What was one of the biggest factors for this in his mind? It was Spence. Terrance went as far as saying how easy Spence made things for him and those he plays with.
Now consider the Otters in 2023-24 will have two of the better 2025 NHL Draft Prospects together in Spence and Matthew Schaefer, who was drafted first-overall by the Otters at the 2023 OHL Priority Selection. Not only is the future promising for these players, it's promising for the Otters in the near-term with the young talent they have.
A Golden Goal and a promising future. Spence got the goal. Now he embarks on a promising future that will start with Erie. The only question now is how great his career will be. For now, it's as good a start as anyone can ask for.