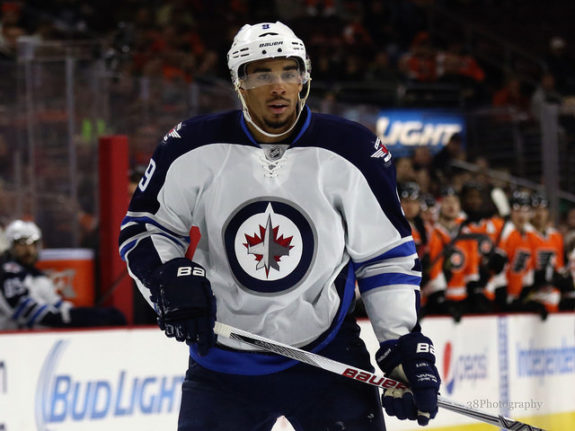 There's no shortage of potential suitors for Evander Kane when he's eventually — and inevitably — traded from the Winnipeg Jets.
Pretty much every team will express interest, in varying degrees, but the Vancouver Canucks should top the list. Kane is from Vancouver and had a successful junior career there with the WHL's Giants, helping them capture the 2007 Memorial Cup on home ice.
[News: Evander Kane Was Traded To Buffalo]
Kane also happens to be exactly what the Canucks need most, a young power forward with size, speed and scoring ability. The timing may not be right for this deal to go down ahead of the trade deadline — with Kane undergoing season-ending shoulder surgery and these two teams in a battle for playoff spots — but it is the best fit long-term for both the player and the franchise.
Kane Has Got To Go
Evander Kane jersey thrown on the ice. pic.twitter.com/6muGXUbuq8

— Robin (@R_Fredriksson) February 7, 2015
Kane has clearly worn out his welcome in Winnipeg, especially with his teammates. There's probably no going back into that volatile situation, not after the latest disruption he caused the Jets in the midst of their playoff push. That ordeal has finally forced the hand of general manager Kevin Cheveldayoff to aggressively shop Kane and get the best possible return. Cheveldayoff hasn't made many moves in his current role — Eric Tangradi to Montreal for Peter Budaj and Patrick Holland has been his only player-for-player trade to date — but he needs to make the most of this asset because Kane does have 30-plus-goal potential for the next decade.
Enter Vancouver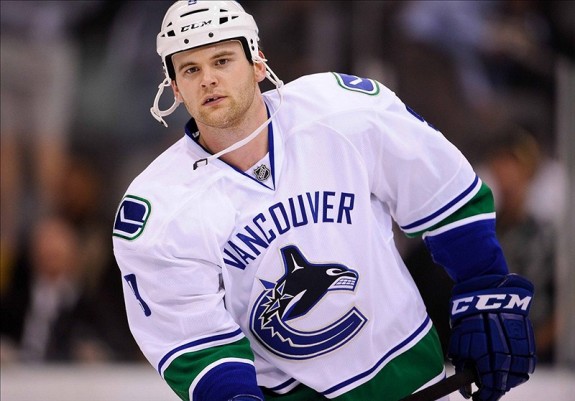 Conversely, new Canucks GM Jim Benning has a reputation for being a wheeler and dealer, already reshaping Vancouver's roster with a series of smaller-scale trades plus the Ryan Kesler to Anaheim blockbuster. You can bet Benning's already put the call in on Kane, and he would seemingly have some pieces in play that would appeal to Cheveldayoff.
Zack Kassian is another budding-but-struggling power forward that could use a change of scenery after falling out of favour with Canucks rookie coach Willie Desjardins. He's been a bit better lately since getting back into the lineup, but that likely only serves to increase his trade value. Nicklas Jensen is another former first-round pick with decent size, a good set of hands and an above-average shot. He'll be a player at some point and he's of Danish descent, so he could also serve as a mentor for the Jets' top prospect, Nikolaj Ehlers. The Canucks could afford to part with both those players and toss in a 2015 second-round pick to seal the deal.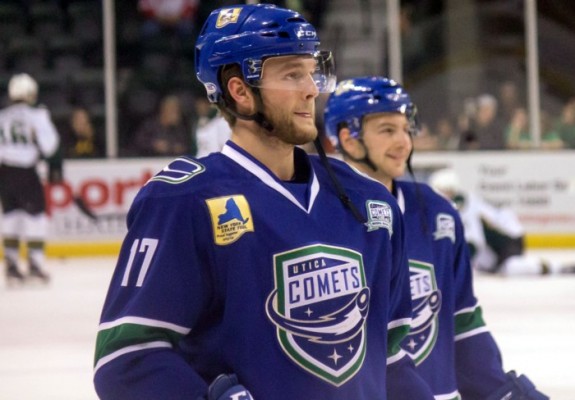 Now Or Later
Winnipeg might be wise to push for this deal sooner than later. Kassian could fill Kane's role immediately and make up for his absence among Winnipeg's top-nine forwards. It is a glaring hole that cannot be plugged from within, as evidenced by coach Paul Maurice moving all-star defenceman Dustin Byfuglien back up front.
That isn't the answer, not with Byfuglien's preference to stay on the blue-line where he has been making a much bigger impact, so Winnipeg will need to acquire a stopgap of some sort. Kassian fits the bill there, and Jensen could presumably replace Michael Frolik if (when) he leaves as an unrestricted free agent after this season.
From Vancouver's perspective, Kassian is expendable right now. He's been a healthy scratch lately and the Canucks have enough organizational depth to offset his loss for the rest of this season. The long-term gain of getting Kane in the fold would outweigh any short-team pain brought on by Kassian's void. Jensen is on the cusp of becoming a full-time NHL player, but he doesn't possess a game-breaking skill-set like Kane, who could still blossom into a star in the right setting.
Worth The Risk
Evander Kane draws praise from NHL execs, but change is necesary for the 23-year-old http://t.co/xgF90KJraE pic.twitter.com/P8CLNiWmNc

— Sportsnet (@Sportsnet) February 10, 2015
Kane has some maturing to do off the ice — that much is obvious — but he'll only be 24 years old when the puck drops on next season. Some of his ongoing antics could be attributed to wanting out of Winnipeg, and he'd definitely do his best to make the Jets look bad for giving up on him. This could play out similar to Tyler Seguin in Dallas. Kane is that special of a player when he's healthy and motivated. He's a mix of Phil Kessel and Wayne Simmonds, combining the best attributes of both players. That being Kessel's speed and shot, with Simmonds' power and physicality.
For Winnipeg, adding Kassian for the stretch run improves its playoff chances in a market starved for post-season action. Kassian is slower than Kane and his shot — both release and velocity — isn't on par, either, but they do have their similarities. The Jets could see Kassian as a poor-man's Kane, almost more of an Andrew Ladd clone in terms of what he does best. If this deal came to fruition, it'd also be interesting to see what Winnipeg would do with Jensen, whether he'd be recalled or left in the minors to further develop. He's not far off and would probably be an upgrade over the T.J. Galiardi and Matt Halischuk types that have filled bottom-six roles for the Jets. That second-rounder would net another nice prospect in a deep draft too.
It seems to make perfect sense for both teams — Kane to Vancouver; Kassian, Jensen and a second-rounder to Winnipeg — but it might have to wait until the draft weekend in Florida. Vancouver may want to monitor Kane's recovery, projected at 4 to 6 months, before making that kind of move.
Larry Fisher is a sports reporter for The Daily Courier in Kelowna, British Columbia, Canada. Follow him on Twitter: @LarryFisher_KDC.