Most would agree that Montreal Canadiens forward David Desharnais isn't exactly goaltender Carey Price. However, they do have at least one thing in common, with both having taken home NHL-star-of-the-week honors in consecutive weeks.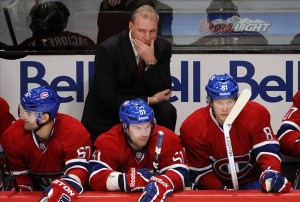 Another thing? Just like Price, who was the league's first star last week, Desharnais is critical to Montreal's success this season. Well, almost just like Price.
Pacioretty & Desharnais Go Together Like PB & J
In the three games making up the week ending February 9, Desharnais notched one goal and five assists, earning the league's third star of the week. Taking into account a helper earned in the preceding game against the Arizona Coyotes on Super Bowl Sunday, his personal scoring streak stands at four games, his highest of the season.
While the preferred narrative is such that Desharnais' offensive resurgence has coincided perfectly with his return onto the top line with Max Pacioretty, that's not exactly true. He only got reunited with Pacioretty late against the Buffalo Sabres last Tuesday, getting a goal in the third period to pull the Habs within one and keep hope alive they wouldn't be embarrassed on home ice by the worst team in the league.
While that didn't exactly happen, his goal (coupled with an assist on a Brandon Prust goal earlier in the game) was enough to convince head coach Michel Therrien that Desharnais deserves another shot.
After all, he and Pacioretty just might belong together like Wolowitz and Koothrappali. Like George Michael and Andrew Ridgeley (that other guy from Wham!)… (that band that sang Wake Me Up Before You Go-Go). Like Batman and Alfred… and other not-so-dynamic duos that still belong together like peanut butter and jelly, the go-to lunch option when you don't have another.
Let's face it: Ideally, Pacioretty would have an elite No. 1 center. But due to cap restrictions… and Montreal drafting David Fischer 20th overall instead of Philadelphia Flyers forward Claude Giroux (who went 22nd) in 2006, here we are. And it's time to make the best of the situation. As Desharnais has already proven, it's far from a bad one.
Good Things Come in Small Packages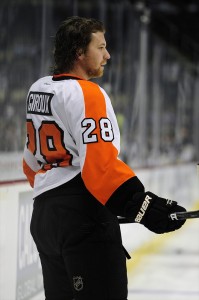 Giroux, whom the Habs will face on Tuesday night at the Bell Centre (7:30 pm Eastern Time), he himself proves Montreal doesn't necessarily need a huge No. 1 center and that oftentimes skill trumps size. He's only 5'11", 172 pounds. Desharnais (5'7") actually weighs more (176 lbs).
Desharnais' $3.5 million cap hit could also be a whole lot worse, and he's provided quite the return with two 50-point seasons so far. He's nearly on pace for another, in fact. And, considering Giroux's $8.275 million cap hit and 54 points, Desharnais is also quietly exceeding expectations with eight more points than he mathematically should have, using the former's production as a benchmark (31 vs. 23).
While Desharnais was taken off the first line this season before for a variety of reasons, including an admitted lack of production, the fact is Montreal lacks a better option at the moment.
Alex Galchenyuk, Montreal's No. 1 center of the future who first replaced him, apparently prefers to play wing right now (and you don't mess with the development of a future No. 1 center). And Lars Eller looks like he couldn't even find the first line right now, much less the net consistently, given a map.
Meanwhile, Tomas Plekanec, Pacioretty's last centerman, just doesn't belong there, despite the general consensus that he is the better player relative to Desharnais. Plekanec, who finished seventh in Frank Selke Trophy voting last year, is an elite third-line center and very good second one.
However, Plekanec as a first-liner, playing with Pacioretty? It's akin to putting all your eggs in one basket, and, as the Habs found out recently when they scored just 11 times in six games culminating in 3-2 losses to Arizona and Buffalo, it's feast or famine. Cracking a few doesn't always yield an omelet. Sometimes it just gives you a big, runny mess, without anything to eat for breakfast (unless you're Rocky).
So, Desharnais getting back on the first line, it's kind of a necessity if only to spread out the offense. Granted, Price playing great is more of one. But you need at least one goal to win every night.
Meanwhile, the goal for Desharnais at this point should be to just keep doing what he has been recently. Everything should be all right if he does.