As we look at another offseason filled with player movement, one of the bigger challenges facing fantasy drafters is forecasting what to expect from players on the move. Some players thrive with a fresh start, while others struggle to adapt to their new team in that first year. Today, I'll analyze which players might be in situations to benefit most from their change of scenery heading into the 2016-17 season, and which players you can expect more or less the same from.
I've selected a group of 16 players, at all positions, that encompass some of the biggest names changing digs this year, and maybe a few you wouldn't immediately consider.
Forward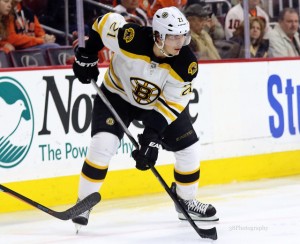 There were a whole bunch of forwards who moved this offseason, but here we look at 10 of the most notable situations that should impact your upcoming fantasy drafts and evaluations.
Taylor Hall
Starting with the forward group, Taylor Hall was without question the most surprising name to change places this off-season. Dealt to New Jersey in a one-for-one trade for Adam Larsson, Hall is already a fantasy stud and will likely continue to be one. Although the Devils aren't exactly blessed with the same offensive talent that Hall was surrounded by in Edmonton, he does have a history of spectacular point production with the Devils' Adam Henrique, as the two were former teammates for three seasons on the Windsor Spitfires of the OHL.
Taylor Hall/Adam Henrique combined for 78 gls/183 pts as linemates in Windsor in 2009-10. Combined 37gls/60 pts in 19 playoff gms that yr

— Mike Morreale (@mikemorrealeNHL) June 30, 2016
Although a significant bump in production probably won't come about in his first season in New Jersey, Hall should continue to produce at the level fantasy owners have grown accustomed to.
Loui Eriksson
Eriksson heads from Boston to Vancouver in a move that gives the Canucks some much-needed help on the wing. Eriksson is versatile enough to play on the left or right side, but there is some question about how much he'll be playing even strength with Henrik and Daniel Sedin. He'll certainly benefit from playing on the power play with the twins, but as a 31-year-old coming off a 30 goal, 60 point season, I'm not sure there's much room for a production increase here.
Kyle Okposo
Okposo leaves an established superstar center in John Tavares for Buffalo. And while the Sabres certainly have no shortage of talented centers, it's hard to imagine Okposo really becoming anything other than what he already is. He surpassed 60 points in two of his last three seasons playing for the Islanders, and that's about what fantasy owners should expect heading into next season.
Andrew Ladd
Ladd comes to the Islanders to essentially take Okposo's place on John Tavares' wing. Ladd's production was down slightly last season (mostly in the assist department) split between Winnipeg and Chicago, but he's been good for 20+ goals in all but one season since 2010. Fantasy owners can safely bank on that number again, and there's some upside for more, playing alongside a center who's more than capable of 80+ points.
David Backes
Backes heads from St. Louis to Boston to join Patrice Bergeron and David Krejci in what has to now be considered the most established group of centers in hockey. There's been some talk about Backes' ability to play the wing perhaps giving him some time on Bergeron's line, but it seems Backes' primary role will be as a third line center. That doesn't mean there isn't production to be had here, as Backes still figures to play lots of minutes under Claude Julien, and is a good bet to take Loui Eriksson's net-front role on the B's top power play unit. But as a 32-year-old playing with what figures to be an inexperienced group of wingers, anything more than the 45 points he put up last season would be a bit of a surprise.
Milan Lucic
Of the "big" names on the move, Lucic might be in a position to benefit most from his new team. He certainly didn't struggle with Anze Kopitar and the Kings, notching 20 goals and 35 assists, but the chance to play with Connor McDavid could provide a meaningful boost to Lucic's production. Even if he doesn't spend all his time on McDavid's wing, the Oilers have plenty of playmaking centers, and Lucic should have no problem cementing himself on Edmonton's top power play unit, given his skill set. Surpassing 25 goals for the first time since the 2011-12 season is more than doable here, and with Lucic, you get durability, as he's missed just seven games in the last five seasons.
Mika Zibanejad
Zibanejad is another player on the move that I'm fairly high on going into the season. Going from Ottawa to New York in a trade for Derick Brassard, Zibanejad now has the chance to play for a Rangers team that has plenty of talented, speedy, offensive-minded wingers. And still just 23-years-old, Zibanejad has seen his point production increase every season for the past four years. Expect that trend to continue.
Derick Brassard
Looking at the flip side of the aforementioned trade, Brassard lands on the Senators. Brassard should almost certainly have a firm grasp role on a top six role for the Sens, but after putting up 58 and 60 point seasons in the last two years with the Rangers, a dip in production wouldn't be terribly surprising here.
Troy Brouwer
Brouwer is a bit of an interesting one. He moves from St. Louis to Calgary on an $18 million contract that seems to indicate the Flames want him to be a staple in playing alongside their young and talented forward group. THW's Jim Parsons wrote a great analysis on whether or not Brouwer can pull off a top line role with stars Sean Monahan and Johnny Gaudreau. But if he can, the chance is there for far more production than he was able to muster in somewhat of a "middle six" role for the Blues. Remember, Jiri Hudler put up 76 points in 2014-15 playing primarily with Monahan and Gaudreau, 19 points higher than his previous career best. Brouwer is a different kind of player than Hudler, but the opportunity is still there. And luckily for fantasy drafters, Brouwer is an extremely low-risk late round pick – he's posted 18+ goals in each of the last five seasons, and has missed only one game during that span.
Teuvo Teravainen
I saved perhaps my favorite for last. And when I say favorite, I'm talking about a player who stands to benefit the most from a fresh start. Teravainen is a former first round pick, and still just 21 years old, and he moves from Chicago, where he was jumbled up and down the lineup, to Carolina, where he will surely get a chance to be one of their top offensive producers. GM Ron Francis has been glowing about the acquisition of Teravainen, who was had on the cheap mostly because the Canes were also willing to take on Bryan Bickell's contract.
"The beauty is he can play left wing, center & right wing" – @NHLCanes GM Ron Francis on addition of Teravainen https://t.co/oCfBUfTvlc

— NHL Network (@NHLNetwork) June 16, 2016
Indeed, his versatility should ensure that he becomes a mainstay in Carolina's top six. Teravainen put up 35 points for the Blackhawks last season, but a breakout season in the neighborhood of 50-55 points is a reasonable ceiling here, and you'll be drafting him at a time when those sorts of players are long off the board.
Defense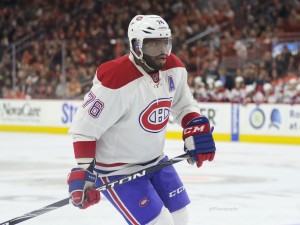 As we move onto a look at defensemen who switched teams this offseason, there really is only a handful of names that are fantasy relevant. It was a decidedly down year in terms of free agent defensemen and the bigger names were moved via the trade market.
PK Subban
So the obvious place to start is PK Subban, who moved from Montreal to Nashville in a trade for Shea Weber that shocked the hockey world. For whatever reason, the Canadiens felt it was time to move on from PK Subban, and it's likely a move they're going to seriously regret. Subban is an extremely gifted offensive defenseman and he joins a very talented group of blue liners in Nashville. He'll take Weber's spot alongside Roman Josi on a formidable Preds power play unit that was ranked in the top 10 last season. Subban has surpassed 50 points in each of the past three years, and there's nothing stopping him from becoming one of the top two or three point-producing defenseman in the NHL on a yearly basis.
Shea Weber
Weber goes to Montreal entering his 12th season, and although he's still considered one of the better defenseman in the league, his recent decline hasn't gone unnoticed by many in the hockey world. And his play in last season's playoff exit to San Jose certainly didn't change that perception. Weber does most of his offensive damage on the man advantage and Montreal's power play unit struggled mightily last season, ranking 25th in the league. From a pure production standpoint, it's possible that Weber's best days are behind him.
Adam Larsson
While many agreed that the trade of Taylor Hall for Adam Larsson seemed ridiculously lopsided, there's no doubting that Larsson does have the talent to be a legitimate top four NHL defenseman. Considering the investment Edmonton has made in him, he'll get every opportunity to be an offensive producer for the young team, both at even-strength and on the power play. Where to draft him can be a bit tricky, as he's never had more than 24 points in an NHL season, but figures almost certainly to exceed that total this season, if for no other reason than the fact that he will log heavy minutes with an offensively talented group. Don't get too carried away, but a 30+ point season is more than reasonable for the new Oiler.
Goalie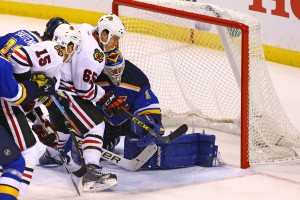 Goalie was another position where we didn't see much movement this offseason, as most teams are concerned with just shuffling around backup tenders. That said, there's still a few situations worth exploring.
Brian Elliot
Elliot is the most notable goalie on the move, as he goes from St. Louis to Calgary via a trade. With Chad Johnson slated as the Flames backup, Elliot will likely get a chance to be a workhorse goalie, an opportunity he never really got the past few seasons with the Blues. From a performance standpoint, Elliot shined with St. Louis, posting a .930 save percentage and 2.07 GAA last season, good for first and third in the league, respectively. Now with a chance to log 60+ starts for a team that's looking to crawl back into playoff contention, his first 30-win season might be in the cards.
Frederik Andersen
In another goalie trade, Andersen heads from Anaheim to Toronto. The good news for Andersen is that he no longer has to split time with John Gibson. Unfortunately, he'll be playing behind a young Maple Leafs team that doesn't figure to get a whole lot of wins. Andersen will no doubt have monster games as he did with the Ducks, and Mike Babcock should keep the Leafs from being too leaky defensively, but from a season-long perspective, Andersen will likely be in the bottom half of starting goalies.
James Reimer
The Panthers signed Reimer to be Roberto Luongo's backup. But Luongo's offseason hip surgery has made it likely that Reimer will start the season between the pipes for Florida, a young and talented team that should once again be in the playoff mix.
.@FlaPanthers expect James Reimer to play more, give @strombone1 more rest. May be starter early if Lou is still recovering from hip surgery

— George Richards (@GeorgeRichards) July 1, 2016
Reimer is 28-years-old and coming off perhaps the best season of his career, posting a .922 save percentage in his time split between Toronto and San Jose, good for seventh in the league. For a late round flier, Reimer could reward his fantasy owners should the 37-year-old Luongo struggle.
Some Final Thoughts
Hopefully, this was helpful in how you evaluate some of these new situations heading into your fantasy drafts later this summer. How a player will fit into his new role with new teammates is typically a bit of a wild card, but there's always an opportunity to be had in finding the best value within the changing team dynamics.
Writer and fantasy hockey enthusiast contributing content for THW's fantasy section.